6 Best Ways to Do Content Marketing for Your App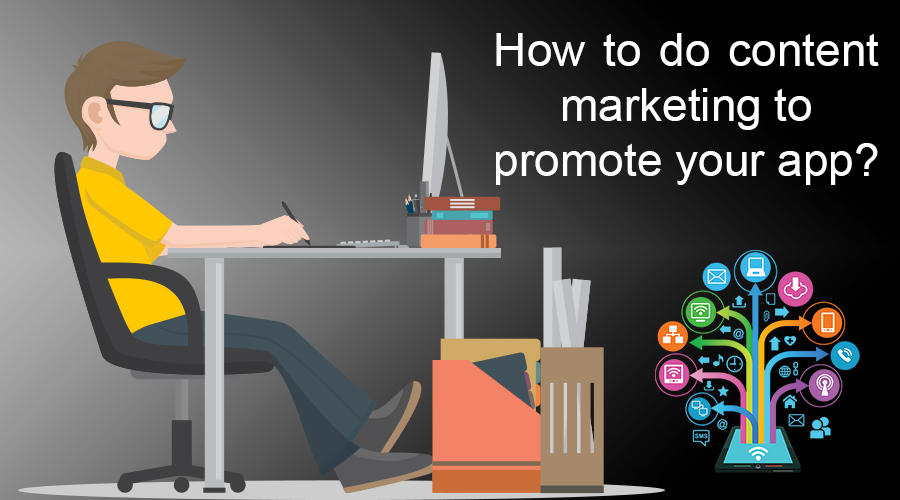 You may've seen this line somewhere – 'Content is King'. Yes, in digital world, content is not just a king, it is 'King of Kings'. Just think about your app store listing – description content, image content, video content and user review content…the list goes on. The content marketing is equally important as good design and functionalities of the app, which should start from before the app is launched. The content marketing covers all the app marketing efforts like app store optimization, email marketing, AdWords and social media. Let's see first what is content marketing.
What is Content Marketing?
Content marketing refers delivering the content to prospective customers that is informative, engaging and useful to them. The content can be articles, newsletters, whitepapers, videos and infographics that customers feel we can get some benefit from that. When it comes to the app content marketing, app marketers focus on creating the content that turn readers into app users. So that can drive people to download the app and engage with it further. As told earlier, you content should revolve around the customer-facing problems that your app solves. Podcasts and slides are content marketing materials that you can create and also share on social media, and further encourage users to share among their communities.
How Does Content Marketing Help App's Promotion?
There are many tangible benefits that an app can leverage from content marketing. First, it helps in app downloads; when you keep the app store link or app landing page link in the content, it will lead users to download the app. The second benefit is app popularity; by creating a compelling content that express the importance of the app, you can create a brand awareness among the people.
Ways to Do Content Marketing for App :
1. App store optimization:
It is not exactly a part of content marketing, but the content you'll use here plays a very important role to complete the conversation (download). Create an informative and engaging content that defines the features and functionalities of the app as well as how the app can benefit the users. The major areas of the app store that need quality content are app description, app title and visual elements (screenshots and videos). To know how to do app store optimization, check with best ways to do app store optimization.
2. Email marketing:
In email-marketing, you can't directly ask users to download your app. So again user-oriented quality content plays a vital role here. Your email should include videos, blog articles and other user-oriented content that showcase the app benefits. Your audience will more likely open the email on mobile, so make sure the template you're using is mobile-friendly. If you're using video as a part of your email campaign, make sure the video fits the screen.
3. AdWords:
You may've observed some ads in Google search showing to download the app. This is where Google helps app marketers get app downloads through its search engine. Ads shown in the search engine can directly take users to the app store to download the app.
4. Social media:
Social media is one of the best ways to achieve app downloads. Like Google AdWord, Facebook has a separate app marketing category. Advertising the app on Facebook and other social media sites will help you achieve both downloads and brand awareness. This is what possible with Google AdWords as well.
5. Landing page:
Landing page is a dedicated webpage created for app, where users can get more information about the app that they can't get in the app store. Landing page should have a clear call to action to download the app with some supporting content such as user reviews, screenshots and videos. The same landing page can encourage users with some engaging blog content. To bring prospective customers to the landing page, you can use AdWord ads and/or SEO.
6. Guest blogging:
Guest blogging are the blogs that allow others who are not a part of that blog to post their content on it. Guest blogging is obviously free, but they look for original and useful content. Instead of posting content on random guest blogs, posting it on app related guest blogs is very useful to get great app exposure. Hiring an expert content writer for this purpose is a great option.
Conclusion:
Ways are many, but the way you do marketing should be effective. An important suggestion: while creating any content material, don't forget to feature user reviews in your content as it can be a strong forcing proof for downloading the app. All these marketing will be fruitful only when you have a well-developed app. So while choosing a mobile app development partner, you should look for only best.
Need a help to develop your app?
If yes, please reach us at info@fugenx.com or fill up the form.