FuGenX Wins Deloitte Fast 500 Asia Pacific 2016
750+ mobile apps and games
450+ top-notch web apps
100+ successful IT projects
FuGenX Wins Deloitte Technology Fast 500 Asia Pacific 2016, for the Third Time
Pinnacle growth of 226 percent from 2013 to 2016 to claim 227th position on the list
Bangalore, India, 28-12-2016: FuGenX Technologies, India's leading mobility company, has won Deloitte Technology Fast 500 Asia Pacific 2016 award, which is the third time the company achieving the same feat after 2012 and 2013. Rankings are based on the percentage of revenue growth over the last three years. FuGenX rose a pinnacle growth of 226 percent during this period to claim 227
th
 position on the list.
Before, last month, the company had bagged the Deloitte Technology Fast 50 India 2016 award for its remarkable performance in India's emerging business space. Byju's, Paytm and Zomato are other premiere companies who got listed on Deloitte Technology Fast 500 APAC 2016. FuGenX is one of only few companies to win Deloitte's Fast 500 APAC award three times.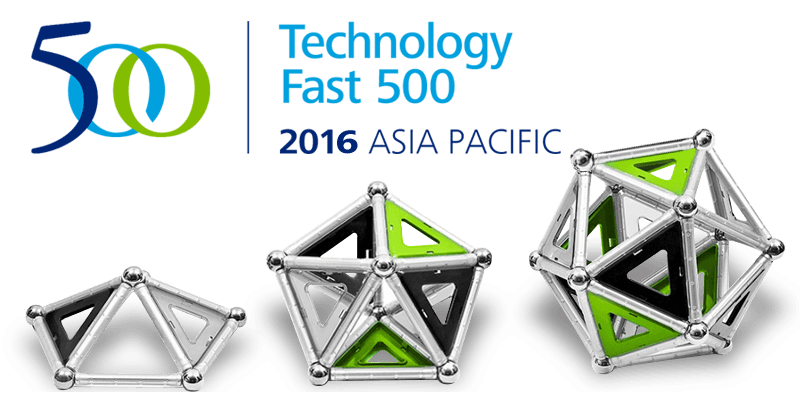 Average revenue growth of the 500 companies has increased significantly, up 158 percentage points from 2015, the highest growth since 2008. Software companies continue to dominate, with 199 companies in the top 500. FuGenX is consistently proving its worth and potential by bagging a top position in the Deloitte Technology Fast 50 India and Deloitte Technology Fast 500 APAC. These are the prestigious standards which measure and recognize the growth of the fastest growing technology companies in the country and Asia Pacific.
Speaking about the award, Toshifumi Kusunoki, Deloitte Leader, Technology Fast 500 Asia Pacific said "our Asia Pacific Technology Fast 500 winners demonstrate how new technologies are shaping the way we live and work, using innovative solutions to transform business models and simplify the lives of the consumer."
Commenting on the award, Bhabani Shankar Jena, the CEO of FuGenX Technologies said "we are honoured to be recognised by Deloitte's Technology Fast 500 Asia Pacific. We have a continually honing tech experts, so we are able to deliver cutting-edge tech services in the juggernaut mobility arena. We have a strong emphasis on adopting sought-after technologies to develop supreme standard mobile applications, games, IoT Solutions, wearable solutions and other trending tech services. It is delightful to see that Deloitte has been continually recognising our progress. With an incredible vision, adaptability, and forte that we possess, we are encouraged to perform better in both national and global mobility arena".
About the Deloitte Technology Fast 500™
The Deloitte Technology Fast 500 Asia Pacific is the pre-eminent technology awards program in Asia Pacific, and now in its fifteenth year, it includes nine Asia Pacific locations: Australia; China (including Hong Kong); India; Japan; South Korea; Malaysia; New Zealand; Singapore and Taiwan. Combining technological innovation, entrepreneurship and rapid growth, Technology Fast 500 companies — large, small, public, and private — span a variety of Sectors, and are leaders in hardware, software, telecom, semiconductors, life sciences and emerging areas, such as clean technology. These companies are transforming the way business is done today.
About FuGenX Technologies
FuGenX Technologies
 is a global mobility company, headquartered in Bangalore. FuGenX caters businesses of all verticals and extent, from start-ups to global enterprises, with a spectrum of technology services and solutions such as 
mobile app development,
web app development, 
game development,
DTH game development,
IoT solutions, 
wearable solutions
, smart TV app development, augmented reality app development and 
virtual reality game development.
It has developed breakthrough mobile applications for Big Basket, Disney, Bharat Petroleum, Al Ansari Exchange, Praxair, Future Group, Byju's Classes, and Times of India, etc.
FuGenX has successfully established their signature in dynamically complex and competitive mobile ecosystem, by foreseeing the trends and adapting the advanced tech strategies. Founded in 2008, FuGenX's network of offices spans Bangalore, Ahmadabad, Dubai, London and Santa Clara with more than 200 employees globally. FuGenX has delivered 1000+ consumer and enterprise apps on iOS, Android, BB, and Windows, etc. in both native and cross platform. Among them, many are award winning and top 10 downloaded apps and games in the store. FuGenX is an ISO 9001:2008 certified company and was also awarded as Top 50 India's fastest growing technology company by Silicon India for the year 2014.
Visit www.fugenx.com to see how FuGenX is helping enterprises move to the next level, and start-ups build themselves with innovative, world-class mobility solutions.
Corporate Video: https://vimeo.com/100438660
Contact Information:
FuGenX Technologies Pvt. Ltd.
Bangalore, India (HQ):+91-80-66116600/11
Santa Clara, USA: +1-408-850-7270
Dubai, UAE: +971522494606
Media Contact:
Nanda Kumar
+91-80-66116600