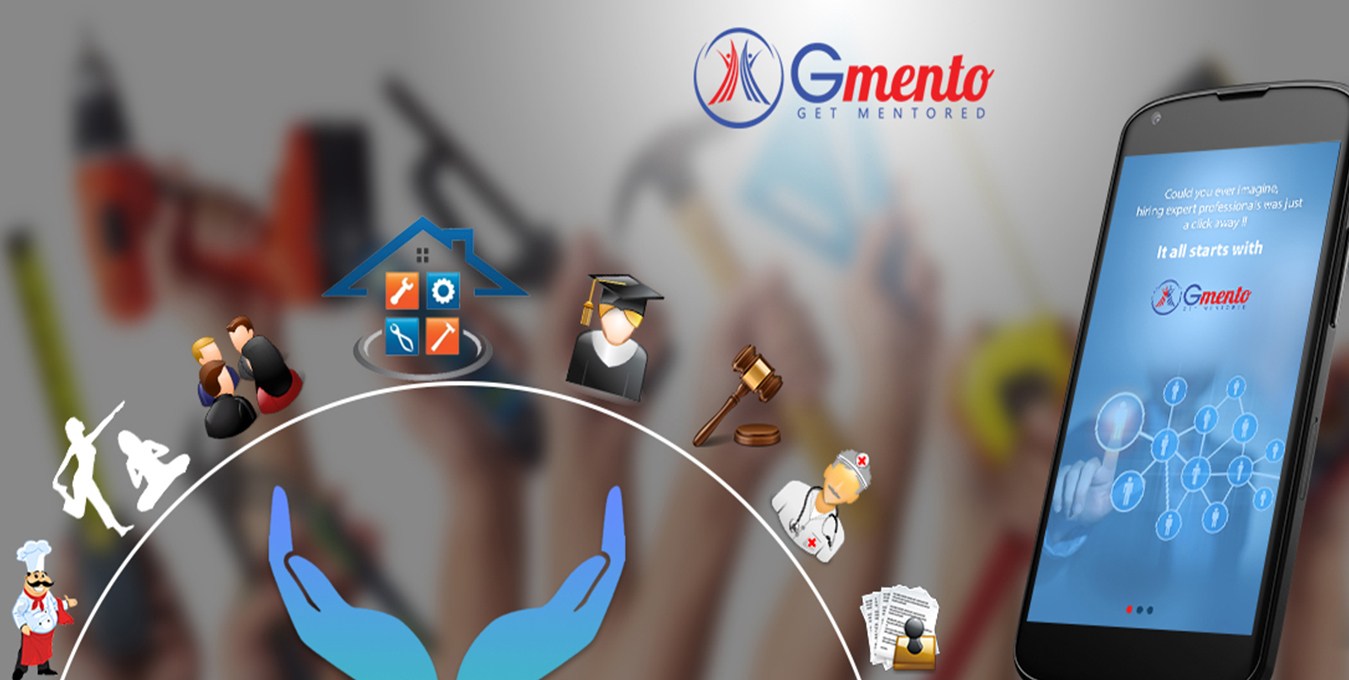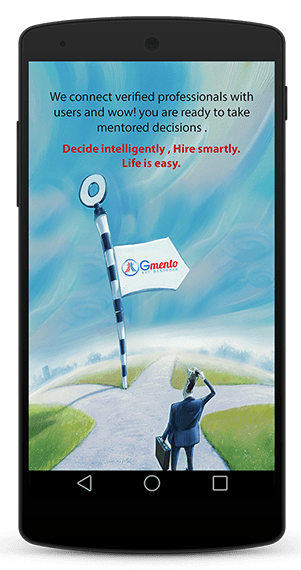 Blue Ray Technologies Pvt. Ltd is an emerging technology startup in Noida, India. The company is prominently focused on providing quality-driven IT education and consultancy services across India. The management of Gmento consists of successful serial entrepreneurs from challenging domains. Gmento is an innovative venture by Blue Ray Technologies, which allows people (service seekers) to find and connect with the right professionals and service providers of different verticals like doctors, tutors, lawyers, and home service providers, through the app.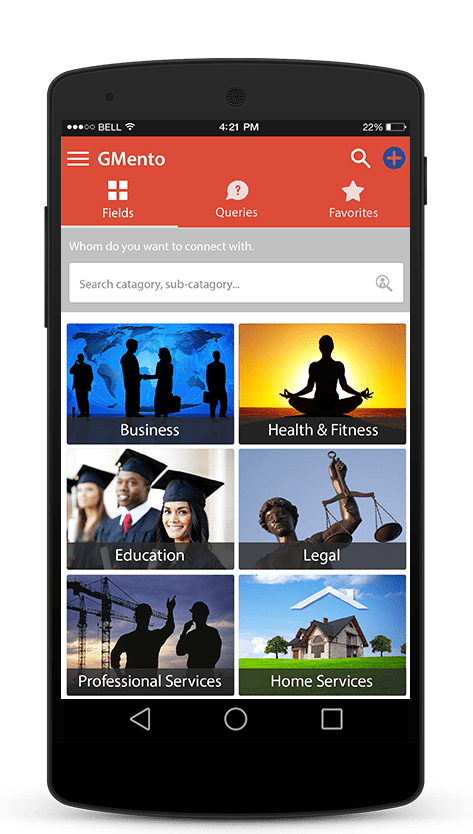 More than challenge, it was required for Gmento to introduce a distinguishing platform that can stand unique from existing similar kind of ventures in the market. In addition to that, a robust backend that could endure a heavy load of scalable user generated content and service providers' database was an utmost requirement for the smoother functionality of the app. Also, it was very important for the app to showcase 50+ services in an easy to choose manner. So, the app had to encompass simple and engaging user-interface (UI) and user experience (UX) design. Integrating the payment wallet that would ease the payment, was another key requirement that Gmento did have. Frientor forum to allow users to get opinion from fellow users about service providers was an innovative feature that Gmento wanted to be included in.
After the in-depth analysis of Gmento's requirements, our app planning team created a wireframe that contained a well-structured app layout, and segregation of each and every feature. Structuring 50+ services without any hassle to choose for users was a challenge in the process, but our experienced wireframing team leveraged advanced wireframing tools to structurize features how the client wanted. Our design team took it forward to create solid UI and UX designs, including trending material design, to enable Gmento to acquire user attention.
With a clear insight of app's functionality and features, our skilled programmers crafted a flawless code using Java and respective programming languages to perfectly integrate eye-catching front end with the robust backend, including payment wallet. After a rigorous multi-level testing, the final output was error free and user-friendly Gmento App for Android platform. FuGenX delivered it within the assured budget and timeframe.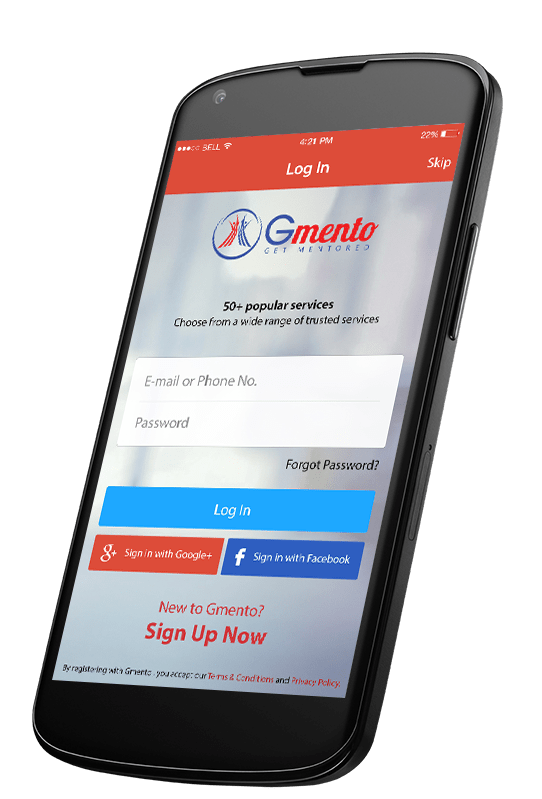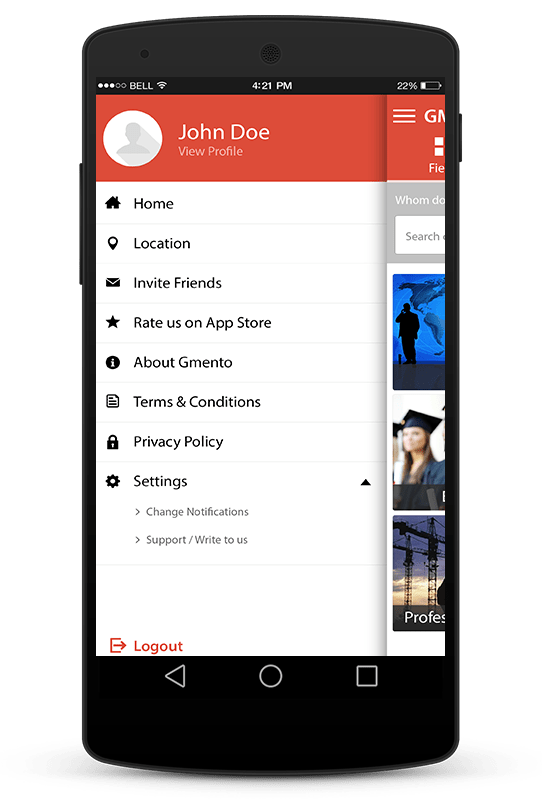 As the app was delivered within the assured time, Gmento was able to quickly introduce its venture to the market.

The user-friendly and engaging design helped Gmento get hundreds of new and repeated customers within a short period of time

With the attractive app, the business promotion became easy for Gmento

After a huge success in Android, Blue Ray showed an immense interest to develop Gmento for iOS too
Gmento allows service seekers (people) to easily connect with the professionals and service providers of different categories like:
Lawyers: Corporate, Criminal, and Civil lawyers
Doctors: Cardiologist, Dentist, ENT, Gynaecologist, General Physician, Paediatrician, Sexologist, Cancer/ Oncologist, Neurologist, Skin, Gastroenterologist, and Orthopaedist, etc.
Education professionals: Tutors, Career Counsellors, and Personality Development specialists
Home Service Providers: A/c repair experts, Carpenters, Electricians, Plumbers, Cooks, Drivers, Maid, Nurses, Pest control experts.
Professional service providers: Digital Marketing Experts, Web Designer / Developer, Translators, Pandit /Astrologers, Event Organisers, DJ, Magician, Speaker for event, Standup comedian, Wedding planner, Caterer, Bridal makeup / mehndi professionals, professional photographer, Beauty/Salon professionals, Aerobic Experts, Veterinarian, Interior designers, Professional classes experts, Ladies Tailor, Travel / Tour agents, Vastu specialists, Marriage Counsellor, and Numerologists, etc.
One can talk to the selected service provider.

Filtered search based on the distance, service, rating, price, and experience

Accurate geographical location of professionals and service providers on the map.

Instant support if any difficulty in exploring the list

Gmento is dual-side app, which allows both service providers and service seekers to login at one platform, while service providers can also login through Gmento website developed by FuGenX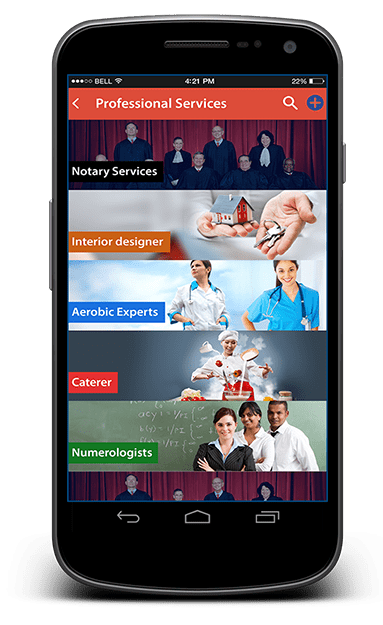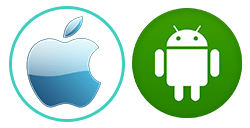 Technologies Used:(Android and iOS)
Objective-C, Xcode, Android Studio, Java, SQLite, Balsamiq, and Photoshop
FuGenX is a premiere Deloitte award winning mobility company, pioneering high-quality products and ideas in the mobile space. FuGenX empowers organizations to successfully win the business competition with multi-edge mobile apps across devices and operating systems. FuGenX offers custom-made mobile apps to help businesses effectively engage with customers and partners. Also, to enhance employee productivity and achieve agility in the work process by building connected enterprise with result-oriented enterprise applications.
FuGenX also helps startups and enterprises to introduce innovative venture to the market with customizable and inventive mobility solutions – Fx RMP, Fx Chat and Fx mBasket.