Being able to stand at the forefront of the adaptability is the most crucial thing in the success and sustainability of any firm. In today's competitive market, it is necessary that companies learn to adapt latest technology so that they don't get behind their competitors. Let alone beating the competition, even for meeting the ever increasing demands from the customers, it is necessary that companies spend their time and effort in learning latest technology and providing better services to their customers based on their latest technology.
The proactive approach in adapting to the latest technology is applicable in all the industries, but is more so applicable for healthcare industry. This is a special industry where not being aware of the latest technology not only costs loss of business, but also may result in loss of quality of life for the patient. Latest implementation in the recent times is blockchain technology in healthcare. This is going to be disruptive advancement with changes taking place at rapid pace.
Blockchain technology may not be a new term for tech savvy people who have heard lot of news and stories on Bitcoin in the recent times. The underlying software program used for creating the latest form of currency, is found to be having potential to bring lot more changes in the healthcare industry also.
Role of Blockchain in Healthcare Industry:
Blockchain technology in healthcare can be used in multiple ways. One of the most reliable and foreseen ways to use this technology is to track patient health records. Specialty of using this technology for this purpose is that it can process the data securely, comprehensively and privately. As of now, the patient health history is not easy to read as it seems to be a piece-meal grabbed from different sources and various formats. Different reports may be present with different places, because the patient might have consulted different doctors and hospitals.
One more good source of information about patient health is latest health tracking devices. These wearables store vital data about a patient health etc. Blockchain technology can help to integrate all this information in to a single source so that healthcare providers can give better treatment based on the information obtained through these sources. Also, doctors and specialists may be able to get more insights into the health condition of the patient, his habits, his body nature, medical history, allergies, etc just by giving more analytical view on the information obtained from this technology.
Interoperability between Various Systems:
The information currently available about a particular patient is discrete and doesn't make sense unless it is worked on. It is because of the reason that the data is not in uniform formats. Different systems input the data in their own formats, which makes it difficult for managing the data from various sources. With blockchain technology in force, this problem can be solved effectively. This technology makes use of different systems and integrate the data from various sources. Best part of this technology is that it will make the transitio so swift, smooth and easy to operate.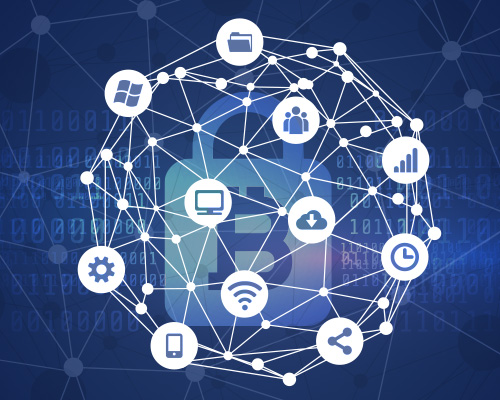 Scalability:
Another major advantage of blockchain technology is that it can be scalable. When the demand for the data is high, it will automatically use technology and servers of higher capability, thereby serving in a better way, without getting crashed or stuck. This makes blockchain more reliable than any of the technologies healthcare industry has seen so far, for this purpose.
Disaster Recovery:
With integration of latest technologies pertaining to data recovery, we can ensure that blockchain has the ability to secure the data and can provide disaster recovery even when there is loss of data at any of the various ends like patient, hospitals, doctors, laboratories, etc. Already data encryption technologies and cryptography technologies are making it tough for hackers to touch the blockchain technology. As the time progresses, these security technologies are expected to improve to meet the demands of changing times.
Real-Time Access:
Healthcare blockchain companies are eager to implement the latest technology in most of the hospitals and organizations because it would cut down their costs in the long run. This is because of the fact that blockchain allows us to share the same data and make real time updates from different sources like patients, medical professionals and organizations. This eliminates the need to keep a multiple copies of the same data and synchronize it again. This means a lot to the healthcare blockchain companies because they are going to save lot of time, effort and money involved in synchronizing the data.
Suitability to Specific Requirements:
One more advantage of having blockchain technology in healthcare industry is that it allows the patients, or organizations to download the required data in the format they require. Stakeholders of the healthcare community are provided options to choose from, and they can select the application which they require for their specific purpose. All this is possible because of implementing blockchain technology which ultimately helps the healthcare community to provide better services to the patients.
Above mentioned are just a few USPs of the blockchain technological products. There are still more advantages of having this technology in healthcare industry, which is sure to make disruptive changes in the coming times.