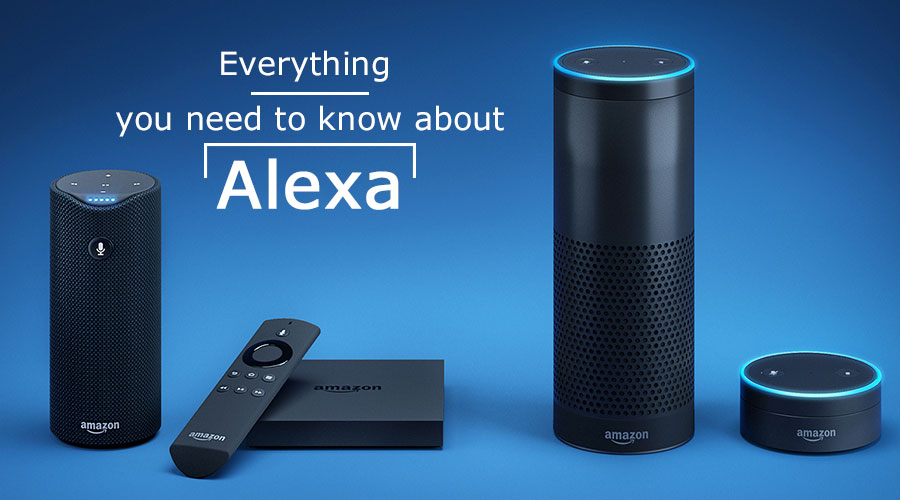 The name Amazon needs no introduction in the e-commerce market. It is undeniably the biggest e-commerce platform in the world. According to a report by CNBC, Amazon recorded a revenue of $4.58 billion in sales and $1.17 billion in operating income. With the growth of digital marketplaces, Amazon has shown some great year-over-year revenue growth, which was recorded to be around 27% in comparison with the revenue in 2016. What makes Amazon smart is that it utilizes its resources very well. According to Statista, Amazon currently holds more 300 million active customer accounts. Looking at the size of the loyal customer base, Amazon swiftly forayed into manufacturing and selling its own products like Amazon Prime, Games, Art, Videos, and a few more.
But the one that created most ripples in the market has been its cloud-based voice assistant that goes by the name Alexa.
What is Alexa?
The simplest definition of Alexa is that it Amazon's response to Google Assistant, Siri and Cortana. A more detailed version of it could be that Alexa is a cloud-based voice assistant by Amazon, which couples with Amazon's smart speakers 'Echo', Amazon Smart TV device 'Fire Stick' and a few more smart devices by Amazon.
One can activate and use Alexa on the smart speaker 'Echo Dot' for routine tasks by simply saying 'Alexa', which is actually a voice command to activate Alexa, or simply 'wake word'. However, you can change this activation command to 'Amazon' or 'Echo'.
A little about Echo Dot – Echo Dot is a hands-free smart speaker built by Amazon that acts as a medium for Alexa to take up and execute voice commands, just like Amazon Fire Stick does with the help of a voice remote. It supports a plethora of voice commands for voice interactions, news, making notes, playing your favourite tracks, podcasts streaming, making calls and sending text messages, and a lot more. To process voice commands, Echo Dot is equipped with Natural Language Processing algorithms integrated with a highly-accurate, inbuilt Text-to-Speech engine.
In a report by Voicebot.ai, it turned out that more than 24 million Amazon Smart Speakers would have been sold by the end of 2017. Alexa's wide acceptance among the masses can be guessed by the stats that say Amazon's Echo holds 71.3% of sales in smart speakers market in 2017.
The Need for Alexa
If you prefer convenience and time-efficiency in everything, Alexa could be a great companion for you. Technologies like Smart Home Automation, Artificial Intelligence-backed applications, and smart devices are being adopted by more people every day. According to Statista, the revenue of smart home entertainment market worldwide is $1.98 billion USD and that of smart home security has been pegged at about $2.58 billion. These stats may not directly relate to the adoption Alexa, but it projects the demand for smart technologies people are slowly getting accustomed to. And if we talk about coming generations that are going to be smart enough in managing time and schedule, technologies like Alexa are going to dominate the future, and at the same time, act as a liaison between advanced hardware and smart technologies like Machine Learning and Internet of Things.
Technology behind Alexa
Alexa has been powered by Amazon Lex – an AWS service by Amazon. With the help of Amazon Lex, one can create speech protocols for a desired application by using just text and speech. So you can say, Lex is quite smart and automated in creating logic out of ordinary speech and text. As simple it may sound, the technologies that back Lex's speech recognition are Natural Language Understanding (NLU) and Automatic Speech Recognition (ASR), which are parts of the Artificial Intelligence service spectrum. However, for the developers Amazon has kept things quite simple as using Lex for technologies like Alexa and Chatbots, developers need to simply input the basic conversational data and the NLU algorithms can configure the desired response out of it. For a layman, this means better conversational interaction, real-like conversations and factual responses when needed.
Also, Amazon Lex comes with Amazon Web Services (AWS) Lambda integration, which means whatever a developer creates, comes with pre-configured integration with other Amazon services like Amazon Cognito, CloudWatch, Mobile Hub and many more.
What can you do with Alexa – Applications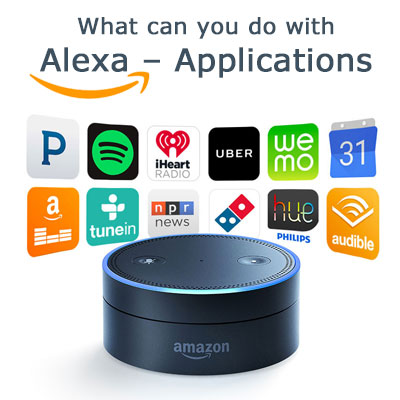 Applications of Alexa are somewhat confined to Amazon, for obvious reasons. But still, you can use Alexa for a number of things, such as:
Travel Plans
Planning a trip through websites and Online travel agencies is again so 90s. In order to quickly plan a trip with the help of Alexa, all you have to do is get a Kayak account, define your budget and say 'Alexa, ask Kayak where I can go for _YOUR_BUDGET_'. Yes, it is that easy.
Play Music
Playing music on Alexa is as easy as thinking about playing music. All you have to do is say 'Alexa, play music' to enable your Echo Dot smart speaker to shuffle a playlist for you. If you are specific about the kind of music you want to listen to, just say 'Alexa, play_TRACK_NAME_' and the device will do the same in a blink.
Get a Cab
Currently, Alexa is configured for booking rides only with Uber and Lyft. In order to book a ride without even looking at your phone, just say 'Alexa, ask Uber to request a ride'. You can also ask Alexa to check fare amount and travel distance of your trip.
Food Recommendations
One of the most unique things about Alexa is that it makes perfect use of Artificial Intelligence by recommending what you can pair up your food that you are eating, and Alexa would come up with a suitable response to make sure you have the best meal.
Finding Deals
Shuffling through Amazon pages and search filters in the quest for exclusive deals is so old school. With Alexa, you just have to say 'Alexa, what are your deals', and you will be provided with the same information. However, deals that Alexa would come up are meant specifically for Prime Members.
Make Calls and Send Texts
To use this feature, the person you are placing a call to must have Alexa integration with their landline phone. To place a call, you just have to say 'Alexa, place a call to _NAME_'.
Amazon has equipped Alexa with quite a number of capabilities. From ordering food to placing calls, Alexa can do it all in matter of seconds. However, the tough competition it faces from equally big enterprises like Google and Microsoft, will need Amazon to keep up with the rivals. But then the way Google and Microsoft are expanding their AI services base, it would be interesting to see how an enterprise like Amazon, with e-commerce in its heart, would catch up with the changing digital scenarios.
Power up your business with FuGenX's advanced AI services.
To avail what we offer, drop a mail at info@fugenx.com or fill this form to hear from us.