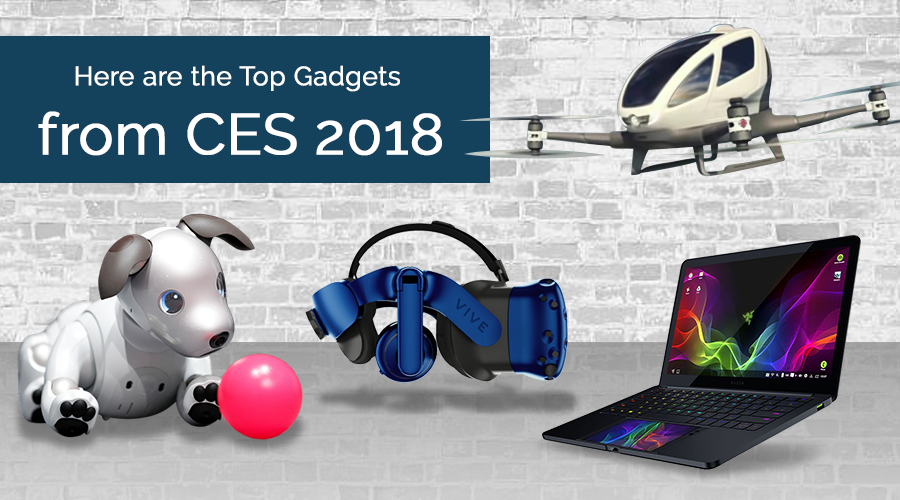 Consumer Electronics Show – the most prominent and biggest exhibition for gadgets, electronics, cars and basically everything and anything that belongs from technology. Geeks and tech-enthusiasts from all over the world eagerly wait for the CES Global Event to try, hands-on, the most mind-blowing inventions, the impacts of which can be felt throughout the year. Needless to mention, the biggest tech-multinationals' products and even the most innovative backyard inventions can be seen fidgeted around with by the visitors.
At the CES 2017, some of the biggest tech-giants came up with their crazy inventions to leave us in their awe. A mesmerizingly beautiful concept car by Toyota, a pocket-sized drone, a portable quadcopter, and what not; the CES event last year was pretty insane. But guess what, the stakes have gone higher at CES 2018, and this year's tech carnival, from what we feel, is somewhat dedicated to smarter technologies that can be used in day-to-day tasks. Enough of the talk, here are few of the coolest gadgets from CES 2018 that absolutely stole the show.
HTC Vive Pro
HTC unleashed its reply to Facebook-owned Oculus Rift through its latest VR Headset, the Vive Pro. Talking about its VR capabilities, Vive Pro is simply breathtaking, owing to its 1400 x 1600 display per eye, and 615 ppi. With this level of detail and clarity, it is hard to believe what we are watching is virtual, as the wireless headphones attached to the headset breathe life into anything you watch on the endless display. And to make it all the way more real, HTC has made its flagship VR gadgets, completely wireless.
Razer Project Linda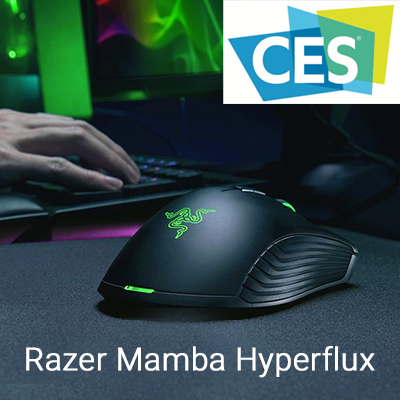 Although still in its prototype phase, Razer Project Linda by Razer – the world's leading laptop brand dedicated to gaming – did something different this time. Rather than focusing entirely on gaming, they worked on Project Linda, which demolishes the boundaries among smartphones, tablets and laptops. This, it does, by carving a dedicated slot in an ultraportable Razer laptop that integrates the two, and brings the Android experience to the laptop on a tablet mode. All you have to do is place your smartphone in the slot, and enjoy the flawless Android interface on the laptop. But the best one yet? The laptop charges your phone while it is being used, so that you have more charge even when you are using your phone. Isn't that amazing?
Sony Aibo
Are you a dog lover? Do you also fancy gadgets like anything? We know this could be dilemmatic for you and probably this question doesn't even make sense, but what if you had to choose between a dog and a supercool gadget? Well, the good thing is Sony enables you to choose both, and choose one, simultaneously, by launching Sony Aibo – a robot dog with moves, playful attitude, a conscience for the family and one hell of a cute face. Much more than that average dog in your neighbourhood, Aibo is capable of adapting to its surroundings and develop cognitive skills over time, and comes with facial recognition abilities to differentiate among your family members. Sony has decided to launch the product in Japan, with quite an affordable price of USD 1740.
Passenger Drone by Intel
Intel never misses an opportunity to amaze you, and what could be a better way to amaze someone than introducing a volocopter, which is actually a passenger drone, at the world's biggest tech exhibition! When it comes to AI-powered technologies, Intel leads the pack and there are simply no second opinions about that, as the confidence among passengers to trust a drone in the middle of the skies can only come from a tech pioneer such as Intel. VC200, better known as Volocopter that has an 18-rotor aviation system with a passenger capacity of two, was demonstrated by Intel CEO Brian Krzanich, and we must say it was much better than that of iPhoneX Face ID.
Razer Mamba Hyperflux
It seems like Razer decided to go literal with its new wireless mouse at the CES 2018. But the gaming tech enterprise has done justice to the product anyway, as the Razer Mamba HyberFlux is as cutting-edge as a mamba is in its own domain (pun intended), and well, uses magnetic flux to link and transfer power directly to the device, which means no batteries, no cords, and no hassles at all. The magnetic flux is generated through the mouse pad that rests beneath the mouse to act as a source of power. However, the company doesn't intend to lock you up in a room with what they provide. Therefore, Razer ships the Mamba Hyperflux with a Micro-USB cable that can link the device directly to a computer. Another trait that Razer users buy into when they make a deal with it, is beauty; the beauty that oozes out from below the mouse pad equipped with Razer's trademark 'Chroma Lighting'.
Hypervsn Wall
When it comes to picture, we began with 2D, took a little too long to reach 3D, and 4D, 5D, 7D, well they are just myths. However, we always had lot of hopes to see a hologram in real. At CES 2018, lots of expectations were met when Kino-mo unveiled its one of the greatest inventions yet – the Hypervsn wall. While some people found the wall behind projected image, a little too intrusive, majority had a consensus on Hypervsn Wall being the most cutting-edge projection tool they had ever seen. As per Kino-mo, after years of R&D and trials, the wall is finally a reality, and comes with two main components: Hypervsn Management System and Hypervsn Projection Unit. While the management system is responsible for projection, functions, and wireless connectivity, the holographic projection unit creates all the magic. According to the company, the projector can play up to 5 hours of video content, and is an extreme miser when it comes to power consumption.
The market of electronic goods is growing day by day, and is expanding into different domains, which is, at the end of the day, a clear indication of how people are becoming more and more aware about the changing technology trends. And more than 180k visitors arriving from all over the world at the Vegas episode of CES 2018 to check out some of the best innovations is a perfect proof of that.
Want your business to catch up with the trending technologies? Join hands with FuGenX – the world's leading mobile app development company – to get smart solutions for your business to create more value in your services.