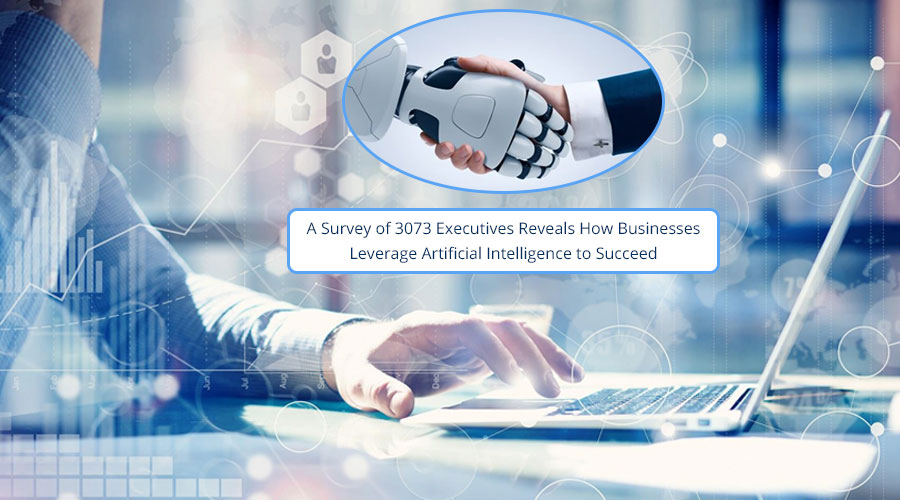 Even the every small change that artificial intelligence is making today is becoming a buzz word in the business world. Investment in AI is growing, but the surprise is most of them are coming from organizations outside the tech space. Amazon yields operational efficiencies leveraging its AI-powered Kiva warehouse robots, which looks absolutely fantastic. General Electric uses the same technology to reap more productive performance from its industrial equipment, where GE's main focus is on predictive maintenance.
This path-breaking happenings have been efficient enough to penetrate the C-suites of organizations across the world. But what the makes the things tough is its effective and profitable implementation that is holding companies back from starting to work on pilot projects. The survey conducted by McKinsey & Company that brought in 3,073 C-level executives from various industries revealed that how they have tasted AI success, what were their strategies and what are their future initiatives on AI. The survey made 160 case studies across 14 sectors and 10 countries part of it. With a separate digital research program, along with the survey, M & C identified 10 key insights that CEOs need to know to venture out on a successful AI journey. Here we've made them into 4 to keep the things short.
4 Key Insights Extracted from the Survey that can Help AI-aspirant CEOs
AI has just begun – so there is a huge scope for achieving first-mover advantage
It's true that corporate adoption of AI technologies is still crawling. The total investment in AI reached $39 billion in 2016. Despite this level of investment, AI adoption is still in nurturing stage. Only 20% of survey respondents are using one or more AI technologies in their core business area and half of them are using three or more technologies. The major technologies that were part of their AI initiatives are robotics and autonomous vehicles, computer vision, language, virtual agents, and machine learning.
But this is good news for companies (41%) who are still on pilot projects. But the most dominant technologies among the adopted technologies are neural-based machine learning and natural language processing. They are now getting mature and proving their value, which is leading them to become centerpieces of AI technology suites among adopters. The study predicts that a majority of current AI piloters would fully integrate AI in the near term, regardless of sectors and domains. Telecom and financial services would continue to lead the way, with respondents in the survey who belonged to telecom and finance expected to add 15% more investment to their existing spending for every coming year, which is 7% higher than the cross-industry average.
They achieved revenue increases
30% of respondents were able to achieve revenue increases with AI adoption. They used AI in an effort to gain market share or expand their products and services. Furthermore, they expect to increase their profit margin by up to five points more than industry peers. A separate analysis made on the same respondents' efforts uncovered the facts that AI is already directly improving profits, providing the nearly same percentage of ROI that other trending technologies like big data and advanced analytics are bringing out.
AI transformation happens only when there is a support from leadership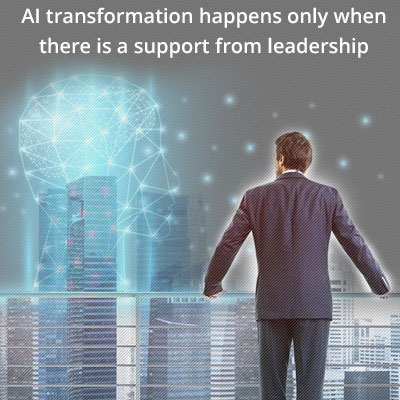 The companies (part of the survey) who have tasted AI success were being backed by strong executive leadership with support for the new technology. They said AI success is not possible without the support of C-level officers and the board of directors.
You don't have to go alone – get the help of experts in the field
Yes, this is absolutely right. This is where AI-aspirant companies need to think more and more about. With still researches are going on and the AI has just started to pick up, there is a lack of right skills. Even tech giants like Google and Amazon are looking beyond their premise to find the right venture that have got expertise in AI, instead of building their own team. Google's acquisition of DeepMind well justifies this statement. DeepMind helps Google optimize its search engine capabilities with its machine learning capability.
Coming back to the survey, a majority of respondents bought the right fit-for-purpose technology solutions and only a minority of respondents built their own team.
Conclusion:
It's the time think out-of-the-box. The next digital frontier is here, and it's AI. While some firms are still being driven by previous digital disruptions, forward-thinking businesses are keen to adopt trending technologies like AI that offer a sheer competitive edge. But make sure while you're not developing and implementing AI solutions in-house, collaborate with right AI partner who has the vision of future.
Looking for an AI partner?
Let FuGenX help you. FuGenX Technologies is a Deloitte award-winning technology services company, with proven expertise in building solutions on AI, machine learning and deep learning, with expert data scientists, machine learning and AI experts.
Please reach us at info@fugenx.com or fill up the form now.