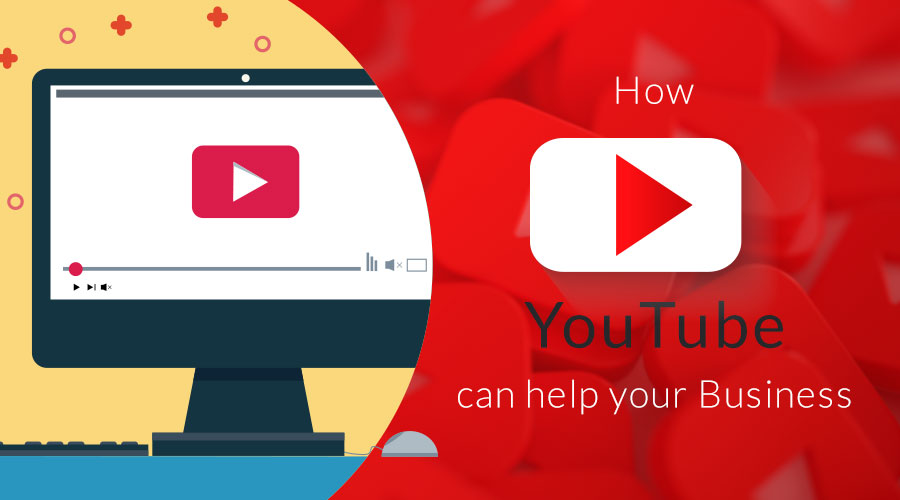 The rise of digital marketing has unleashed the real capabilities of the web. It has showed us that there are many ways we can use the internet in the best of our business interests, and mobile app development has played a big role in getting us acquainted with social media.
Lately, popular social media platforms like YouTube, Facebook, LinkedIn, also offer tools that could help a lot in handling the market-related aspects of our business. But then, you don't always need these tools, as sometimes just a basic know how of these platforms are enough to get your purpose served.
Now if we had to rate, YouTube will definitely come under the top three most popular platforms on the internet, and that is because it simply allows people to watch, and not just hear or read. Simply put, the potential of YouTube is huge in taking anything from rags to riches. UAE, as matter of fact, has come up with many successful YouTube's in the past few years, and it seems the culture is set to grow even more rapidly in the Middle East. Curious to know how you can leverage YouTube for your business? Here you go:
Content Quality
There is a reason why this pointer is on the top. No matter how good you promote your YouTube channel, if your content is not at par with the benchmarks other YouTubers have set, it is almost certain your channel would not bring in profit. However, there are two ways you can avoid that from happening: first, create content with utmost quality by ensuring that the video content should be captivating right from the beginning till the end. Second way is to create unique content.
There is a good chance that your video will attract viewers if your content has something new to talk about. But then again, it needs to make sense. Content quality also encompasses factors like camera quality, audio quality, frame rate, resolutions available and more, which shall be optimized.
Regular Uploads
Some people would interpret 'regular' as daily, but that is not what we mean. You just have to give your viewers an idea about when you usually upload a video, so that they are left in the dark. Advisably, a video every week on a fixed day is good start for a new channel. Another way to misinterpret us could be that if even a channel uploads content once in a year, they are regular. Absolutely not! Keeping your viewers waiting for too long would not only lead to lesser views every time you upload a new video, it could also mean loss of followers. To let your viewers know that you have uploaded a new video, make sure you ask them in every video to turn on the notifications switch, which is a bell icon on your channel's homepage.
Respond/Reply
Every time you respond to viewers' comments, you build a sense of credibility among them as a real, tangible person. The last three words may sound stupid, but that is exactly how it works. But what if your channel or one of your videos has gone viral? How do you handle the comments pouring in from all directions? Well, you could hire someone for that, but do you really need to? We guess not! Just reply to the top comments, and probably highlight a few to show your viewers that you are actively involved on this one. For viewers, getting a reply from their favourite YouTuber, means the world.
Customize your Page
Many beginners on YouTube miss on this one but customizing the YouTube channel is quite important is you ask us. And also, YouTube has provided the channels with customizability options for a reason. Cover photo, which is probably the most visible component of your channel, shall be vibrant or at least resonate with the subject of your channel. On the lower right of the cover picture, you can also place social media links, to allow people to find you on other platforms, such as Facebook, Instagram, Google+ and more. On your channel's homepage, you can suggest links people can follow, which are actually collaborations you made with other YouTubers in order to increase your reach; because after all, more reach means more profit. And yes, collaborate with other YouTubers frequently as it gives your content, backlinks. Other YouTubers usually collaborate if your page is credible enough; after all nobody minds flourishing in the media and entertainment sector.
Description
Just like Google search engine, every time a user inputs a query, YouTube shuffles through billions of videos to show up with the most relevant queries. Ever wonder how it does that in case of YouTube when the content we are talking about is video? It uses partially the same mechanism as Google (after all, it is powered by Google), by checking various components of the video to verify the content relevancy in each case. And one of the most important of such components is description. Describing your video is like giving a boost to its visibility across YouTube. Video description is the section where you actually use keywords for SEO purpose. However, SEO through keywords doesn't play a very big role in case of YouTube video, as there are other factors as well.
Categories, Playlists and Tags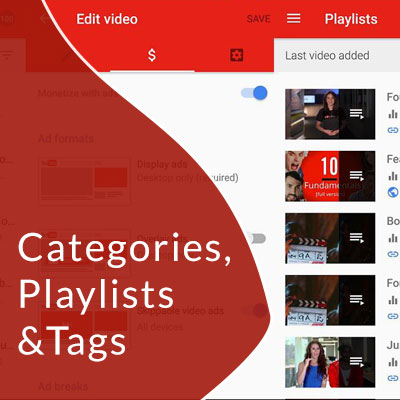 Anything that is organized, looks good. But on YouTube, it means much more than that. Categorizing your content is quite important as YouTube sees it as an SEO parameter. To categorize your video, you need to select a category for the video right after you upload it. When you upload a video, look for a drop down list that contains a list of categories that you can select from. When it comes to search queries, playlists are very effective in helping viewers find the right content, and that is why, it is vital for your YouTube channel to have playlists. Putting a video in a playlist is easy, and can be done just like you set categories, right after you upload the video.
Another important SEO component on YouTube is tags. So when you say 'tags', the immediate thought that comes to your mind is of attaching something along with your video; and that is what exactly happens on YouTube as well. To insert tags, click on edit video, and find a box right below the description. Now the tricky part is that the tags you use should be relevant. For instance, if the subject of your topic is 'Digital Classrooms', the tags to be used could be – education, smart classes, distance education – and not – projector, video call, technology. We hope your catch the drift.
Call-to-Action
If you are creating quality content, putting tags, categorizing the video and using playlists, and still not doing well in terms of business, you are probably not reminding your viewers to take an action. Reminding your users to take an action is known as 'Call-to-action'. Don't forget to ask your viewers to share, subscribe, like and comment on the video. People usually do respond to your call as the acting upon it is not as messy as it used to be on a desktop or a Symbian phone; thanks to fast and user-friendly mobile apps. And make sure you make a call-to-action in every single video, because the more people would engage with your videos, the more recognition your business would get.
Upload a Transcript
Creating a transcript is a hard nut to crack, especially when the video is long enough to discourage you from doing that. But then, everything comes at a price. The best way to get your video noticed on YouTube is uploading a transcript that says pretty much everything that is there in the video. As discussed above, YouTube algorithms go through descriptions to check the relevancy of content. And in the very same way, they go through transcript as well. You can use keywords and relevant tags in the transcript as well.
Leveraging YouTube for business is one of the newest trends that entrepreneurs are adapting to. Almost every big enterprise at present knows the advantages of leveraging YouTube for better sales and customer reach, and also the disadvantages of not using it for the same, which in some cases may lead to lagging way behind in the race. The only thing that the 21st century entrepreneurs are now waiting for is absolute domination of digital marketing tools over conventional ones, which would be interesting to see when it happens.
Power up your business with FuGenX's mobility and AI solutions.
To avail our services, drop a mail at info@fugenx.com or fill this form to hear from us.