IoT technology is transforming the across-the-value chain of industrial manufacturing operations. Combining the capabilities of Artificial Intelligence (AI), Machine Learning (ML), Predictive Analytics, and Industry 4.0, the impact of IoT on the Manufacturing industry is expected to surpass the boundaries in the coming years.
The applications of IoT in manufacturing will create a revolution and allow manufacturers to execute smart business operations. In this article, we walk you through various sessions, including What is IoT?, benefits of IoT in manufacturing, top use cases of IoT in manufacturing, and the future of IoT in manufacturing industry.
Let's start with the definition of IoT technology.
What Is IoT?
IoT stands for Internet of Things. IoT means a network of sensor-equipped physical objects or devices and software applications that involve secure data collection, retrieving, and processing over the internet. IoT technology enables a fully encrypted communication environment between sensor devices and connected applications through the cloud platform.
In simple words, IoT is the network of physical objects that carry embedded technology to transmit data or interact with their internal or external environment through a secured cloud platform. IoT devices stay connected to the internet, capture data, and facilitate smart interactions continuously.
Smart locks, Smart Cameras, and smart lights are the best examples of IoT devices.
The Impact Of IoT On Manufacturing Industry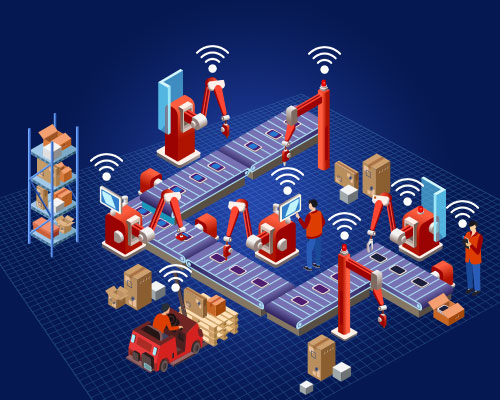 The role of IoT in manufacturing industry is to automate processes and ensure remote control over facilities and heavy equipment. The adoption of IoT technology in the manufacturing industry will help manufacturers drive greater visibility across production, supply chain, and logistics operations.
The manufacturers have already realized the significance and impact of IoT in logistics and supply chain management processes. They believed that the implementation of the Internet of Things in the manufacturing industry will optimize business efficiencies.
Let's take a look at the top 5 use cases of IoT in manufacturing industry.
Top Use Cases Of IoT In Manufacturing Industry
The applications of the Internet of things In Manufacturing industry are enormous. Intelligent IoT Solutions in Manufacturing deliver insights into equipment performance, low stock updates, production failures, device defects alerts, etc. Such information will help manufacturers in better facility management and improving efficiencies. Here are a few IoT benefits in manufacturing sector.
IoT For Manufacturing Predicts Equipment Failures
IoT has a great impact on optimizing production processes and creating a fully connected environment. The efficiency of a manufacturing plant depends on the effective performance of production equipment. Sudden failures of heavy equipment or breakdown maintenance will lead to huge costs for the manufacturers.
Integration of IoT Solutions in Manufacturing is the best way to overcome this situation. Collaborative IoT-based manufacturing apps monitor production equipment and generate insights into their performance in real-time. These perceptions will help the manufacturers to access the machine's data and measure its performance. It will help identify the performance issues before it gets completely damaged and also achieve better equipment utilization.
Get the development cost of IoT for Asset Tracking and Equipment Monitoring!
     2. Optimize Supply Chain And Logistics Operations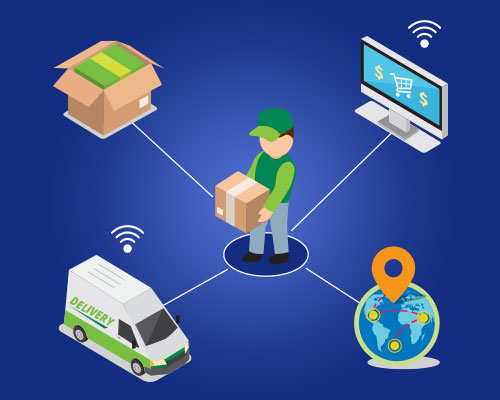 It is one of the applications of IoT in manufacturing industry. The impact of IoT in logistics and supply chain management is high to gain from increased visibility into the entire transport management system.
IoT-based manufacturing solutions will help manufacturers track the location details of the vehicles in real-time. Manufacturers will embed various types of sensors (such as temperature, fuel monitoring, and tire monitoring sensors), in the vehicles and get real-time data on vehicle condition and performance. Such connected supply chain and logistics operations facilitate augmented visibility and on-time reliable delivery operations.
As smart IoT Solutions in Manufacturing also notify the weather conditions, manufacturers can pre-plan their deliveries at right time and protect products from natural disasters.
Know More about the Impact of Internet Of Things on logistics Industry.
    3. IoT For Inventory Management and Warehouse Management
IoT for inventory management is one of the top benefits of IoT in manufacturing industry. IoT-powered manufacturing solutions are being used for tracking inventory levels. Connected IoT solutions play a big role in monitoring the inventories and notifying the managers of available product details and shortages information. Hence, using IoT for inventory management helps manufacturers stay on top of demand always.
I can guess that your next question might be How IoT can be used in warehouse management? Well. Let me tell you the benefit of using IoT for warehouse management.
IoT technology transforms conventional warehouse operations. It helps warehouse managers remotely track inventory levels, IoT for asset tracking, product placements, and get detailed information about warehouse maintenance, etc. Therefore, IoT-powered cloud software for warehouse management drives automation and ensures streamlined operations inside the warehouse.
 4. IoT Software For Quality Production  
The first thing that a manufacturing organization has to adopt is that increase the production without compromising on the quality of end products to ensure higher sales and augment end-customer experiences.
Adopting IoT for Manufacturing to reduce production costs and increase quality is a revenue-driven strategy of smart manufacturers. IoT manufacturing solutions will scrutinize every product and immediately identifies defective items and notifies the desired team for further modification to improve its quality. It will improve product quality and boost sales.
On the other side, IoT applications can process enormous amounts of product information about design, features, and specifications and derive valuable visions. These insights will help manufacturers to create unique products that hit the market and grab the end-user attention.
 5. Demand and Sales Forecasting      
Accurate demand forecasting is one of the top benefits of IoT in manufacturing industry. The use of IoT technology in manufacturing operations will boosts intelligence in production planning as per the market demand.
The IoT-enabled demand forecasting applications will process customer purchasing patterns and sales information and derives insights into sales opportunities. These insights will help manufacturers track their stock levels and reduce the risk of shortages when peak demand seasons.
These are a few top IoT use cases in manufacturing industry. If you are looking to hire a top mobile app development company, FuGenX (one of the top IoT Development Companies in India, USA & UAE) is the right partner. We have proven experience in the design and development of state-of-the-art IoT applications and solutions that improve the efficiency of manufacturing operations.
Get A Free Quote For IoT App Development!
Final Words
We hope that this article gave you a brief knowledge on IoT impact on manufacturing industry.
Different business can find different benefits from the IoT technology. IoT systems and applications will help startups, medium-sized, and multinational businesses to accelerate automation, improve the communication between devices and boost overall performance of the business.
Herein, we have discussed only a few IoT benefits in manufacturing industry. The actual phase of adopting IoT for manufacturing is not yet rolled out at its fullest. The advantages and impact of IoT in the manufacturing sector would be unbelievable in the future. Driven by its smart communication capabilities and predictive maintenance features, the future of IoT-enabled manufacturing applications is hopeful.
Moreover, merging IoT with the other emerging technologies such as AI, Ml, and deep learning, the manufacturing industry is expected to witness a flourishing processes and stay on top of the competition.
Request for an instant free quote to fulfill your industry-specific IoT requirements of manufacturing, logistics or energy.