How Much Does an App like Snapchat Cost?
750+ mobile apps and games
450+ top-notch web apps
100+ successful IT projects
How Much Does an App like Snapchat Cost?
Overview of Snapchat App:
Snapchat is a popular video messaging app, which allows users to take photos, record videos, add text, and drawings to them and send that to their friends and relatives. The uniqueness of Snapchat app is users can fix a time limit for how long recipients can view their snaps (messages). Snapchat is available for iOS and Android users. First released in 2011, Snapchat hit around 7 billion daily video views as of January 2016. Today, the company value is between $10 & $20 billion, which makes it world's one of the most successful apps. Snapchat has inspired many entrepreneurs to build successful app of its kind, which has raised the app development cost.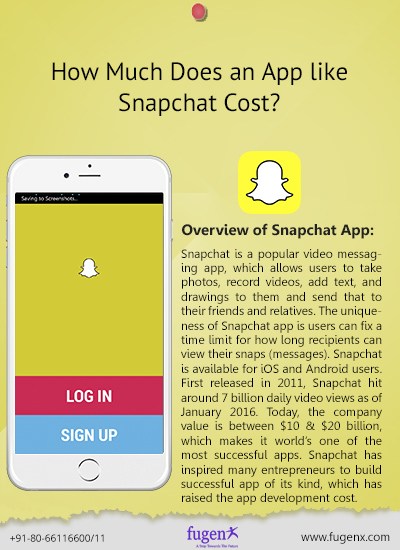 Key Features of Snapchat App:
How much does it cost to develop Snapchat like app?
The real cost of Snapchat like app development depends on the following factors:
Generally Snapchat like app development costs between $5,000 to $14,500.
How much FuGenX costs to develop Snapchat like app?
To get an instant quote for Snapchat like app, Please feel free to reach us at info@fugenx.com or fugenx.com.