Choose the best of the best for Mobile App Development
The app developer faces lot many challenges while developing a particular app. Out of those various challenges, choosing the right and the appropriate tool, platform and framework are few. Amongst, all these various challenges, choose the right platform is one of the most important criteria. The mobile app developer will be in confusion between Native and real native. Before, we getting into the comparison between these two platforms, let us know about these platforms individually
Native Application
While making use of the native applications, the app developer need to stick on to a particular platform and specific tool for developing the app. For example, is the app developer is developing an app for android operating system, he or she must and should use the android studio as environment and need to code in kotlin or java code. And if the app developer is developing an app for iOS operating system, the app developer, need to use X code as the integrated development environment (IDE). So, the app developer need to decide what kind of programming language and environments need to be used while working different operating systems.
React Native
React Native is developed by Facebook and is an open source framework. The introduction of web development into mobile app building is made possible with the help of JavaScript. The best thing about this react native is that it provides the opportunity of creating the applications simultaneously at a time. So, with the help of this feature, the app developer need not develop two different apps. With the help of a single code, both the operating systems, i.e., iOS platform and the Android platform can be performed.
Comparing Native and React Native on various parameters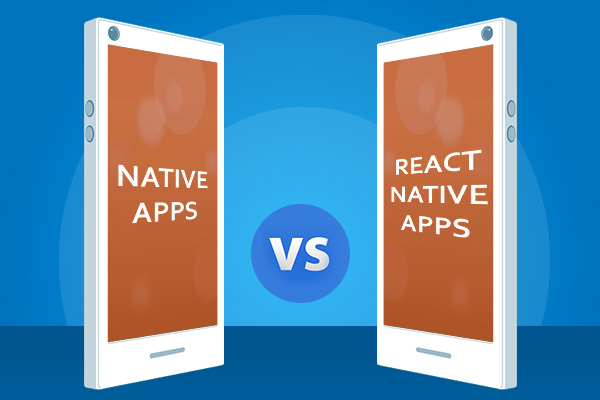 With respect to the documentation, both native and react native stand outstanding. The performance of both of these with respect to this features measure equally.
With respect to web applications, react native stands a step ahead of native. The various technicalities related to the web app development like toolset architecture and debugging flows are made easy with the help of react native. Also, if the React.js developer is being used, then there would not be any necessary for web programming. On. the other hand, native app does not link with the web development.
With respect to the performance of the app, out of these both programming languages, native application stands best. With the help of react native, we can develop various simple apps, but the actual trouble comes with its implementation with advanced technologies like blockchain, IoT. Whereas with respect to the native app, there would not be any trouble in implementing the advanced technologies.
Cross Platform app development
With respect to the cross platforms, native applications supports better than the react native. As any app will have server side and also backend, out of which backend accounts for about 50% of the efforts involved in mobile development. Native application also offers ease in coding process.
As per the professional point of view, react native is easier than native. This is because, react native uses JavaScript which is simpler and easy to operate in terms of debugging and learning. Also, the best part with this is the errors gets hidden inside the codes while compiling. These errors are detected in the later sessions. Whereas, Objective-C or Swift is comparatively a harder language, and in this errors are caught at an early stage. Thus, among native and react native, react native is easier in operation.
Based on Integrating Functionality
In this issue, native app is better than react native. When an app is being developed using native, it offers the best support for integrating functionality through third party library or API. If the hybrid platform is of interest, native supports best, unlike the react native. Also, react native do not support API's. So, in that case, native modules need to be embedded in the react native.
The best part of native app is that it saves lot of efforts and time, with respect to API's. whereas, React native serves an option for developing customized apps.
Coming to the community size support from the respective applications, react native supports better than native applications. It is obvious that, because react native is being developed by the Facebook, which is the most popular social media site, if supports larger community. On the other hand, native cannot support larger community.
Availability on App store
Whatsoever, the app is developed it is must be made available over the play store ( of google) or on apple store. If the app is developed, either using native or react native, both can be made available on apple app store and google play store.
As a final word, both the native and react native has pros and cons, just like two sides of a coin. So, the app developer need to decide what criteria's, matters the most.