Cisco Innovation Grand Challenge: You Can Win a Share of $250,000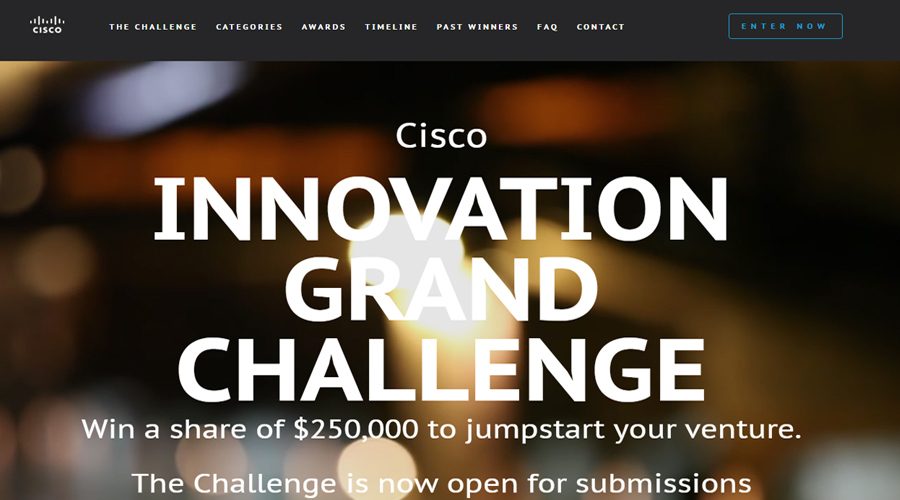 By winning Cisco Innovation Grand Challenge, you can bag a share of $250,000 to jump start your venture by sharing your unique idea that can bring disruption to society, industries, government, and entire world
The world's largest networking company Cisco has welcomed all innovators, entrepreneurs, developers and researchers to submit disruptive ideas that transform industries and governments, and change the world. The challenge winner receive:
• Mentoring by industry experts
• Work space at Cisco innovation centres
• Trip to web summit in Lisbon to pitch in the live finals
• Share of $250,000 to jumpstart your venture, which will be shared among 3 winners
Cash Prize: 1st: $150000
2nd: $75000
3rd: $ 25000
Note: All cash prizes are in US Dollars
Objective of CIGC:
The objective of CIGC is to find the most disruptive digital solutions for a safer, more sustainable and connected world. The Cisco Innovation Grand Challenge recognizes ventures from innovators, researchers, and entrepreneurs around the world. Cisco is looking for the most innovative digital acceleration technologies and solutions.
What is Digital Transformation?
Digital transformation is more than simple connectivity; it is how we bring continuous and disruptive change in businesses, industries, and countries, enabled by the Internet of Things (IoT). For governments, it is improved services and better quality of life for citizens. For industries, it is a more efficient approach and more productivity, among many other benefits. Those new approaches provide more productivity, more efficiencies and greater satisfaction.
Preference:
Preference for ventures who have disruptive digital solutions in following areas:
• Transportation
• Manufacturing
• Infrastructure
• Smart cities
• Retail
• Cyber security
• Education
• Healthcare
How judges evaluate your idea?:
Ideas will be judged on the following factors:
• Customer value
• Market opportunity and potential for growth
• Disruptive nature and uniqueness from the competition
• Fit with Cisco and/or partners business strategy
• Likelihood of success
Participants overview:
• Number of submissions: 4055
• Number of semi-finalists: 15
• Number of finalists: 6
• Number of winners: 3
Event overview:
• Submission started date: May 24 2016
• Submission closing date: August 31 2016
• Semi-finalists announced: September 21 2016
• Semi-finalists competition: September 21 to October 7
• Semi-finals end: October 8
• Finalists competition: October 21 to November 9
• Winners announced at web summit in Lisbon: November 9
How would be Semi-finalists competition?
• Pitch Deck
• Business Canvas
• Evidence of Working Prototype/ Proof of Concept/Product
• 5 minute video
How would be finalists competition?
• Judges may request additional information from finalists
• 5 minute investor pitch and Q & A in front of live panel of judges
Know the cost to develop the apps like