Children can carry upto 20% of their body weight. Continuous overweight can hamper their natural growth and cause back pain and long-term health issues. School bags have sometimes 33% of body weight because of two major reasons – underweight children and unnecessary things in the bag. It can affect students' performance and overall reputation of the organization.
How to avoid it? An iPad app can be an effective remedy for this serious plight. Having an iPad for every child seems a costly affair in the short run, but it definitely yields fruitful result in the long run. Let's see how to do it: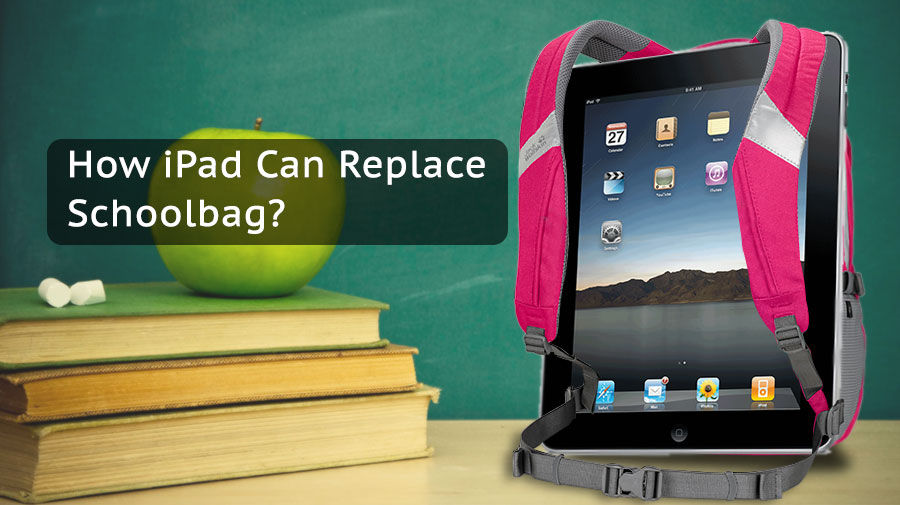 Merging Textbooks and Notebooks into iPad App:
An iPad app can help to bring all textbooks, notebooks and workbooks inside one platform. This would lighten the bag load and keep them cheerful, which could make them to learn faster, smarter, as well as get done their homework quickly. It would even help teachers teach effectively. The cost will be definitely a pain point if you consider that iPad would need to be replaced with new one every year, but it obviously lasts more than 3 years, it would be affordable even to Indian middle class.
Prime Benefits of Replacing Schoolbag With iPad App:
Interactive Learning, Increased Concentration
The prime advantage of iPad app is interactive learning, which is of utmost necessity to achieve interest in the study and to retain that. Having a tablet PC for a child will help him show increased concentration to study. Actual photos, animation, audio, video can help him grasp the concept faster.
Timely Updates in Syllabus
Especially when it comes to science subjects, the information gets outdated quickly and schools have to invest more to buy up-to-date textbooks. With the iPad app, textbook publishers and teachers would be able to edit and update the information more easily whenever required.
Other Key Benefits of iPad App Learning
• You can bring out distinct opportunities for personalized learning at every level
• Lessons can be made more immersive through the power of touch, motion, and sound
• Assignments can be sketched, charted, coded, or live performed
• The work your students need to do can become the work they love to do
• Tips, lesson materials, stories, and other resources can bring fresh ideas to your classroom
Schools Which Have Successfully Replaced Schoolbag With iPad
• Blessed Trinity Catholic School, Ocala
• Honywood Community School, Essex
• Minnetonka Public School, Minnetonka, and many…
Concern About Internet Addicts and Malware
Today's children are fonder of social networks and gaming than adults. But with the multitude of security measures, it is possible to avoid students from going on Facebook, and playing games during school hours, as well as to protect the iPads from malware. To prevent laptops from being stolen, proprietary iPad theft recovery software helps to trace the iPads in case of theft.
The idea of replacing schoolbag with iPad app is environment-friendly as well. There are four billion trees chopped down worldwide every year for paper, notebooks, and workbooks. In US only, it is over fifty million. It is even more in India.
How Does FuGenX Do It?:
Experience always counts. FuGenX helped India's largest e-learning company Byju's transform their way of teaching with futuristic e-learning mobility solution. Backed up by that experience, FuGenX is offering revolutionary iPad learning mobility solution that can help educational institutions achieve first mover advantage in the industry.
Please reach us at info@fugenx.com or +91-9154181592
to know more about our iPad learning mobility solution to transform the way of learning and teaching..