How Much Does It Cost To Design An App –
8M+ people benefited from this article – A complete cost structure
Design creates value for content. If the design is a tragedy, there will be no attention for content, how wonderful it may be. A mobile app is not exception of that. Good app design may cost something extra, but worthy. It can turn users into customers and increase ROI exponentially.
The better the design, the better will be user engagement, and user retention rate. If you're really looking to know how much it costs to design an app, let FuGenX help you.
FuGenX is providing this app design cost estimation guide after designing 500+ highly successful, eye-catching mobile apps across iOS, Android, and Windows platforms for global customers.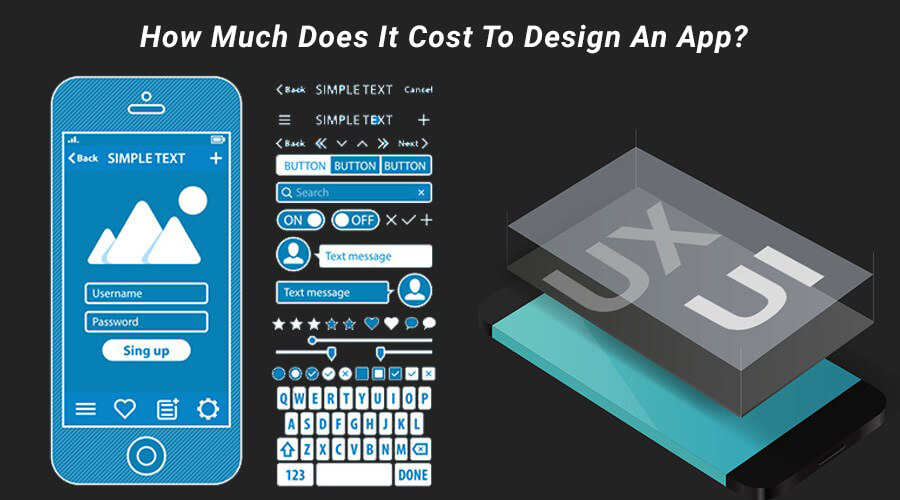 What are the trending app designs?
Skeuomorphism design, flat design, and material design are the three significant trending mobile app designs that are thrilling app users nowadays.
Skeuomorphism formulates a sense of familiarity by simulating materials, while flat design (Apple recommended design) stays adhered to its medium (Apple's strict guidelines). On the other hand, Material design (Google recommended design) blends the aesthetic look of both flat and skeuomorphism designs.
Here is a simple example of these trending designs: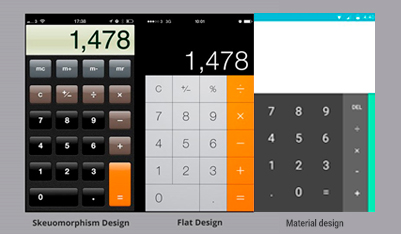 App Designing Process
A simple app designing process involves various phases, where you need a fixed budget for every stage to fit in seamlessly.
If you are looking out for a fixed-budget kind design quote, we provide you an estimated number of hours to design your application based on the requirements and multiply with the standard hourly rate.
Step 1: Information analysis:
User study, market research, stakeholder interviews, and competitive analysis
Deliverable's: Use cases, user stories and realistic behavioral scenarios
Tools used: A/B test results, user personas
Time taken: 15 to 30 hours
Step 2: Prototyping:
Usability testing, concept validation, and UX design
Deliverables: app screens' wire-frames, interactive prototypes, and user flow diagrams
Tools used: In Vision, Sketch, Flinto
Time taken: 35 to 70 hours
Step 3: Visual design:
Complete look and feel of the app
Deliverables: App logo, all icons, and selected screenshots for app stores
Tools used: InVision, Flinto, Sketch, Pixate, Apple Motion, After Effects
Time taken: 70 to 280 hours
Android and iOS App Design Cost:
There is not much difference between iOS(iPhone & iPad) and Android app design cost, though, there are something to know. Designing for iOS is usually a bit costly because of the Apple's strict design guidelines that designers need to be adhered to. The cost of Android app design wouldn't be much expensive.
Factors That Decide App Design Cost:
Design strategy: Identification and creation of use cases, behavioural scenarios, and the collection of user stories.
Features: The more the features/screens, the more will be cost.
UI and UX design: UI design means how a product looks, whereas UX design means how it creates feels. UI design covers app colors, buttons, shapes, fonts, frames, and navigation style, etc., whereas UI design is what a user feel at the end of every action on the app.
Designers' geographical location: This makes a big big difference in app design cost. Indian app designers are known to create top-notch designs at affordable cost.
Benefits of Good App Design
The first impression is the best impression. A good app design can create a long-lasting impression.
Good and simple app design facilitates the app discovery
Engaging design can increase user engagement by 200% compared to ordinary design
Good design can encourage users to share your app with others, which can result into doubled user base
Good app design can turn users into loyal users, and loyal users into customers
Good design can significantly reduce the cost that you spend on branding
How to Create Good Design?
Experienced companies like FuGenX can use the following best design practices to create a good design:
Making simple, transparent, and attractive UI, keeping users in mind
Creating engaging UI & UX design to make users engaged to the app
Making the Navigation effortless
Creating a compatible layout that fits the screen of multiple devices
Keeping the icons semantically accurate
Creating a uniform colour format for all pages, which can make your app a brand app
App Design Cost by App Type:
Note: The cost given below are pertained to the US market. Compared to it, the Indian market would be more attractive and cost-effective.
The cost/time is an average market cost/time. Our (FuGenX's) charges and the time we take to design an app would be more convenient and attractive.
Simple App:
Simple app means basic functionality app, which is mainly intended to give information. Some apps come under this category are calendar app and dictionary app. The simple app can take 100 hours to be designed and can cost around $5,000.
Database driven apps:
Database driven apps can include user database, products database, real time chatting, and payment option, etc. E-commerce apps Amazon, and Flipkart come under this category and even messaging apps like WhatsApp as well. Database apps can take 200 hours to be designed and cost more than $10,000.
Complex App:
Complex apps are also database-driven apps, but they are focused on user-generated content. The social media apps like Facebook, Twitter, and blogging portal WordPress can be the best examples of this. Complex apps can take around 400 hours to be designed and cost more than $20,000.
Breakdown of App Design Cost by Country:
US based app design firms can charge between $100 and $150 per hour for a great design.
UK based app firms are a bit inexpensive compared to US, who can cost $65-130 per hour.
Asia based, especially Indian app design companies can deliver the same great design at around $20 per hour. This is why businesses from US, Europe, and Australia are preferring Indian companies to design great apps.
How to Reduce App Design Cost?
The companies like us follow the following design practices to reduce app development cost:
A result-oriented app design strategy can cut down app design cost to a large extent. So we plan well well before initiating to craft design.
As mentioned above, more features lead to more cost. So if you're developing an app first time, focus only on core features in the version 1. Once your app is geared up, you can consider the remaining features to include.
In order to reduce UI and UX app design cost, it is better to handover your project to an app design firm that has experienced and certified UI/UX designers and they can wireframe once and design once, which significantly reduces design time.
Hiring UI and UX app designers and strategic design consultants would be a time taking process and costly as well, so you can consider outsourcing your project to a reliable and best app design firm to get quality design at affordable cost. If it is outsourced to emerging markets like India, you can expect maximum ROI.
How Much FuGenX Charges to Design a Mobile App?
FuGenX is a Deloitte award-winning technology services company, specialized in mobile app design and development in India and USA. FuGenX designs apps that people love to use and share with others. FuGenX's quality-driven app design service has helped India's largest online grocery store Big Basket turn users into loyal users, and loyal users into customers. Disney, Praxair, and Bharat Petroleum are other big brands who benefited from FuGenX's world-class app design services.
Reach FuGenX at info@fugenx.com or fill up the form for exact mobile app design cost.
Make sure you will include 'require quality design at affordable cost' in the subject column to get an attractive quote. 

Also read: Cost of mobile app development
Beginners guide to developing a mobile app
Guide on mobile app development outsourcing to India