The Smartphone became a necessity in the current generation to make our works more accessible and straightforward. With a mobile phone/Smartphone in hand, it was refreshing for users to find their way to their destination with the help of outdoor GPS navigation mobile apps, traffic information, even when they are in an unknown city.
Even though you are familiar with the city, most of the people are using the navigation in mobiles. It is okay with the outdoor navigation, but it is possible to get lost indoors, with GPS satellite signals not being precisely perceptible in case of navigation of apps.
Most of the time, we faced difficulty in finding out a coffee shop in a crowded shopping centre, where we need to hang out with friends. Won't it be expedient to have an app that works equally to the ones that we use outdoors?
With such an app installed on the Smartphone, you would be good to go as it is going to be enormously easy to find a way to your destination, even in an unfamiliar location or city or place.
According to research, by 2022, 25% of uses of a navigation application that includes indoor elements as these systems become widely available, and consumers get used to their benefits.
What Is An Indoor Positing System?
The simplest way to explain the Indoor positing system is that it works like a GPS for indoor settings.
Indoor navigation applications help locate objects or people inside buildings, usually through a mobile device, which can be a tablet/Smartphone.
An important thing about this technology is it is a way newer and advanced than GPS, as services leveraging IPS are quickly attaining tractions like airports, hospitals, and other locations where navigation and other location-based services may prove to be indispensable.
Why Do We Need An Indoor Navigation Technology/Application?
Before knowing why we need an indoor app, it is essential to understand that these apps work augmented reality, and display your location of the road trips based on the maps in the indoor level.
The indoor navigation app Android/iPhone consists of Google maps (offline maps/online maps) that sow express route towards the destination. It also allows users to receive a message from system administration.
Beacons & augmented reality technology are used by the apps to create an indoor map. This navigation indoor positioning software majorly has three purposes:
Positioning
The positioning function locates the destination inside a building in the indoor application, based on the real-time location of the user.
Navigation
It creates the shortest alternate routes until the destinations that can be either a park area/shopping mall.
Push notifications
This feature in the indoor tracking app sends a notification to the users about their actual position in their smartphones.
How Are These Apps Useful To Businesses?
Indoor positioning & navigation technology is much useful for businesses as they can put this service good to use. Indoor positioning apps can be used by them to map out large buildings such as airports, malls, water parks, and many for visitors.
So all of these building covers many areas, and thus it becomes tough for visitors to discover their way quickly. However, this issue can be solved with Indoor navigation & positioning apps.
The development of the application may confuse the customers, such as how to use a particular application? However, the evolvement of the new technology has added value to the applications and provided better services since.
The idea behind this technology is straightforward: Inside large buildings where GPS does not work, the app will help smartphone customers in finding and reaching exact destinations.
These indoor positioning system app/indoor map app will benefit both users and facility owners, and they can be quickly tuned based on each owner's requirements.
The Benefits of Indoor Navigation for users
As of now, we saw how indoor GPS navigation systems helpful for business do. Now, it is time to see how it is useful for users/customers.
Searching for venues
Get voice directions to the preferred location
Getting an online map of a facility
Creating & viewing the routes
According to eMarketer, 66.8% of smartphone users have used Navigation apps monthly, with an increment of 5.8% from 2017 to 2018. It is expected that the growth becomes stable in the coming years and the prevalence to reach 67.6% by 2021.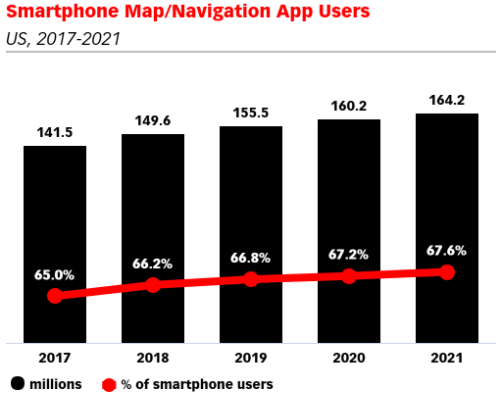 Also Read: "How to develop a mobile application."
How Do Indoor Navigation Apps Work?
This technology takes advantage of internal sensors in your mobile phone to calculate the indoor position of the device using a sophisticated mathematical algorithm. It then combines the incoming data from the sensors in an astute manner to find out the exact location, leaving scope for little to no latency.
By following the above way, it results in smooth user experience. To provide the best user experience, indoor positioning technology relies on three different elements like the underlying dynamic positioning system platform, beacons broadcasting signals that are picked up a mobile device, and then served to the internal positioning system.
This technology combines information from various sources to calculate the position of an individual.
The input data includes:
Facility maps (Information about elevators, walls, staircases, and obstacles is essential)
Signals from a transmitter (Wi-Fi & Beacon access points)
Information from smartphone users (Gyroscope & Accelerometer)
Thus, an indoor navigation system requires:
Building map
A smartphone with a dedicated map
Back-end servers
Fingerprinting & BLE Beacons
Is the hardware necessary for the Indoor navigation system app?
Yes, you heard correct. Even an indoor navigation system requires hardware, and those are divided into three types to ensure correctness, these approaches should be mixed with another.
BLE Beacons
BLE Beacons have a long battery life, and it will have 2-3 meter range accuracy. IOS & Android devices support these signals.
Besides, indoor navigation using beacons calculates the route on the server and thus, it eliminates the extra load on a user device. For which, the user is required to be within the range of at least three BLE beacons, and this method termed as a triangulation method.
The number of beacons required depends on the number of obstacles, such as staircases. With an indoor beacon calculator, the app can determine the number of beacons needed.
Wi-Fi access points
These Wi-Fi access points work as signal transmitters. However, they do not calculate user position, and it is calculated by the smartphone that eats up the entire battery life.
Geofencing
The feature uses a smartphone built-in compass & geomagnetic map of the venue. Meanwhile, the magnetic field needs to be stable. After every new source of electromagnetic emission, the product owner has to update the geomatics map.
Recommend: "Complete Guide to Geo-fencing"
Top 10 Features of Indoor navigation app
The Indoor navigation application is a little bit complex, and it requires many features. However, here are the basic features are:
Mapping
Routing
Positioning
Analytics
Administrative capability
3D map visualization
Voice guidance
Custom design
Find-a-friend
Login using social media accounts
Factors That Determine the Cost of Navigation App Development?
App Platform:
Choose which platform you want to opt in the initial stage because it takes a lot of time to develop both the platforms.
It is better to go with the one platform that is Android/IOS in the initial stages. If you are successful with the one platform, then it's good to go for the other forum.
App Design:
The app needs to have an attractive design to engage users and retain them.
The excellent design will cost more, but with the best design practices, we can reduce the cost largely. FuGenX has proven expertise in this.
App size:
App size includes the number of functionalities, user database, and features that every app should have. Apps like Gumtree should be scalable so that it can retain its efficiency even with the increased users.
App developers:
The cost of a mobile app development depends on the developers' geographic location also. Developers' experience & expertise level even matter most here. Developing a turn by turn navigation app in India is significantly cheaper compared to the United States.
1 Project Manager.
2 UI/UX designers.
4 Android developers.
4 IOS developers.
3 Backend developers.
2-3 Quality engineers.
The developer's price will depend on the geographical location.
Cost of developers based on geographical location
India – $10 to $80/hour
Australia – $50 to $150/hour
Eastern Europe – $20 to $150/hour
USA/Canada-based dev teams – $50 to $250/hour
Eastern Europe – $20 to $150/hour.
 App development cost: Development time (hours)* Developer price per hour.
How Much Does It Cost To Develop Indoor Navigation App
The total cost to establish a classified app will vary according to the requirements of the clients.
An app with the basic features will cost you around $10,000 to $55,000 while adding optional features will cost you approximately $25,000 to $50,000.
It is the estimated cost of app development. As it is impossible to exact price & time to develop an application without knowing the complete requirements
If you want to know the precise budget of your classified app, contact us with your needs. Our technical team will guide you about the process without charging you anything for the consultation.
When it comes to hardware cost, the price for a three-piece kit of BLE Beacons will cost you $20- $60 each, while the cost of geofencing will depend on clients' requests.
As you are going for navigation software development, it is better to update regularly. Apart from the development, it would help if you had some extra dollars for a few services are:
Third-party services
Device upgrades/updates
Servers
Final Words
I hope you are satisfied and got a clear view regarding the development Indoor navigation app (Mobile indoor mapping). By now, you must be clear with the technology.
If you are planning to develop an Indoor navigation application for your mall, then get in touch with our experienced professionals to help you with the process.
If you are still stuck with any doubts, please reach us by filling up our contact us form.
We would love to serve you!