Advantage Of AI Chatbot In Travel Industry
The benefits of Artificial Intelligence in the travel industry are abundant and an AI-based chatbot is the best innovation of the technology for optimizing and digitizing service levels.
2016 has been the year we all came to know about AI chatbot-digital customer support assistants. Automated customer support services have gained the attention of businesses across various industrial verticals. Facebook and Microsoft like technology giants were already introduced AI chatbot services in their applications to deliver top-notch convenience and instant services to their audience.
Further, Amazon and Flipkart like online delivery service providers were also offering in-app virtual customer support services 24*7. Likewise, the adoption of a chatbot for travel industry is also high since customers switch to online ticket booking applications.
Today, we would like to give a brief guide on the advantages of AI Chatbot in travel industry. If you are looking ahead to hire AI app development companies for the design and development of custom travel apps for Android and iOS with more advanced AI chatbot facilities, you must look over the below session. Herein, we have discussed the definition of an AI chatbot, the benefits of Artificial Intelligence in Travel, and how much it costs to develop a custom AI-based travel app.
Now, let's see what is chatbot and how it works.
What is Chatbot?
Chatbots are AI software that uses natural language processing, speech recognition, and conversational capabilities to interpret and understand human text or voice commands and deliver human-like responses in seconds. Powered by artificial intelligence and machine learning capabilities, AI chatbots can read text, validate and verify with predefined questions, and give an accurate response to the desired queries instantly.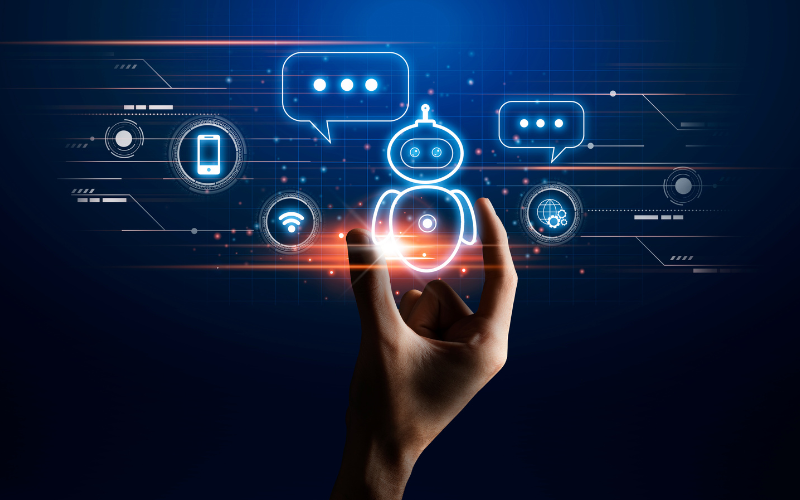 Over other types of chatbots, the advantages of AI Chatbot in Travel Industry are incredible. They are assisting travel agencies to respond to traveler issues instantly. Starting from online ticket booking or ticket reservation to accommodation booking and return journey planning, everything can be assisted by AI-powered chatbots.
Hence, digital chatbot assistance is an essential user interface that can be plugged into a number of data sources via APIs, so it can deliver information for user queries in real-time through automated appropriate text or voice support. On top of all, the applications of a chatbot for travel industry ensure the utmost experiences for users and plays a key role in increasing brand value.
How Chatbot Works?
Chatterbots recognize keywords in the user's input and then access a database to give a predefined response. Let's say the user is giving the bot sentence that contains the word "dog". The chatbot is most likely to ask something like: "How your dog looks like?" or "Tell me more about the dog". These are called rule-based chatbots and send pre-defined responses that have been programmed.
Similarly, AI-based chatbots are one of the biggest categories of virtual assistants that use machine learning, speech recognition, and natural language processing technologies. They can understand written or spoken languages, and also learn from previous conversations that they had with users. Hence, AI chatbots better recognize languages, purpose, and emotion in the content and ensure human-like interactions.
It is one of the best advantages of AI Chatbot in travel industry. Since, travelers come up with different issues related to ticket bookings, refunds, booking confirmations, travel plans, insurance claims, and so on, AI chatbots are the best solutions for interacting with customers anytime anywhere.
What Are The Benefits Of Artificial Intelligence In Travel?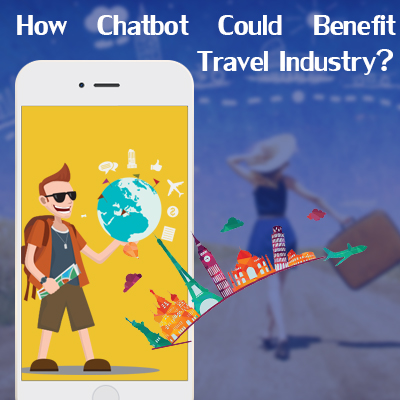 Combining pre-set scripts and deep learning neural networks, AI bots can predict an accurate response to an asked question in a way that skips phases of conversation to mimic regular chat. The same question can be asked via voice, and the answer will be delivered in the same manner.
How Could Chatbot Benefit Travel and Tourism Industry?
As a service-based industry, the travel industry achieves its success on the experience level of customers. AI chatbot for travel industry enhances traveler experiences by delivering quick virtual support services.
Bots can be used to provide travelers with a simple overview of flights and hotels available based on their criteria and booking option. A bot that can have both travel data and destination content would become a perfect travel companion. The travel bot would provide business travelers with information about their journey step by step.
The following are the major advantages of using AI Chatbot in travel industry:
Here are the top 10 benefits of AI chatbots for travel agencies. Let's take a glance at the top benefits of integrating AI chatbot features in travel apps (Android/iPhone).
One of the major advantages of using AI chatbot in travel industry is travel companies can deliver 24/7 customer support. Interactive chatbot applications are good enough in communicating with the app or website users and solve user issues in real-time.
AI chatbots play a key role in ticket bookings based on user input and assist through the booking journey as a customer support executive does.
A notable advantage of AI chatbot in travel industry is multilingual support. Users can input text or voice commands using their local languages and get appropriate responses.
Using AI and machine learning algorithms, marketing and sales AI chatbots deeply analyzes travels information and send personalized recommendations
AI chatbots are the best solutions for automating check-ins and check-outs in hotels without the need for human representatives
Travel companies can collect customer data, access their trip preferences, analyze frequent travel trips, and deliver personalized travel recommendations.
Customer-driven AI chatbots ensure low operational costs as it automates customer assistance services
AI-based chatbots will conduct market research, reads customer feedback and derives patterns to drive conversions
A virtual travel assistant in mobile apps communicates in the right language and increases experiences
Either text-based chatbots or voice-enabled chatbots will help travel companies in optimizing service quality and ensure successful track record in this dynamic digital world.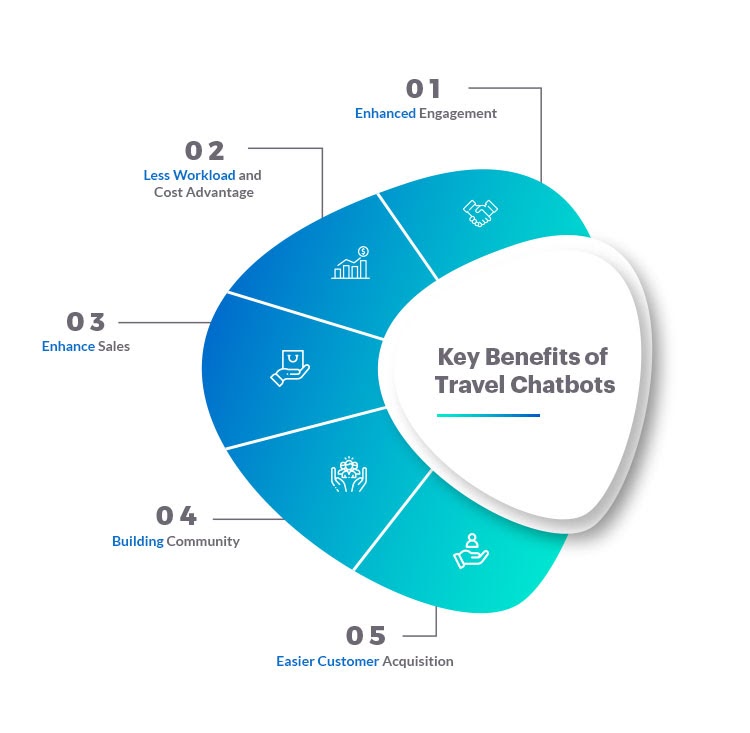 The Chatbot technology can also help travelers in knowing the following things:
Nearest business lounge
Baggage allowance
Time taken to reach the airport
A travel bot not only consists of travel and accommodation information but also suggests the most famous places to watch. This is very useful for a person who is not familiar with the destination, either he is in India or other countries like the United States.
With these transformational benefits, bots have grabbed the attention of thousands of travel companies who want to achieve first-mover advantage in their field. As per the research reports, chatbots are forecasted to save up to 8 billion dollars by the year 2022. Hence, the future of AI chatbots in the tourism and travel industry would be promising.
Would you like to know the AI travel app development cost?
Know the cost to develop apps like
Conclusion:
We have discussed a few major advantages of using AI chatbot in travel industry. AI-powered Chatbots integration in travel apps helps in ensuring better customer engagement, improved service quality, and optimized marketing potential. Not only the travel industry but businesses across various industries can leverage AI chatbots for customer support and building sales and advice strategies.
By choosing the right mobile app development partner, travel companies can develop a great chatbot that can help them achieve the desired success.
Want to know how a chatbot can help your business?
Please reach us at info@fugenx.com or fill up the form to build a chatbot. Let us provide you with a free consultation.