2016 has been the year we all came to know about chatbot. With the Facebook's announcement at its F8 developer conference in April 2016 that stated businesses now will be able to use chatbots to deliver automated customer support via 'Messenger' service, the word 'chatbot' gained international attention. Earlier in March, Microsoft introduced its chatbot called Tay.
Now, let's see what is chatbot and how it works?
What is Chatbot?
Chatbots are micro applications that live inside chat app platforms like Facebook Messenger, Slack, and Telegram. Powered by artificial intelligence and machine learning capabilities, they can read and write a message. Chatbot applications are like virtual assistants of humans.
The chatbot is essentially a user interface which can be plugged into a number of data sources via APIs, so it can deliver information for user queries in real time through automated appropriate text or voice support. AI Chatbots are capable of effectively mimic human conversation and react to spoken or written prompts.
How Chatbot Works?
Chatterbots recognize keywords in the user's input and then access a database to give a predefined response. Let's say the user is giving the bot sentence that contains the word "dog". The chatbot is most likely to ask something like: "How your dog looks like?" or "Tell me more about the dog".
How Chatbot Could Benefit Travel Industry?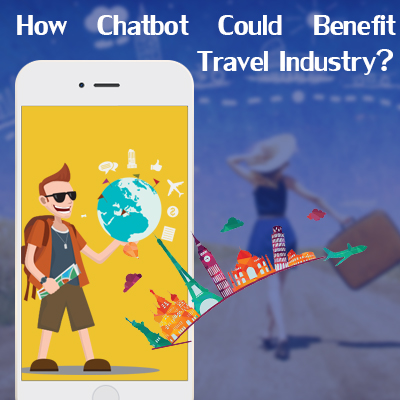 Combining pre-set scripts and deep learning neural networks, bots can predict an accurate response to an asked question in a way that skips phases of conversation to mimic regular chat. The same question can be asked via voice, and the answer will be delivered in the same manner.
How Could Chatbot Benefit Travel and Tourism Industry?
As a service-based industry, the travel industry achieves its success on the experience level of customers. Travel companies can leverage chat bots to enhance customers experience through advanced and quicken customer service.
Bots can be used to provide travelers with a simple overview of flights and hotels available based on their criteria and booking option. A bot that can have both the travel data and destination content would become a perfect travel companion. The travel bot would provide business travelers with information about their journey step by step.
On the journey date, the bot would retrieve all the boarding information like time of the flight, boarding time, checkpoint, terminal number and even more details on the airport. Especially, in this Covid-19 pandemic situation, bots can help us more as it will infectious to humans.
Following are the four major advantages of using AI Chatbot:
Saves Time and Effort: Currently, customer care centres are overloaded with frequently asked questions. They have to handle standard questions, whether it is hotels or airlines. Human authorities are annoyed with such questions. As such, they may ignore some questions. At such times, chatbot application development services come to the fore.
Artificial Intelligence chatbots are effective in solving common questions. With proper training, they can solve complex problems. Such problems need human help at this time. It helps to occupy human resources with more productive work or with more complex customer issues. Tasks involving management decisions require human intervention. A business organization can reduce the enormous productivity of its employees. This only happens when practical tasks are handed over to machines.
For example, Goibibo GIA Chatbot will answer simple questions without getting tired. It handles a lot more queries on a daily basis than any human customer-care team. In addition, it takes care of seat selection, ticket bookings, and various booking related questions. These actions have reduced the burden and time on human employees by 25%.
Store Valuable Data: If the business is able to gain valuable insights on several aspects of the customer, isn't that a flexible situation? This is not possible in the case of telecommunication. Therefore, Travel businesses opt for chatbot application development services to generate customized AI chatbot. Moreover, such bots are indeed oceans of storing valuable data.
They offer several insights including purchase records, customer intentions, customer experience and other valuable data. This kind of information helps organizations to provide better customer experience.
Personalized Recommendation: Business leaders can manage data more innovatively. These data trends enable Chatbot to offer customized recommendations based on customer inputs. Marketing messages can also be changed according to specific customers and according to the training of the Artificial Intelligence ​​engine. Chatbot making firms are preparing this type of chatbots that will forecast patterns and user behavior.
Financially Sensible: 18-30 year old population is the driving force for most businesses. Young people are the most qualified target customers for the majority of industries. These are no exception for the travel industry as well. As discussed above, they accepted the use of chatbot before any group. From an economic point of view, chatbot investment is guaranteed to give measurable returns.
Recently, GReaTa company introduced travel bots on its web application for booking resorts and hotels. In 2.5 months, consumer interaction with GReaTa has multiplied. Of those, 84% shared their details willingly, and 40% booked a service or two.
As per the research reports, chatbots are forecasted to save up to 8 billion dollars by the year 2022. Hence, a good future in the tourism and travel industry can be achieved by using AI chatbots properly.
The Chatbot technology can also help travelers in knowing the following things:
Nearest business lounge
Baggage allowance
Time taken to reach the airport
A travel bot not only consists of travel and accommodation information but also suggests most famous places to watch. This is very useful for a person who is not familiar with the destination; either he is India or other countries like United States.
With these transformational benefits, bots have grabbed the attention of thousands of travel companies who want to achieve first-mover advantage in their field.
Conclusion:
Chatbots are called next-generation technology, which is helpful not just in customer engagement or not only for the travel industry; businesses of any sort can leverage chat bots for internal support, sales and advice strategies.
By choosing the right mobile app development partner, travel companies can develop a great chat bot that can help them achieve the desired success.
Want to know how a chatbot can help your business?
Please reach us at info@fugenx.com or fill-up the form to build a chatbot. Let us provide you with a free consultation.