Building customer engagement is tough task. This is where push messaging comes to your help. Push notification is a great way to engage users with your app and build brand value. But making them constantly engaged with your app needs a special push messaging strategy. Now let's see what is push notification, how to do it and what are the best push notification messaging platforms in the market.
What is push notification?
Push notifications are short messages that can be programmed to appear on users' home screen, even when they're not using the app. Push notifications can be about latest offers, app updates and recent activities that are done by the same user and other users of the app.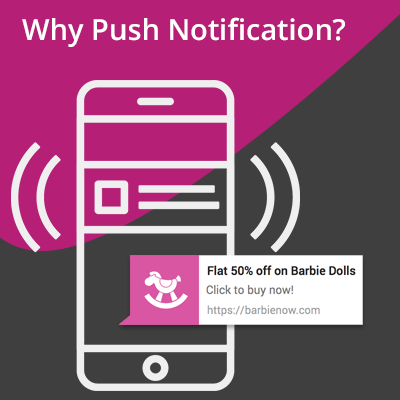 Push notification benefits app in several tangible ways, such as:
• To send personalized offers: Depending on the user data such as gender, age and interests, you can send personalized offers via push notification. This triggers users to get the offer quickly.
• To encourage users to use the app who are not using the app regularly: Most people don't use the apps after a few days of downloading. In this case, you can alert them to use the app.
• To remind users about further actions: For example, if your app is about e-commerce, when the users add the product to the cart and don't make the purchase, you will get an easy way to alert them about purchasing the product.
6 Ways to create a result-oriented push notification campaign
In first attempt, it is tough to achieve the desired success in push notification campaign. As the campaign goes, you'll be able to harness the fullest potential of it. Strategies given below will help you build an advanced push notification campaign that is result-oriented and cost-effective too.
1. Segment your audience
You can't think that one push notification strategy fits all your user base. In today's highly competitive mobile marketing landscape, blanket bomb style campaign doesn't work. You need to dig deep and segment users according to their interests, gender and their previous actions in your app. If you're selling mobiles through the app, you can alert customers about the latest version of the same device that they had bought before. You can also segment customers on the criteria of existing customers and new customers. For those who have already bought the device, you can offer accessories such as screen-guard and back cover, etc.
2. Create a short and sweet content
Creating a push notification alert that appears on users' home screen is not about crafting a lengthy content that strains users to read it. It should be around maximum 10 words and capable to trigger users to check the actual content. On the actual content page, you shouldn't forget to keep an awesome Call to Action. Call to action like "want to avail this great offer now?" excites users to grab the offer. On the other hand, if a user spends more time on that content, you can add him to the category to send him the same type of content in further campaigns. You are suggested to refer our previous post on how to do content marketing to promote a mobile app to build better content strategy.
3. Choose the right push platform
Your campaign can't be effective without a right push platform. Urban Airship, PushWoosh, Parse, and Carnival are the most popular push platforms today. You can choose the best one among them based on your campaign requirement. Each of them has its own unique set of features.
4. Decide frequency of sending
This is one of the very important aspects in push notification campaign. Nobody wants to see notifications regularly unless it is very important for him or news app. Sending notifications frequently could harm you instead benefiting. Irritated users may uninstall the app. If it's a news app, people obviously expects regular updates, but it is not the same from e-commerce app.
5. Let users opt out
If your notifications seem disadvantageous or irritating, users may want to opt out from it. Opting out doesn't mean they'll no longer be your app users. Once they opt out, you can't notify them about latest offers and other promotional content through push notification system. But the same you can do through email marketing. If you don't give an option to opt-out or your opting out process is complex, there will be hazard that users might uninstall your app. So let them opt out if they wish.
6. Analyse your campaign
As told above, the desired success is difficult in first attempt. So you have to improve the campaigns from campaign to campaign. So you need to analyse the performance of every campaign. This can be done with the analytics facility provided by chosen push messaging platform. Depending on the click through rate and retention rate, you'll be able to build better campaigns.
Know the cost to develop the apps like

Conclusion
We hope we've covered all fruitful ways to create a rocking push notification campaign. In push notification campaign, choosing a right push messaging platform and creating a compelling content are the two most important aspects. Apart from this, if your app is good in performance and boasts dazzling user interface design, it will be even easier to attract and engage customers and achieve the desired app success. So to build a top performing app, you need a help of experienced and expert mobile app development company who can help you throughout the app journey.
Need help to build a top-notch mobile app that can make building push notification campaign easier?