Successful app is not just an outcome of beautiful design and development. The real success goes beyond it. If you're the only one in the app world or just few others, the success can be derived from just design and development. No, now the app world is juggernaut: thousands of apps are becoming a part of this overwhelmed race everyday.
In fact, you need a KPI (Key Performance Indicator) strategy. KPI is a measurable value that reflects how effectively a company is accomplishing key business objectives. Organizations use KPIs to assess their success at reaching targets. In fact, all sorts of mobile apps development companies and other technology companies are driven by KPI.
You may think how app analytics differentiates in app success. Yes, it definitely differentiates. After clients set up discussion with us, we help them define their analytics strategy. We help them polish the idea, so they will be able to clearly measure the outcome of each and every feature. Our strategy helps them figure out the business opportunity where users face problems.
Let us help you create a solid app analytics strategy for a successful app.
Draw an analytics plan
Here pen and paper will be your planning tools. Just create three columns: fill first with goals, second with their success metrics and third with what is required to achieve success.
Now list out components required to follow goals – best actions required or best features you can craft here. Set manageable target, never go very high or low. Go on the web and check "has anybody solved the similar problem you're going to solve". If solved, get some insights by analysing their app features and functionality.
Choose Tools
When should you choose tools? As soon as you create product feature roadmap and decide supporting technology stack, you'll head for choosing tools.
Top tips to choose right analytics tools: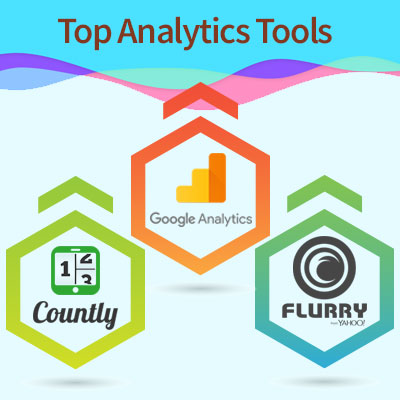 Begin with free and basic –
Google Analytics and Flurry can be perfect here. Open source option Countly can also be well fit to your need.
Understand your product's category –
Choose a tool that is well suitable to track your app performance. Don't choose a tool focused on mCommerce if your app is heavily content-driven. And over a time, you may need additional tools to manage the things.
Understand your product roadmap –
Don't choose tools that are very limited in feature. As your app grows with features and platforms, you may need a scalable tool. So pick an analytics tool that will grow with you.
Choose a tool that features these two features –
session playback and heat-maps: session playback allows you to analyse a simulation of real users actions in your app, whereas heatmaps allows you to know which sections of your app is gaining high attention.
Choose a tool that lets you switch to other analytics tools –
Not all analytics tools allow to fetch other analytics tool into app. So make sure that the tool you choose will allow this. And also make sure your app architecture is designed to enable this.
Know how you track user activity across devices –
Universal Analytics by Google helps you perfectly track user paths across devices.
Conclusion:
Make sure input collected from mobile analytics is perfectly factored into the road-map of the app. So it can evolve with the trends and acquire more number of visitors. Today all size mobile app development companies are serving customers with mobile analytics service as a value added service.
Need help to build a game-changing mobile app strategy?
Let FuGenX do it for you. We at FuGenX are a global technology services company, delivering cutting-edge technology services, including iOS app development, Android app development, web app development, Wearable Solutions and IoT app development.
Discuss your requirement at info@fugenx.com or fill up the form. Get free quote first, great service next.