You may have a unique app idea, but looking for good support to make it better. You've taken a right decision. With the app ecosystem thriving, it's a perfect time to turn your app vision into a reality. With a right plan and comprehensive guide, even an inexperienced entrepreneur or newly-born startup can successfully produce an app without having a much understanding of technical part.
With an experience of developing hundreds of successful apps, we are putting up 4 fruitful steps before you that can be enough to build a Minimum Viable Product to find real users and investors. Later you can make it better with a complete set of features to attract and engage targeted users.
FYI, in better words, an MVP is the early version of an app or product that is built only with the essential features to satisfy the early users and investors. Upon user feedback, the app can be made better.
Step 1: Find Challenges In Your Idea
TRandom ideas won't succeed, but unique ideas can, but challenges have to be rooted out first. So before taking the help of any app development company, find core challenges in your idea. If you find it difficult to find, let them find it by just contacting and having face-to-face discussion.
At this point, you don't need to much worry about design details, rather your maximum focus should be on removing the obstacle or making the idea better. For e.g., if you've a plan to develop a business app, you can't just copy and paste, you should offer at least a single unique feature or functionality that can help to have edge over them.
But creating and executing such a solid feature is not like cutting a cup cake, it needs a lot of strategized effort. To succeed, your app needs to solve a problem that existing players are unable to do or not focusing, or create a completely new value to the user. A true successful and high performance app will manage to do both.
What if it seems others are also dealing with the same problem?
This is what we said before you've taken a right decision. Competition is there means there is a market for that, or your idea is a good one.
Step 2: Build The First Version Of Your App
Now you may've got some super strategy to solve challenges, it's time to develop the first version of your app (Minimum Viable Product). As told before, here your complete focus should be on clearly defining the core feature, which is important to well understand the value of your web based app from users and investos viewpoint.
(If you are a startup and want to raise fund for your venture, know how to raise fund or if you want to know how mobile application can help to raise fund, check with benefits of mobile app in fund raising).
Prepare a feature set:
It doesn't matter whether you build yourself or let hired company build it, you should prepare a feature set that should be a written document. The document should detail the specifications of the mobile application, including the design elements, the platform (s) and the technologies needed to be developed. A well-defined feature set will make it easier to communicate your android app vision with team members or hired resource.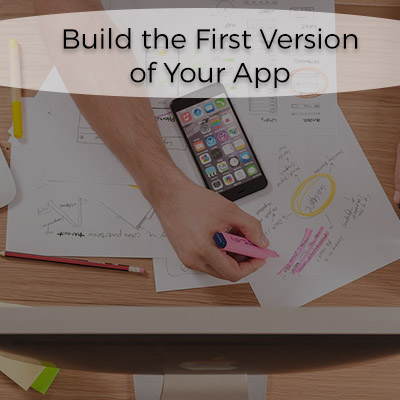 Create a wireframe:
A wireframe is basically a framework or blueprint of the product, which is your part to create. Some sheets of paper and pen are enough to create. Try to draw out the complete action of core feature (s) from start to end (from first tapping to final output), keeping the user experience in mind. You can also take help of any popular wireframing tool – Framer, Indigo Studio or Mockingbird for better wireframing.
Step 3: Coding
It is the toughest part that most of the individuals face when they go to develop themselves. They have two more options: hiring a mobile application development company/ developer team or building their own in-house team. When these decisions are brought under the comparison test, hiring a good mobile application development company becomes the best bet.
Because of their expertise and experience, capability to tackle abruptly hitting technical challenges at any phase and complete the project within the expected time and budget constraint. It doesn't mean individual shouldn't build himself or build his own team.
When he has a full stack developing capabilities (both front-end and back-end), the final outcome could be an expected, otherwise the maximum investment and time would be vain for repairing the product. This might lead his actual business to suffer from the lack of fund.
Step 4: Review with feedback
If any movie is hit badly, they have very less opportunity to revamp it and make successful. But, hybrid app/ native app are not like that, they need user reviews to become better. Once testing is completed, release it to the required markets, analyse its performance and users reviews, and upon that, tweak it to perform better. Apps will be available in both Google play store and iOS app stores.
Any successful product is an ultimate outcome of its continuous improvement and evolution with customers' feedback and input from the market.
Need Help To Build Your Dream App?
FuGenx is here to help you out! FuGenx is a Deloitte award-winning technology services company, specialized in mobile app design and development in India and USA. FuGenX designs apps that people love to use and share with others.
If you choose us, we can provide you an expert insight and experience that is gained from 500+ successful projects, including big brands like Vodafone, Big Basket and Panasonic.
FuGenX's quality-driven app design service has helped India's largest online grocery store Big Basket turn users into loyal users, and loyal users into customers. Disney, Praxair, and Bharat Petroleum are other big brands who benefited from FuGenX's world-class app design services.
Reach us at info@fugenx.com or fill up the form to design your mobile success.