A small story before going to the core:
An engineer designed an awe-inspiring car in an automotive company. The owner was pretty happy, he praised the engineer a lot. But when bringing the car out, he came to know that the car's top kisses the roof of the building. The engineer felt very sad about his ignorance to identify that small mistake. Everyone starts thinking about how to bring the car out.
A painter suggested that if the car's top is damaged, it can be made corrected through tinkering. Another key person suggested that if the car is taken out by breaking the roof of the building's entrance, it can be made corrected through cementing. But the owner was not impressive with those suggestions.
The watchman in the place was observing all these happenings. He wanted to suggest owner a solution, but hesitated to intervene between the key people. But he couldn't restrain from telling out the suggestion. He reached the owner and told "sir, if the tires' air is released, obviously it will go some inches down. Then you can easily bring the car out". Everybody got surprised and the owner praised the watchman a lot and lot.
The last staff of the organization easily solved the most difficult problem of the moment that experts were unable to do. Idea is not an asset of any particular person. Anybody can have. But the important is intention to think, and courage to express. If you're looking for a game changing app idea that others are unable to have, let us help you with 3 easy ways to find a profitable app idea and make it profitable:
1. Have an attention on problems
Today most of the successful apps are focused on solving problems. It is the problem the owners of the apps themselves faced. It may be the problem they figured out as the problem of people around them, in a professional or personal environment. From now onwards, until next 30 days, keep attentive for the tasks you do and people around you, and try to figure out the solutions that can make the things better.
Try to find out at least one common problem a day. As the days go, you can sharpen your capability of solving real world problems. At the end of 30 days, choose maximum 3 best ideas. Go for the one that makes you excited. Discuss it with your close friends who have an entrepreneurial approach. Don't think about app development cost now. Don't just look for B2C solutions. Even B2B solutions can also work wonderfully. When doing it, keep your workplace in mind.
2. Explore your core skills
Your core skill can be turned into a game changing app business. Take Rachel Charlupski as an example. Initially she used mobile to expand her babysitting business into a network that encompasses 1,500+ babysitters today. When she began, she was an only babysitter in Phoenix offering services to guests coming to the hotel. And that was started as an extra income source and later she leveraged that as an entrepreneurial material.
Start finding out and strengthening your core skill, strengths and interests now. For example, if your strength is drawing and you're well aware of its principles, develop a plan to develop an app that can allow others to draw or learn drawing. Provide them with necessary inputs or help that they need to accomplish that. If already there are players on the same idea, you find out what they're lacking and how you can fill the gap. First, you limit it to your city or state, don't go for big in day one.
3. Find apps that don't have updates, but have downloads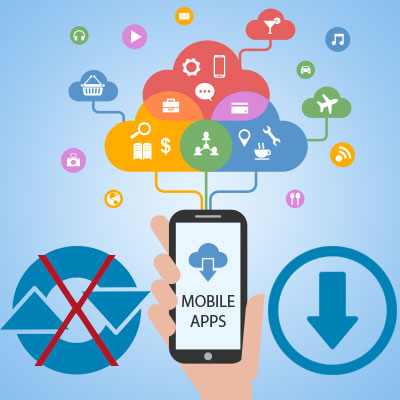 This is where you think out of you. Go to the app stores and find out the apps which are good in download, but not in updates. Ignore apps in the first three pages that are obviously more downloaded and updated. Go to 4th and 5th pages, and choose the apps that are good in downloads but not in update. Hope now you've got a perfect appreneur material here.
Conclusion:
Not just an idea makes any difference, but the key is execution. How well you build the features and functionalities decide the quality of your app. How well you market the app convey the relevancy of it to its targeted users. It is always better to have collaboration of experienced expert mobile app developers to develop your app, which helps you formulate the expected outcome.
Need help to turn your app idea into a game changing app?
Let FuGenX does it for you. We at FuGenX helped Big Basket, Byju's and many enterprises to turn simple ideas into a game changing, multi-million business.
Discuss your app idea with us at info@fugenx.com or fill up the form

.