Every successful entrepreneur drives through a series of wins and failures. As an entrepreneur, you are aware of that and might have already experienced. The success shortcuts you may be looking for is the reflection of impulse that you hold for establishing your startup overnight. But those unethical shortcuts may break your startup, rather than making. This path benefits only startups who are driven by short-term goals.
You need to fathom the reasons why some startups struggle while some conquer huge success.
How Many Startups Fail and Why?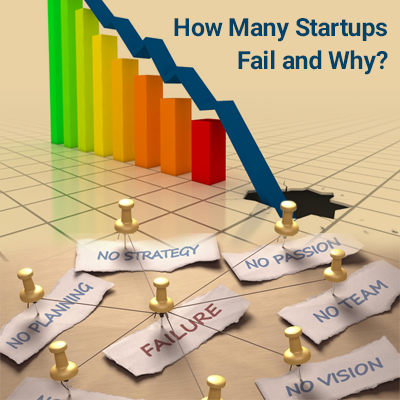 Surprisingly, around 40% funded startups fail as stated by the global enterprise software company Sage's report. Startups fold up their venture at the end of around 20 months, though having a fund raised. Here the intention behind portraying these statistics is not to discourage entrepreneurs, but to make them aware of current scenario and work smartly.
CB Insights recently released a survey report compiled on startups failure that had brought many startups' founders and investors in. The hardest blow for most startups was lack of finance, while some startups, like Dinner Lab struggled in creating dynamic events. And some others were incapable to be technologically upgraded which scared their investors and indirectly encouraged their customers to go away.
VoterTide, an app-driven social media monitoring and analysis venture, failed in acquiring customers. They didn't focus on customer interaction before building up the customer-centric features. And around 42% of startups quit the race after coming to know the market deficiency for their products.
Supreme Qualities of Victorious Startups
1. Collaboration with right co-founders
A study reveals that startups with co-founders have marked a higher success rate, as he can eliminate many hindrances you'll face with his dynamic qualities that you lack. Steve Hogan, the owner of Tech-Rx, feels the same. Partnership can also power you to dig deeper into competitor's traffic and data.
2. Their solutions are problem-focused
Startups who solve real-world problems move rapidly towards success. More than big, unique achieves unique success. You'll have chance to become a market leader when you come up with dynamic solutions for unsolved problems.
3. They work with professionals and hire professionals
Successful startups emphasise to hire experienced professionals for key positions. You must diminish the intention of hiring less-experienced candidates, as they are more unlikely to bring much value for your venture. Instead, emphasise to hire skill dragons who have a good understanding of your product.
If your business is app-driven, emphasis to choose experienced mobile app development experts who can craft supreme quality app.
4. Make their business app-driven
Today most startups are app-driven, they wish to unveil their venture on app platform. App penetration has augmented 7 times more than the websites, and 70% shoppers choose app over website. This is what stimulated entrepreneurs to go app.
5. They superbly encourage every smartwork
In startup sphere, encouragement intensifies the work process, which is an extreme requisite as well. Compliment every smartwork every individual does. Successful business is the sum of every contribution that every person makes.