Li-Fi – The Revolutionary Wireless Technology that could Make Internet 100 Times Faster than Wi-Fi
Li-Fi Illuminates as well as Communicates
"Li-Fi could make internet 100 times faster". "Li-Fi, a super-fast alternative to Wi-Fi". These are the common words that you can see when you search for Li-Fi in Google. So, what is Li-Fi? How it could be a super-fast alternative to Wi-Fi? Let's see that step by step:
What is Li-Fi?
Li-Fi (Light Fidelity) is a visible light communications (VLC) technology, which enables high speed, bidirectional, and fully networked wireless communication in a similar manner to Wi-Fi (Wireless Fidelity). In other words, Li-Fi refers using the visible light portion of the electromagnetic spectrum to transmit information at super speed.
Li-Fi allows super-speed internet access, reduced device interference and more-secure communications.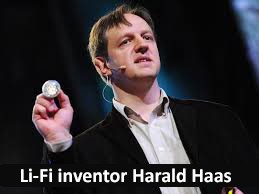 The term Li-Fi was introduced by Harald Haas, a German physicist and professor of mobile communications at the University of Edinburgh. During a TED Talk in July 2011, he revealed his invention on using light bulbs as wireless routers. In 2012, a year after his TED Talk, Haas founded the company pureLiFi with experienced visible light communication engineers who had been working on this technology since 2008. The organization has already created two Li-Fi products, Li-1st and Li-Flame, which enable high-speed wireless internet access in a secure manner.
How Does Li-Fi Work?
Now you are reading the most important part of this information guide.
Below is how pureLiFi explains the working process of Li-Fi technology:
When a constant current is passed to an LED bulb, the bulb emits a constant stream of photons which is considered as visible light. When there is a variation in the current, the output intensity of the light varies as LED bulbs are semiconductor devices. Both the flow of current and the optical output can be modulated at very high speeds, which can be converted back to electrical current flawlessly with devices like receiver dongle and other. (The modulation can be detected by a photo detector device). The received electrical current or signal can simultaneously be converted back into a data stream and transmitted to a mobile device or computer.
The intensity modulation is impossible to notice to the human eye. This means that the communication could be equally or more seamless than RF technology. This technique enables transferring high-speed information from an LED light-bulb, within a fraction.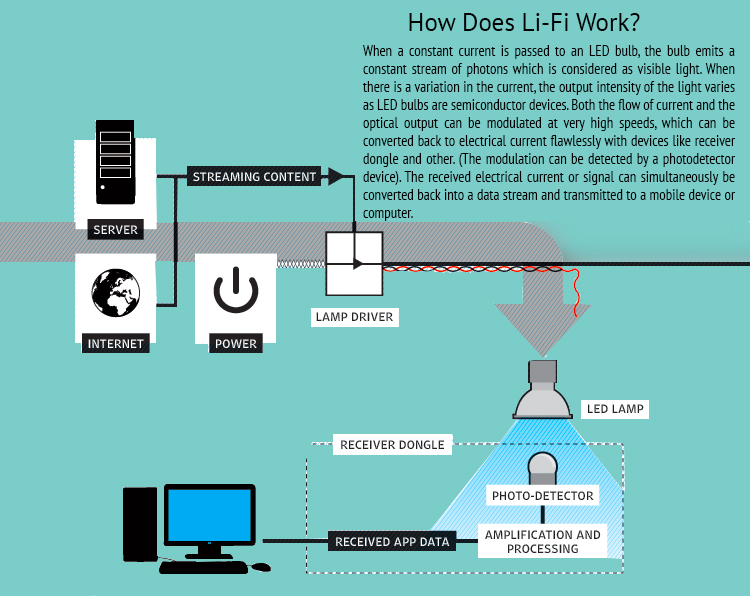 Is Current LED Technology Compatible to Li-Fi Technology?
"The current LED lightbulb (LED technology) is compatible to support Li-Fi technology, but to make it possible, a small microchip has to be fit to LED lightbulb" as Haas said.
Is There Any Downside in Li-Fi Technology?
Since Li-Fi technology uses visible light for data transfer, it won't pass through walls. This means that to have seamless connectivity with Li-Fi network all around the house, the Li-Fi Lightbulb has to be used in every room. Also, the light needs to be on all the time, which is not a big issue in industrial sector, but in domestic environment, it could be difficult environmentally as well as practically.
Another major drawback is Li-Fi doesn't work outdoors like public Wi-Fi. Also, even inside the room when the sunlight is present, the Li-Fi couldn't be used. Advancement in the technology could overcome all these drawbacks as pure Li-Fi said.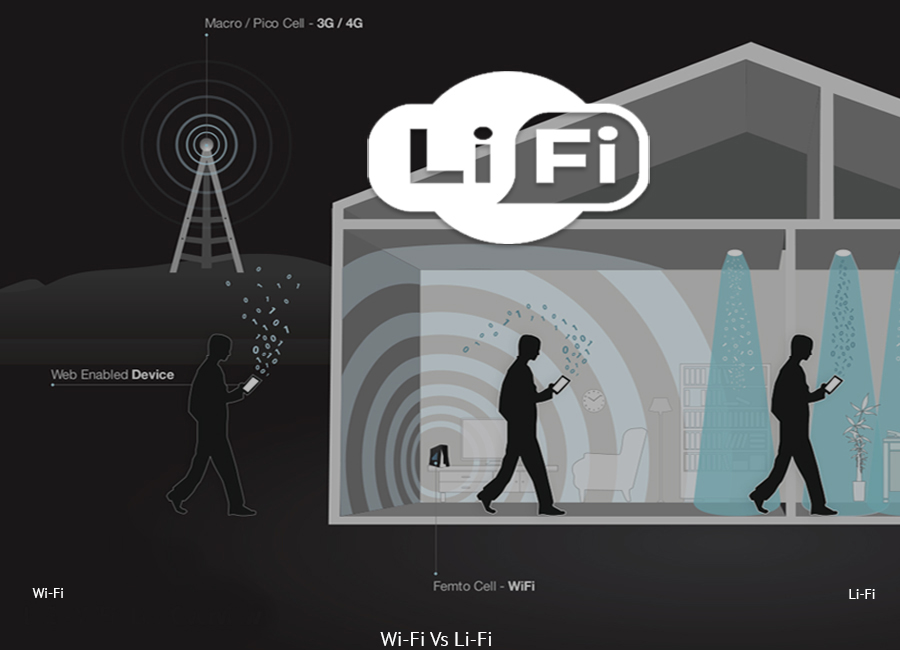 How Li-Fi could be a super-fast alternative to Wi-Fi?
According to pureLiFi, Li-Fi has greater benefits to the energy efficiency, capacity, safety and security of a wireless system over Wi-Fi. pureLiFi explains benefits in this manner with these and more points:
High speed: Due to high device bandwidths, high intensity optical output, and low interference, very high data rates can be attained with Li-Fi than Wi-Fi.
Data density: As visible light can be well held in a tight illumination environment, Li-Fi can attain about 1000 times more data density than Wi-Fi.
Bandwidth: The visible light spectrum, used in Li-Fi technology, is 10,000 more than RF spectrum, used in Wi-Fi technology, which makes internet 100 times faster than Wi-Fi.
How Li-Fi is going to give contribution towards IoT?
According to a source, the data communication through light with Li-Fi technology is being started as a smart-lighting solution for an industrial environment.
The application of Li-Fi in IoT (Internet of Things): Bg-Fi is a Li-Fi system which makes IoT communications more effective. This system includes an app for a mobile device, and an IoT product (consumer product) with a microcontroller, embedded software, and color sensor. The mobile display's light communicates to the IoT product's color sensor, which transforms the light into digital information. Apart from the communication, the LED used in IoT product enables synchronization with the mobile device simultaneously.
For more info on Li-Fi, and Li-Fi enabled IoT solutions, please reach us at info@fugenx.com or www.fugenx.com