Mobile Development is always by word of mouth that app developers come up with better strategies every time to meet the needs of the global market. The iPhone and Android are great in the global mobile market.
Application developers must constantly refresh their methods to match their applications across cross-platforms, which is one of the key conditions that every application development company goes through.
Meeting the ever-growing needs of customers involves leading developers to choose cross-platforms, where a basic code runs with the same capability on different operating systems, one of which is PhoneGap, the most popular and successful platform.
Here are some of the best features that of PhoneGap framework that helps develop user-friendly and unique mobile applications.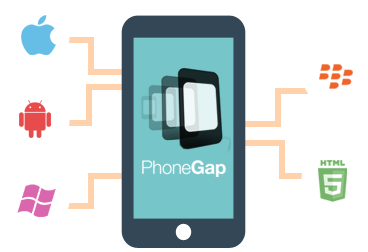 Delighting Features of PhoneGap Framework:
Open-Source:
The PhoneGap community will compile new modules and codes that are freely available due to its open source license. You get the best application with the PhoneGap Framework.
Robust and Strong Back:
PhoneGap has a strong and robust backend system that greatly speeds up the mobile application development process and reduces app developer's time and effort.
Flexibility:
It provides good flexibility as developers can develop any kind of mobile app without putting much effort. App Developers who have good knowledge of CSS3, JavaScript, and HTML5 can get initiated with PhoneGap. Developers do not need to learn additional languages.
Suitable for all Platforms:
A high degree of uniformity can be maintained when developing mobile apps for multiple platforms. PhoneGap eliminates differences in the look and feel of the app when viewed on various platforms.
Ease of development-
PhoneGap works well on CSS3, JavaScript and HTML5, the most popular browser-based skills that don't need additional inputs. So, business owners can use their own technical team and develop it wisely.
Tapping into the Device's Hardware:
The incredible thing about this app development framework is that it taps the device's hardware, such as the accelerometer, geo-location, camera, and more. The applications developed in Phonegap can efficiently utilize the features of the device's local resources with better user experience.
Two-Fold Benefits:
Developers need to put less effort and develop an application that works on all mobile platforms. Businesses benefit from having the app prepared and ready to touch the market in the shortest amount of time.
With all these awesome features, PhoneGap has become one of the best frameworks for mobile app development.
Now, let's look into the pros and cons of PhoneGap Cross App Development Platform.
We will now examine some of its benefits
Advantages of PhoneGap:
Developers need not have to focus on learning new hi-tech complicated languages to create attractive mobile applications as basic requirement developers must know the basic languages like JavaScript, HTML5 and CSS3 to efficiently run app over various operating systems.
Every PhoneGap apps can be installed as quickly as native applications; it enables you to leverage app store discover ability.
It indirectly helps you access the native devices like APIs which can be extended in a modular way through the amazing plug-in architecture it follows.
You can easily distribute as well as integrate payment through the app store developed through PhoneGap.
There exist huge advantages due to tons of libraries available in PhoneGap.
Disadvantages of PhoneGap:
In case your mobile applications include too many graphic elements, there is a possibility that they can encounter a big issue in the near future.
Clear cut information, directions for better user-interface do not exist to the expected level of good quality which indeed identifies that there are no best practices to make the app better.
Best descriptive documents are not available; at times, it does lack crucial information which will be the prime requirement for the app development.
Final Take Away:
PhoneGap is better for creating mobile applications that are cross-platform compatible over time and are less expensive because the framework uses the same code base to develop applications for different types of mobile devices.
When it comes to creating multiple native applications that do not have heavily built-in graphics and animations and do not make much use of the native features of the operating system, PhoneGap is a perfect choice.
FuGenX Technologies has an experienced and skilled app development team that can help you transform your business idea into a simple, modular application that will enter the market at the right time, to test its feasibility.
For further queries, please contact us.