Present and Future Scope of Mobile Application Development In India
Mobile App Development Future Scope
The scope of mobile application development in the future cannot be measured with precise stats. The future of mobile application development scope ahead would be expected to explode since the demand for Android and iOS apps is on the rise.
With an increase in the number of mobile users' year over year, in particular Android smartphones, the future scope of android application development would be promising and create a profitable business for organizations and custom android app developers.
India stands second in the number of active mobile phone users in the world. Out of six billion mobile phones in the world, around one billion are being used in India (70% of India's current population). Because of such increased use of smartphones, companies across the world are seizing mobile app development opportunities to keep their brand available to users when they need it.
Android and iPhone Smartphone users are looking for better applications to meet their daily needs online, and this trend has created huge mobile application development scope in India. So, the scope of mobile application development in the future in India-like countries is high.
Though mobile apps are being developed on various platforms, including Android, iPhone, and Windows, the future of mobile application development scope on Android operating systems is incredible. Let's take a look at the future and trends of mobile apps development on Android OS.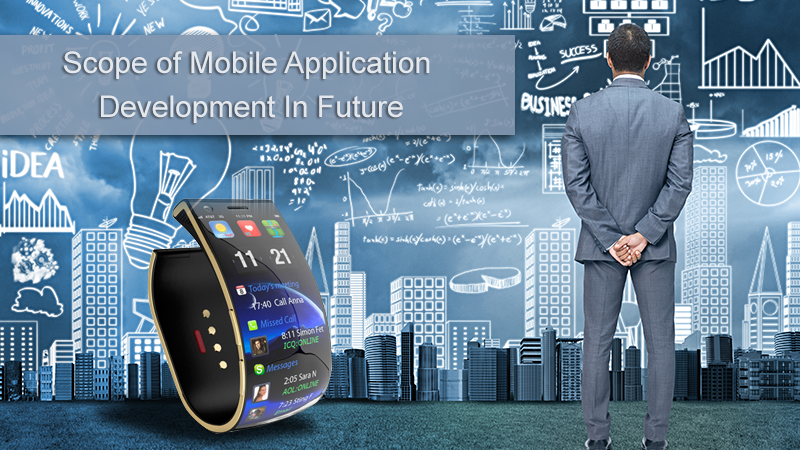 How Is Android Creating New Business Opportunities For Organizations and App Developers?
The future scope of android application development
Many mobile app development industries are considering Android Application Development as one of the best business opportunities since the share of Android OS is high in the smartphone market. Hiring Android app developers who are familiar with using the latest technologies and tools for Android app development will assist organizations in launching the best Android app for their audience. This adds a big sign of scope for Android mobile app development in the future.
In the current mobile application development sector, the need for inventive Android App developers is huge and still increasing.
India is a big IT hub for several globally recognized companies. The reasons for this are that software development and service in India are highly cost effective. Before Android, the market of mobile app development industry was dominated by Symbian and iOS.
Then Android came with the option for dynamic application development at a lower cost which rapidly increased the popularity of Android in India. People willing to use a smartphone have a new option as Android which is cheaper than iPhones or iPads.
Mobile companies like Samsung and HTC phones use Android OS in their product which has taken over the mobile phone reign in India. Also, the cell phone models they introduce have variations in their Android OS. This has created a competition of developing the best Apps, which ultimately benefits app developers and smartphone users.
The Future and Trends Of Mobile Apps Development
Voice Controlled Apps Development (Android/iOS)
It is one of the top trends in the mobile app development industry in the future. Using the next generation of Artificial Intelligence (AI) and Speech recognition technologies, mobile apps for Android and iPhone can easily understand user voice commands and responds to their queries in a fraction of a second.
Such integration of advanced in-app AI-based voice assistants will encourage hands-free app use and increase user experiences.
IoT Trend In Mobile Apps Development
 The IoT-enabled mobile app development process is also gaining popularity over the past few years. The use of connected IoT devices in home & office and location tracking sensors are increasing the demand for IoT-powered mobile application development operations in the future.
PhonePe, Google Pay, or mobile wallets are enabling cashless and safe bank-to-bank transactions over secured payment gateways. Integration of online payment features in Android and iOS mobile apps will offer flexible online payment ways to users. Hence, mobile app development future scope in the e-payments solutions sector has a bright future.
The future of virtual reality app development in the gaming, education, manufacturing, and healthcare sectors would be favorable to companies and top app developers.
ML-based predictive analytics apps
Machine Learning technology is one of the top trends in the mobile application development sector. ML and predictive analytics are anticipated to be widely used by organizations for predicting market dynamics and identifying the risks associated with their businesses.
ML-based software solutions will forecast the future and deliver insights that keep businesses aware of market trends.
These are the latest mobile app development trends that will have surely a bright future in the years ahead. Hence, the future scope for mobile application development will be around these trends and transform traditional business operations of organizations.
You can reach FuGenX Technologies at info@fugenx.com for world-class Android app development services in India.