There is no ambiguity, mobile app is the best example of ubiquity in the business world. Today it has become a necessity rather than the luxury, and brought the world at our fingertips. There is an app for everything, whether it is for consumer use or enterprise use. If you're aspiring to become a top appreneur, let us help you with some of the things that you need to consider in order to develop the desired app:
Decide what category app you need
The below app categories let you decide under which category your app will come:
• Consumer app that is focused on customer acquisition and engagement
• Enterprises mobile app that is used for streamlining the business process
• Revamping the existing app
• Migrating the app from web platform to native
Decide the type of app you need
Have a clear vision of what type of app you need, such as native app, cross-platform app, or hybrid app. Choosing between these app types depends on your real requirements and expectations you have from the app. If you realize the differences and limitations between these apps, you will be able to take better decisions. Native app is nothing but a mobile app which is developed for a single platform, such as iOS, Android, Windows, or BB, whereas the cross-platform app is a one app which is used for multiple platforms. Get the pros and cons of cross-platform app here and the differences between native and hybrid app here.
Be specific about the feature (or functionality)
In first attempt, don't try to put all in one basket. Test each feature on fixed time period and depending on its success, introduce the co-related feature like how WhatsApp introduced 'voice calling' after achieving a great success with the 'chat'. In version 1, just focus on the functionality that would deliver the biggest impact.
Hire a right app development partner
Make sure that your mobile app development partner has a good understanding of latest design trends. This will help you develop an app that what customers are expecting. Developing an intuitive app is important to engage customers.
Improve app upon user feedback
It is important to update your app on regular time period. Keep a close eye on user feedback, which helps you understand what your app is lacking and how it could be made better.
Roll out new features
Once your core feature gaining a strong popularity, roll out the secondary feature or co-related feature. This even can be done when the core feature is not working.
Have a strong monetization strategy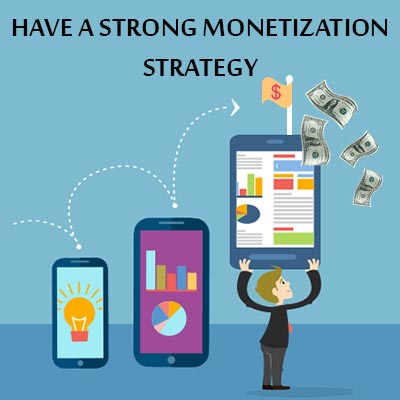 Unless your app is made for selling the products, you should have a strong monetization strategy that can be either as a paid app or earning money through ads.
Have a solid marketing strategy
From the crowd of millions of apps, standing out is a rock difficulty for any new app. So you should have a solid marketing strategy that can bring you both app downloads and brand value. If required, take the help of app marketers.
Conclusion:
Achieving app success without a proper planning is nowhere possible for any appreneur. Having a thorough ground works, quality app and solid marketing strategy in place help you stand atop of the competition, whether it be Android app development or iOS app development.
Need help to develop your dream app?
Please reach us at info@fugenx.com or fill up the form. We helped India's largest grocery store Big Basket become big and America's largest industrial gases company Praxair solve tough business challenges, with world-class mobile app development.