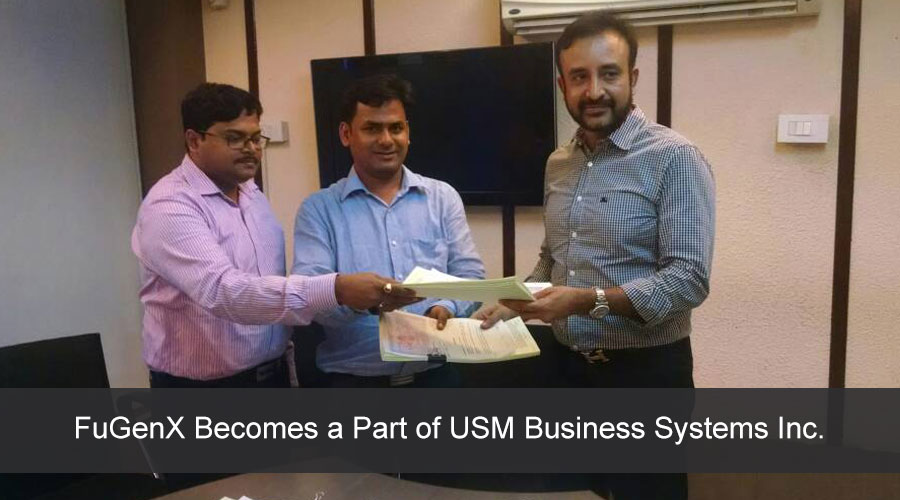 USA based USM Business Systems Acquires FuGenX Technologies, Bangalore based Leading Mobile App Development Company
USM Business Systems, $65 million US based software and IT consulting firm acquires major stakes in FuGenX Technologies, a leading mobile and cloud app Development Company in India for an undisclosed amount.
May 25, 2017, Chantilly and Bangalore – USM Business Systems Inc. an Enterprise Solutions Data Management Services Company today announced the acquisition of Bangalore based FuGenX Technologies Pvt. Ltd., an industry leader of Social, Mobile and Cloud App Development in India. FuGenX is the well-known brand in the region for developing breakthrough Applications for BigBasket, Byju's Learning App, Future Group's T24 Mobile & Bharat Petroleum's Fleet Genie App.
FuGenX will become the Technology Service Wing of USM. Along with USM's vast industry experience, Solid customer base, Strong Presence in US and FuGenX's deep expertise in Service industry specially on Digital and Mobility Space, USM-FuGenX is ready to Serve global Customers, drive growth and innovation, and create new opportunities for Employees and Customers.
"FuGenX's mobility solutions and IT services portfolio was captivating, which was what persuaded us to choose FuGenX as our Technology Service wing. I hope FuGenX's supreme capabilities around mobility solutions, innovation and trending digital technologies, coupled with our market reach, customer base and experience, will enhance our competency to deliver more sought-after IT services to our existing and potential customers. Especially, I was impressed by FuGenX's dedication and commitment to work in having many big brands as their clients and serving them with world-class IT services and solutions," Madan Kalakuntla, the CEO at USM Business Systems and the Managing Partner at Analytix DS, said in a statement.
"Today everything is data and we have world-class products in the data world. With this acquisition, FuGenX's employees will get access to data analytics, data mapping and our many other cutting-edge data-oriented products, tools and technologies. USM's global presence will enable FuGenX to work with more enterprise clients, which will further enable them to drive innovation, develop insights and to well adapt to the Western work culture, while enhancing USM-FuGenX's capability in mobility. We are looking towards long-term results where we create more stable, secure and futuristic IT services and solutions for our clients," Said Madan.
About USM Business Systems
Established in 1999, USM Business Systems is an industry-leading talent management firm, specializing in providing unique IT turnkey solutions, IT staffing solutions, and Talent management insights, enabling its clients to sustain a truly competitive advantage in this fast-moving environment. It is a project-driven firm that consistently meets the IT needs of its clients through innovation and business acumen. USM is a CMMi Level 3 Organization and has a wide client portfolio in America's public administration.
USM is a US certified Minority Business Enterprise (MBE) and is recognized as one of the fastest growing IT Systems Integrators in the Washington, DC area with offices throughout the US and offshore delivery centers in India. USM has 1200+ Employees globally. Its key IT services spans from enterprise solution & data management to ERP and CRM consulting, and data warehousing/business intelligence. For more information on USM, visit www.usmsystems.com
About FuGenX Technologies
FuGenX Technologies is a three time Deloitte award-winning mobility company. FuGenX serves businesses of all verticals from start-ups to global enterprises on trending technological services and solutions. FuGenX has developed successful 1000+ consumer and enterprise apps on iOS, Android, and Windows platforms. FuGenX has client base majorly from North America and Asia Pacific, including Bharat Petroleum, Disney, Praxair, Atlas Copco, Reliance Jio, Al Ansari Exchange, Future Group, BigBasket, Byju's and XSEED.
FuGenX, founded in 2008, by Debashis Behera and Bhabani Sankar Jena, has 200+ Employees globally and has been operating from offices in Bangalore and Dubai. FuGenX is an ISO 9001:2008 certified company and is the winner of Deloitte Technology Fast50 India and Fast500 APAC for the consecutive years 2012, 2013, and 2016. For more information, visit www.fugenx.com
Media Contact:
USM Business Systems Inc
14175 Sullyfield Circle, Suite # 400
Chantilly, VA 20151, USA
E-Mail : info@usmsystems.com