Google Announces Nougat as its Upcoming Android 7.0 Version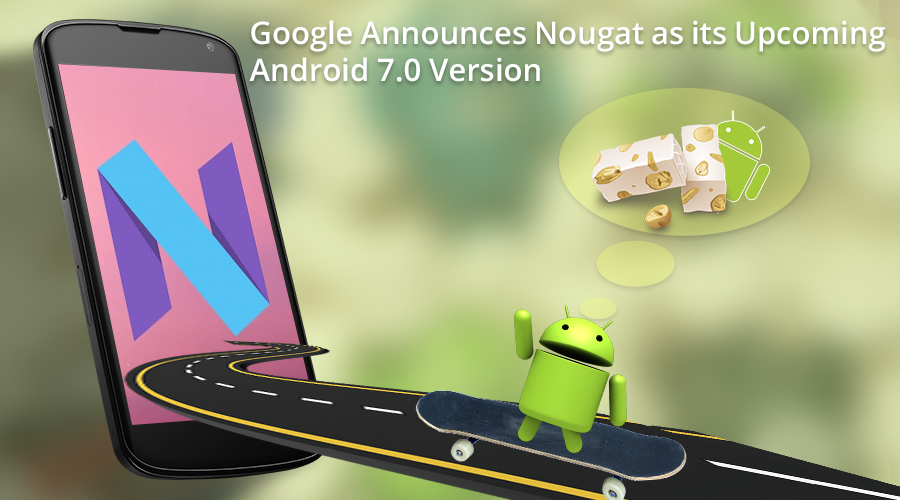 Google has announced that the next Android version will be called Nougat. The term Nougat derives from the popular confectionery made of sugar or honey with nuts. With Nougat, Android has continued its tradition of naming its versions by the names of alphabetically-ordered sugary delights starting from Android Cupcake, Donut, Eclair, Froyo, Gingerbread, Honeycomb, Ice Cream Sandwich, Jelly Bean, KitKat, Lollipop, and Marshmallow.
Google chose the Nougat among many suggestions by the users who submitted suggestions for the name of Android N at a dedicated website set up by Google. Nutella was among the most suggested name, but surprisingly Nougat dessert got chance to become popular worldwide. The release of Android Nougat is expected in the third quarter of 2016. The Nougat will come up with many typical features and improvements to existing features and functionalities that can enhance the performance of your device. Let's see it:
Split Screen multitasking window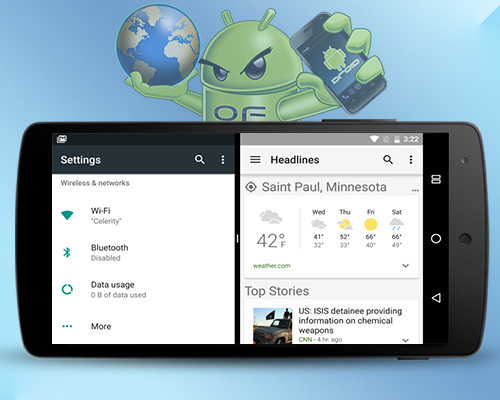 This feature allows you to use two different apps on the same screen, which works on both mobiles and tablets. This feature already some Samsung and LG handsets equipped. With the Nougat, every Android user will be able to enjoy this feature.
Daydream VR
Daydream is Google's new VR platform, which is a set of VR headset and controller hardware standards associated to an Android Nougat-based UI. This helps to discover and enjoy VR content much easily. But this feature will be limited to only high end handsets. Daydream will support Google Photos, YouTube, Google Play, Streetview, and Google Movies.
Better UI and Notifications
Customized notification menu is one of the major updates to Nougat. With just swiping down from the top of the screen, you'll be able to activate Wi-Fi, Bluetooth, torch and much more easily. And also notification bar covers lesser length, increasing the width and decreasing the font size.
Allo and Duo Apps
Allo is Google's new messaging app which includes Google's formidable search, security technologies and machine-learning. It will help for easy web searches and easy bookings within conversations. It will even suggest replies to messages that you will receive. You can also make the messages on it get expired after a certain time like Snapchat. On other hand, Duo is Google's video calling app, which helps to have as effective as possible video calling experience.
Improved 'Doze'
Doze which Google already introduced with Marshmallow helps to improve the standby time of the device. Doze feature helps to limit the power consumed by apps running in background when the device screen is turned off. With the improved Doze, app developers will be able to reduce the amount of background power that their apps consume. Apps will get installed in 75 percent lesser time and take 50 percent lesser space.
Vulkan API support
Android Nougat will adopt Vulkan API support. This helps to improve the quality of gaming, VR, and other graphically intensive apps on mobile. Replacing OpenGL, Vulkan is expected to make cross-platform game development much easier and more simplified. The ultimate result of Vulkan will be power efficient and better looking games and games.
3D Touch support, Enhancements to Google Now Launcher, and Svelte design are other possible features that Android Nougat will come up with in this summer.
Note: If you are a developer and want to see the preview version of Android 7.0 Nougat, you can download images of the new OS version directly from Android Developers centre. And only some Nexus category devices can receive the preview build of Android 7.0 Nougat and that include Nexus 9 4G, Nexus Player, Pixel C, Nexus 5X, Nexus 6, Nexus 6P, and Nexus 9.
Want to develop Nougat compatible mobile app?
If yes, FuGenX will help you. FuGenX Technologies is the world's fastest growing mobile app development company in India and USA. We at FuGenX develop highly competitive Android mobile apps that can perform seamlessly across all latest Android versions. Our this exceptional performance in the Android world has made us the world's leading Android app development company. We also craft visually interactive and powerful apps on iOS, BlackBerry, Windows platforms for startups and enterprises.
Get in touch with us at info@fugenx.com or fill up the form to share your app requirements.