There is no doubt that technology is evolving at break-neck speeds. As a result, businesses of all kinds have many opportunities to market their brands and improve the customer experience. The most emerging star this year is the chatbot platform.
Although Chatbot was born a decade ago, Facebook CEO Mark Zuckerberg announced a new opportunity at the F8 developer conference in April 2016, when businesses announced a new opportunity to integrate their Chatbot app into its messenger platform.
What is Chatbot?
Chatbots are micro apps that live on chat application platforms, including Facebook Messenger, Slack and Telegram. Powered by Artificial Intelligence and Machine Learning capabilities, they can read and write messages and reply to user questions via text or voice.
Benefits of Chatbot Applications 
Chatbot helps businesses in three main ways; increasing the workflow, improving the overall customer experience and reducing costs.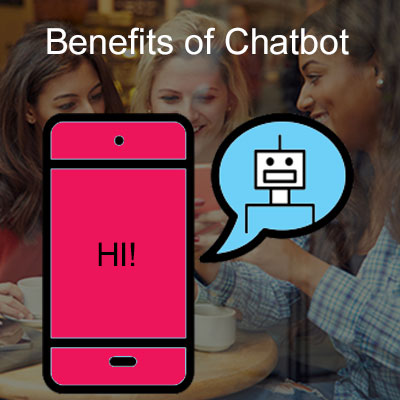 Let's explore the ways that your businesses can use to get these benefits:
#1 . Customer support: –
Chatbots are very intelligent and can be used to help users find or solve information for their complex questions. Chatbots can remember users' previous questions and are active in providing comprehensive information in the future. It saves time and helps reduce the errors of human agents.
For example, a chatbot of a weather channel that knows the specific customer's pin code can provide him with a wide range of information including today's and future weather forecast and precautions to be taken in case of any dangerous things. This is very useful for travelers going abroad. Traveling companies can benefit from these types of chatbots.
 #2. Automates Repetitive Tasks
Here's the truth – no human likes to do the same task again and again. In the case of humans, repetitive tasks are more prone to mistakes. Everyone agrees with me that human errors are common, but not Chatbots.
Chatbots help to automate repetitive and boring tasks that need to be performed frequently and at a specific time. They help people save time, reduce costs and increase productivity
#3. Streamlining Sales: –
We feel no technology is better to customer service in the sales process, but we can't tell the same when the chatbot is available to completely take care of your sales process. Real-time chatbots are not just for pushing information, they can experience the intent of customers, from saying 'hello' to showing appropriate products or services and completing payment (in the case of e-commerce transactions), chatbots can support customers and provide better customer satisfaction and long-term customer engagement Helps.
Earlier this year, fast food chain Taco Bell launched a boat to automate the sales process. The messaging platform allows bot users to place genuine restaurant orders by providing quick text support via Slack. Live chat mobile apps provide a better user experience. The chatbot at clothing retailer H&M asks users to choose between various looks and recommends particular outfits and items based upon their interests.
#4 . Monitoring Customer Data & Gaining Insights
As mentioned earlier, chatbots are great for good customer communication. By collecting feedback through simple queries, you can make improvements on your products / services and also optimize your business website by adjusting the conversion pages.
For instance, if your landing page generates enough organic traffic, but does not change well, your chatbot may reach out to users who visit this page with a survey to gather more information about why they left the page without purchasing products.
#5. Boost social media engagement: –
Chatbots do not only help to streamline sales and customer support, you can also use them to build better social media engagement. By developing the Chatbot mobile app for Facebook, you can easily drive existing and prospective customers to your business page, where you can engage good customers on a personal level.
#6. Better Lead Generation and Nurturing
Personalized information that chatbots receive enables a personalized message that helps customers along the "buyer journey". Chatbot can ask relevant customer questions, persuade the customer and create superiority for you.
Along with generating potential customers and informing sales teams, Chatbot can also help you identify unqualified leads through determined KPIs (timeline, budget, resources, etc.) and prevent you from dealing with time consuming business leads.
#7. An Easy approach to global markets
Whether you have a brand with customers or customers worldwide, or want to explore local brand worldwide, chatbots apps can solve your customer care problems 365 days a year and 24 * 7 in many languages. This allows your business to expand into new and fresh markets without having to worry about multiplying incoming requests.
#8. Chatbots Improves Evaluation and Optimization
Chatbots require constant optimization and evaluation. The performance of chatbot applications should be tracked based on relevant areas such as usage, language capabilities and user experience which means they "learn" and provide a better experience tailored to the needs of the users.
To see this happens, develop a learning cycle, make the necessary changes based on the analysis, and then notice the difference your optimizations make in achieving the goals.
Chatbot optimization includes:
Varying invites and welcome messages.
Price changes.
Adding new products.
Adding additional information about the brand.
Broadcasts new and attractive offers.
Conclusion
Chatbots are not just for big brands; its tangible benefits (shown above) extend to all types of businesses. When it comes to business columns, retail, fashion, banking, travel and insurance are at the forefront of utilizing chatbot benefits.
If you have an idea for chat bot development, it is important to hire an expert chatbot app development company or software product development firm, which helps to make your idea better.
Need help to build a chatbot app?
Reach us at info@fugenx.com or fill-up the form to turn your chatbot idea into a reality.