Source: economictimes.indiatimes.com
It is an era of incredible innovation, typical transformation, and rapid revolution. In this technological era, the possibilities are endless and opportunities are boundless. Mobile is one of the greatest innovations of this era that has created an abundance of possibilities and opportunities for each and every sector of the business world.
If say specifically, the integral part of mobile, the mobile apps which is acting as a magnetic material in the business to attract customers and to raise funds. Hybrid app and native app are the major types of apps that are available in the worldwide market.
Mobile Apps Downloads and Usage Statistics
With more than 2.7 billion smart phone users worldwide, it's no wonder that the mobile app development sector is booming. With no signs of a slowing down in the Approach reversible future, Smartphone access and mobile apps usage are still rising at a steady rate.
As per research reports, mobile applications are estimated to generate a revenue of 189 billion dollars by the year 2020.
49% of smart phone users open the mobile application 11+ times in a single day. On the other side, 57% of the total digital media usage comes only from mobile applications.
As mobile app usage grows in popularity, the number of app downloads worldwide increases as well.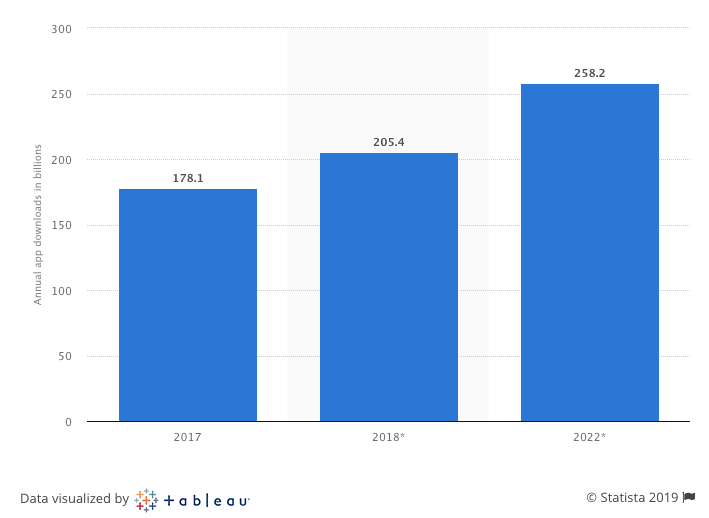 Fund-Raising on the Drive of Technology
When comes to fund-raising, the tech driven companies, especially platform based businesses (PBBs), have come in the news more.
If we take latest examples, 1) Uber, 2) Flipkart, 3) Big Basket, 4) Paytm, 5) Byju's, and 6) Ola come in the first row.
It is well known truth that all these startups started receiving the flood of funds once after their mobile applications for both iOS and android devices being developed. But it is not easy for all platform based businesses as you thought.
What The Investors Consider To Invest In?
Generally venture capital firms or individual investors don't just look towards your unique concept, rather they thoroughly analyze your business model. As mobile is everything today as well as the future of the business world, investors prefer to invest in businesses which are mobile centric.
If your business is app-driven or you are following the mobile-first strategy, you should have a well developed, visually engaging mobile app that is capable to impress potential investors. When you have an impressive stuff, you will no need to speak more in order to attract investors, your stuff will speak.
Why Investors Show More Interest In App-Driven Businesses?
Investors like to invest in great products and services with a competitive edge that is technology driven and long lasting. Obviously mobile, especially mobile app (both android app and iOS app), is considered as the present and future of the business world.
Investors look for businesses that their products and services are easy for customers to get. Obviously the mobile apps are built with good features and user friendly designs are an easy way to purchase products and services nowadays through debit or credit card.
Venture capitalists look for a competitive advantage in the market. They want their portfolio companies to be able to bring new ideas, create offers, generate sales and profits before competitors enter the market. It's a kind of social media marketing.
Undoubtedly, the mobile device with user friendly apps is a great way to quickly connect with the customers with latest offers. Customers just need internet connection to download apps from Google play store or iOS app store. Not only mobile apps, users can also download web apps to their laptops through web technologies i.e. web browsers.
Investors look for businesses that have a capacity of global reach. As the mobile app is a global commodity, it can quickly earn a large number of customers from any part of the world from its base. WhatsApp is the best example for this.
It is crucial for businesses to improve their offerings compared to competitors.  Releasing a more reliable, effective and user-friendly mobile application in to the global market is a great way to be remaining competitive.
Over 80% of users spent their most of the time in checking their mobile app, while eating, relaxing, cooking, washing, and even in toilets. So, it is clear to entrepreneurs that mobile applications are necessarily to run your company in this a highly competitive world.
Who We Are?
We are FuGenX Technologies, an award-winning mobile app development company in India and USA. We develop apps that help businesses engage customers effectively as well as raise funds easily.
Big Basket, Byju's, AppilyEver and HomServiz are few among many of our proud customers who got funded by global venture capital firms and individual investors.
Please reach us at info@fugenx.com or FuGenX Top Mobile App Development Company for fund raising capable mobile app development.