If the answer is yes, then for sure, this post is for you.
In this post, you can find the year's top mobile app development trends that I have listed out.
I want to add something here that each mobile application is different and app technologies & trends are always evolving and changing.
However, I am sharing with you the piece of standard information on the top mobile app trends to follow in 2020.
Before we move into more details about the app trends, have a look at the worldwide mobile app usage stats.
Since years, the mobile app industry has been reshaping the business; regardless of the domain, every company needs to assimilate the latest mobile application development technologies to graner supreme growth and multiply the means to reach to the targeted audience.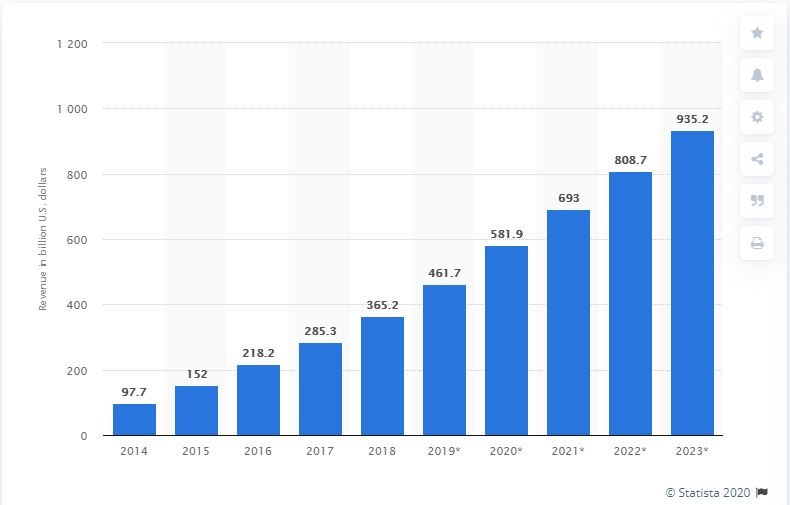 The above image shows the revenue of the global mobile application revenues are projected to generate a revenue of US$ 935.2 billion via paid app revenue and in-app advertising.
However, just applying the right mobile app development strategy will not give you success; you need to integrate the latest trends in mobile apps. For achieving that, you require a team of expert app developers.
Besides, whether you run a business or a mobile app developer, you need to stay educated in the mobile app space.
Below, I have narrowed down the list of mobile app development trends that you cannot miss out in 2020.
Top mobile app development trends for 2020
1 . Blockchain Technology
Blockchain is a superior technology introduced recently into the market and that is beyond cryptocurrencies and IT buzzwords. In recent times, it made its way to mobile app development also.
According to the research of Deloitte, 53% of companies said that Blockchain technology had become a major priority for their organization in 2019.
According to the report of Statista, the revenue of Blockchain technology all over the world reach to US$ 23.3 billion by 2023.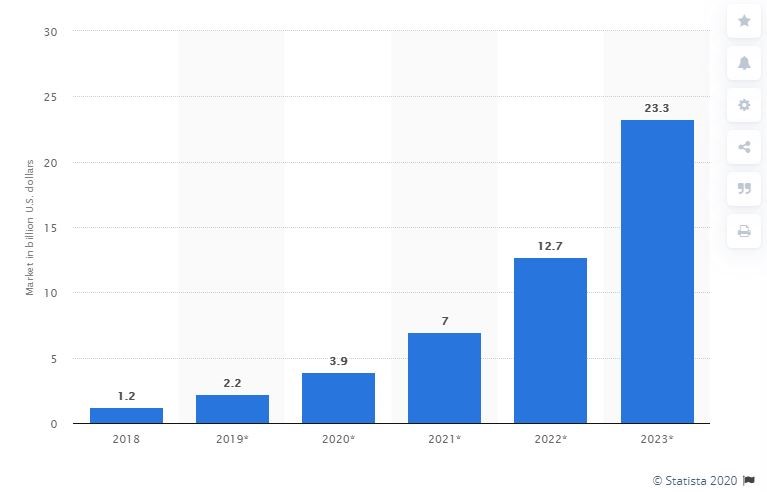 Blockchain is a decentralized database/ledger used for recording the company's information listed as blocks. The database can be the history of bitcoins/transactions, which cannot be altered without changing all succeeding blocks of the network.
When you add new data to the list, the old blocks are saved, and every member will receive a copy of the complete database.
We all are aware that this technology prevents fake documents from creating and data breaches. It will give an alert whenever any breach happens, and it will help in tracing the error if someone makes it.
In recent times, the banking industry is much relying on Blockchain technology to enhance security for the transactions made via credit cards and cross-border payments.
The industries, which are seen as Blockchain leaders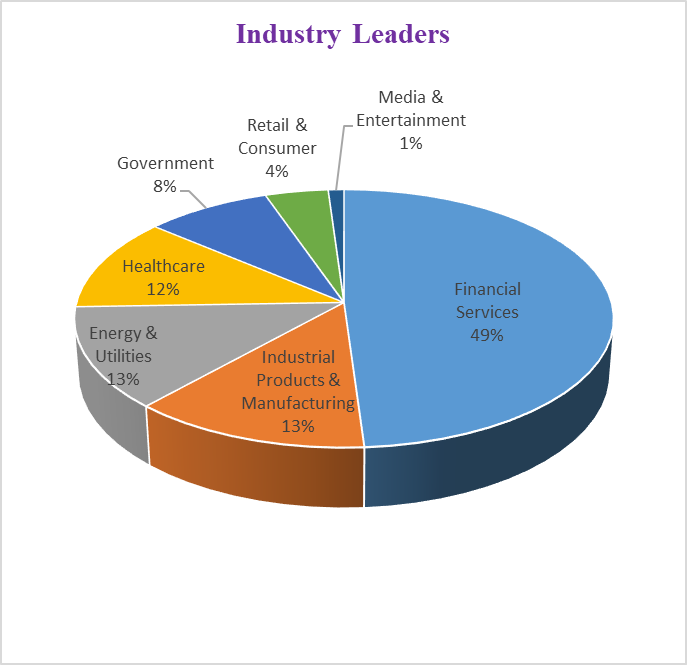 Expected trends in the coming up future in mobile app development
Anti-piracy
Asset tokenization
Crypto space and gaming
Blockchain as a service
Trading on the cryptocurrency exchange
1 . Impact of 5G wireless services
5G is going to be the next mobile app development trend of 2020, and it has high importance in 2020.
There is no shortage of speculation allied to the beginning of 5G; this next-generation mobile technology network will be at least ten times greater than the current 4G network.
For the first 5G network introduced in Lisbon in December 2017, after one year, the network began hitting the market.
The industry professionals anticipate that the transition from 4G to 5G wireless network done by the end of 2020. Along with the high-speed internet, it provides other functionalities such as Data security, 3D gaming, and Augmented reality (AR).
Since the 5G services give an extensive range of opportunities, the app developers should design the apps aptly.
Apart from speed, it serves other functionalities such as;
3D gaming
Data security
Augmented reality
High potential markets of 5G
Healthcare
Environment
Manufacturing
Smart buildings
Transportation
2 . Beacon technology
Beacon technology is going to be one of the top trends in mobile application development in 2020. It is vital and swiftly embraced by industries such as Hotels, Museums, Healthcare, and many more.
Beacon technology is of great use in proximity marketing and location technology, and because it is easy to use, a regular user can quickly get used to it.
Beacon uses BLE (Bluetooth low energy) signals. When you enter a beacons zone, the particular mobile app instantly gets the signal and offers appropriate instruction and notifications to the users.
After Google's Eddystone and Apple's iBeacon, now beacon became part of both Android and IOS mobile development.
3 . Wearable devices
I think most of you are aware of this mobile app trend because it is not new fo us. In Wearable devices, we have witnessed fitness bands, smartwatches, smart rings, and trackers.
With the introduction of wearables, our mode of interaction changed with smart devices. The wearables market is progressively growing year by year. According to the Statista report, the number of connected wearable devices reached US$ 453 million in 2017, and it is anticipated to reach US$ 929 million by 2021.
Expected future wearables trends in 2020
Less reliance on smart gadgets
Enhancement in the use of fitness trackers
1 . The Rise of Chatbots
The Chatbots are the next latest mobile technology trend that is going to impact mobile app development. In the mobile app world, it has overtaken different communication aspects.
This technology prevents the requirement of having human-to-human interaction in various fields. Mobile users often leave apps for a while in such situations; Chatbots comes handy in solving such type of problems.
According to the research, more than 50% of buyers want more do-it-yourself custom service tools to expedite making online buying.
According to the industry reports, in 2020, nearly 85% of interactions will be made through Chatbots. The reason to increase the percentage of interaction is even after providing 24*7 services, and they will not get tired.
According to the research of Global market insights, the global market size of Chatbots will reach US$ 1.34 billion by the end of 2024.
2 . Mobile app security
It may be any year 2018/2019/20 cybersecurity is a crucial aspect of app development, and it will still dominate all technical advancements. The reason for apps developers transforming from objective-C to Swift coding language because it is blending more security features in the beginning stages of the app development process.
In 2020, the mobile app development industry is expected to witness a shift towards the security approach, thus laying the roadmap for a robust DevOps plan.
The developers must include secure backend and API, reliable payment gateways, and code encryptions to make sure user security over the app.
3 . Instant apps
Relatively smaller in size instant mobile apps offer fundamental features without letting you download them on devices. You may think why to opt instant apps and benefits of it?
The exciting thing about instant apps is app demos. When users are in a dilemma, these apps will give you a taste of an app's ample version and make it simpler for you to decide what that app is like before you select to download.
Benefits of instant apps
Great user experience
No device memory used.
Smaller in size
Possess complete functionalities of the app
NYTimes and Hollar said that they had increased the conversation rate from 20% to 27% with the instant mobile application.
Instant Apps will be trending in mobile app development that you can look after in 2020.
4 . Accelerated mobile pages (AMP)
Amp is another latest trend that you cannot miss out in
AMP is a web component framework developed by Google by collaborating with Twitter, which has the task of providing a user-first format for web content. AMP is a simple version of HTML to hasten the speed of mobile pages.
It allows users to develop heavy webpages and websites with a fast loading speed, high performance, and lower bounce rates across all old/latest mobile apps.
Recently Google officially integrated AMP listings into its mobile search and helped the developers in minimizing the loading period of the web pages.
If you can acquire a good AMP score, you can get a better conversation rate, enhances user retention, minimizes bounce rate, and that will be an excellent boost for the users.
5 . Machine Learning and Artificial intelligence
ML and AI have been trending on top 5 for the last few years in a row. Recently many companies are planning to combine the system with human intelligence. According to the research, it is predicted that the market for Artificial intelligence will reach US$ 191 billion by the end of 2024.
Combining of Artificial intelligence and machine learning is very useful in essential activities like mobile app development. It may be IOS app development/Android app development; it can learn the process of app development using earlier data, identify issues, and resolve them in real-time.
With the combination of AI and IoT, you do not require tapping your fingers to get tasks done. You can sit back and relax; simultaneously, AI controls your devices, automobiles, houses, and many more.
Integration of AI with IoT
Language and voice translations
AI-enabled face unlock
Predicting user behaviors
High app reliability for cybersecurity
Augmented Reality and Virtual Reality
In the last few years, we saw obsessive gaming trends such as Incell, Dino Trek, Pokemon Go, and many more.
The AR and VR technology isn't just increasing & prepping the high-quality gaming applications, apart from that, they are also actively taken up for several other use cases.
In the market, technology giants like Google and Apple are already started innovating the number of use cases using AR.
Although VR technology still developing, popular social media apps like Instagram and Snapchat have already started using AR for a while now.
Future AR & VR trends
AR in healthcare
Mobile AR disruption
AR in manufacturing
AR in advertising and marketing
Know the cost to develop the apps like

Final words
All the above-mentioned mobile app development trends will undoubtedly help the app industry to grow rapidly.
A healthy competition will be increasing between the app makers and app developers in 2020, so you must be attentive to watch out each trend before working on your mobile app.
We know and understand that every new technology in mobile app development has its limitation and benefits. It will be easy for the old and prominent companies like FuGenx, but if you are a newbie in the market, then it will be a tough call for you.
However, without professionals at your reach, you can always reach out to us to find out the right mobile app development trends for your next mobile app.
I think, as of now, you have to know about the mobile app trends that you cannot miss out in 2020 to develop successful apps.
All these mobile app trends listed based on the research. If you feel more mobile app development trends need to include in the list, mention in the comment section.