Why Mobile First Strategy is Crucial for Business Success Today?
We are currently on the peak of the technological revolution we've ever witnessed. If you've given with a chance to choose your personal computer among laptop, desktop computer, and smartphone, which one you will choose? Undoubtedly, I will choose smartphone as my personal computer. I believe you will also do the same.
With the increasing processing power, storage, and bandwidth, a smartphone can do almost everything that you want to do with your desktop computer or laptop. Currently, there are around 2 billion smartphone users in the world, and this number is expected to increase to 6.1 billion by 2020. One thing that wonders you more is, around 11.3% mobile-only internet users in the world (in March 2015) as reported by ComScore, an American Internet analytics company. This number is in the spirit race.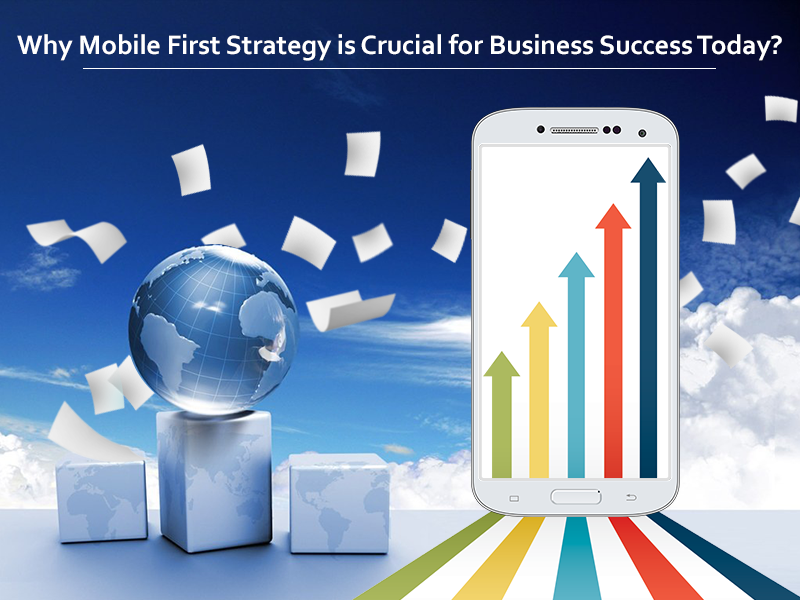 Winners in Mobile-first Strategy
When giving examples for those who are currently following the mobile first strategy and succeeded, Uber, Big Basket, and Snapdeal come in a first row. You can ask why India's largest e-commerce company Flipkart and India's largest online fashion retailer Myntra are not in the examples. Myntra has already started following the forward thinking mobile-app only strategy, while Flipkart is very close to adopting the same strategy, so it has not optimized its website to mobile. You can get that confirmed by accessing Flipkart's website through your mobile.
When you think about mobile in business, you shouldn't only think about consumer focused mobile strategy, you should also look towards employee focused mobile strategy. We will discuss this in the next steps. Let's see the necessity of mobile-first strategy in the business sector today:
Improved Customer Experience: This is the first thing for which, businesses have to follow the changing technology trends. Today, in the business sector, everything lies in the customer experience. For instance, a bank which allows online transaction for its customers (nowadays all sorts of banks allow online transaction), if it doesn't provide a reference number after the transaction is completed, users fell under suspicion, which will leave a bad brand impression. The result is also same in the case of an e-commerce company if it doesn't provide transaction reference number once the order is confirmed or if it doesn't allow customers to express their feedback after the product or service is purchased.
Here one thing you should remember well is, nowadays most of the bank transactions or e-commerce transactions are happening through mobile. Not only in USA or India, across the world. When your competitors have already facilitated the transactions through mobile, if you are still thinking to adapt to the changing trends, it is the time to begin or redefine your mobile strategy for the improved customer experience that can be either with well-structured mobile site or mobile app or with both.
Location-Based Technologies: As the technology is evolving year by year, the opportunities for innovations are endless. The recent best examples we can give for this are location-based technologies like beacons, and wearable devices. These recently born technological innovations have already helped thousands of businesses in speeding up the business process and enhancing the business performance.
Other most trending technological transformations in the business sector are IoT (Internet of Things) and BYOD (Bring Your Own Device) in the enterprise application environment. One most important thing you need to know is, all these technological innovations are centered on mobile. Without the support of mobile, they are nothing.
How to Adapt to Mobile First Strategy?
Now you are in the very important stage of this guide. Let's see some of the fruitful ways that make you a mobile-first strategy follower:
Responsive Web Design: The method of making your website adaptive to the different screen size mobiles, computers and other devices is called the responsive website design. For example, www.fugenx.com
Mobile Site: Mobile site is a separate site of your business for mobile users. When building a mobile site, remove non-core feature, simplify the menu and trim the content (if possible). Otherwise it might hamper your website's loading time.
Mobile Web App: Mobile web app is similar to a mobile website, but looks and feels like a native application (mobile app). They are typically written in HTML5 and run in a web browser.
Hybrid App: Hybrid app is part of both native and web app. It can be accessed directly through the web browser, or directly from your smartphone menu as an app by downloading it from the app store. Unlike cross-platform app, it doesn't work on different OS powered devices as a native app unless you develop separate apps for Android, iOS and other platforms. The hybrid app can be accessed in a browser in a smartphone running on any OS. For example, Walgreens
Mobile App: Also called native app, mobile app is not just a need for any business today, it has turned as a powerful customer engagement tool, brand accelerator, and reputation measurement scale. It is witnessed fact that the thousands of businesses across the world found a rapid transformation in their business performance following the mobile app development. For example, Uber.
Mobile app runs on iOS, Android, Windows, BlackBerry and other operating systems powered smartphones. Businesses can develop a separate mobile app for each platform or follow the cross-platform app development strategy. In the cross-platform, one app runs on different OS devices.
Know the cost to develop the apps like

Want to Adopt Result-oriented Mobile First Strategy?
We are a Deloitte award-winning mobile app development company in USA and India. We develop high-performing iPhone and Android apps that people love to use and share with others. We help our customers in segregating their digital ideas clearly, and create result-oriented mobile-first strategy to enable them to get an edge over the business competition. To discuss your mobile idea, reach us at info@fugenx.com or www.fugenx.com.
Our Support will be Forever; Before, During and even after Work also