Do you have an app idea that can be the next big thing in the app world? Then you're awesome. If your idea is universal, there are 4.61 billion mobile users to embrace it.
Sleepless nights, unpaid bills, and relentless commitments are the common things that every startup goes through. Wrapping up with the half-boiled app is not the expectation you have from your app. The app game you start should lead you in the successful app journey, but the decisive is how you start the game. This is where you should be careful and intelligent enough to build your app.
When building an app, the mistakes you'll do in the beginning can be costly at the end. So try to avoid it. Let me explain what are the common mistakes startups make when developing an app.
#1. Not understanding target audience
If there is no sufficient users, there will be no value for your app. You may build the best app of the world, but if it doesn't reach the real users, your app is a big 'FAIL'. Do a deep research on your targeted customers and get an idea of what they want.
#2. Adding too many features
A proverb that well mimics this point. Any guess? "Don't put all eggs in one basket." Yes, while adding features and functionalities, you can't put all eggs in one basket. So it's important to make sure that you will add only most important features in version 1 of the app, as too many features could spoil the user experience for a large extent.
#3. No clear understanding of development cost
While approaching the mobile app development company in India or the company in your preference, make sure that you will get a clear breakdown of cost, which may include cost of UI design, app testing, development and app maintenance. Having a clear understanding of this will help you have a better understanding of your spending. Here I've put an emphasis on mobile app developers in India. I think you were disgusted from it. Let me tell the reason behind it. Indian mobile app developers are very affordable and even equally capable to deliver the expected outcome that US and UK companies offer.
#4. Lack of strategy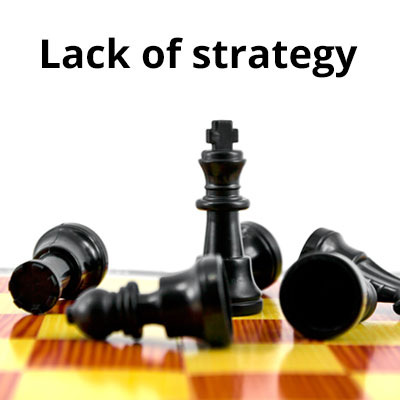 It is crucial. It drives each and every step of the app development. If you have seen mobile apps that have gone viral over the time, trust us that that were not the result of a random strategy. A well-planned strategy and execution is always a backbone for a successful app. Most of the mobile app developers skip on the strategy & regret later. Since thousands of apps are added to the store every day, your app can't contend without a powerful strategy. Having a long term strategy for the app on growth, design and development and fund raising empowers your app as a real contender in the arena.
#5. Choosing the wrong platform
We all know that iOS and Android are the trending platforms, but you can't embrace both or a wrong one without having a clear understanding of your targeted customers. It can be cost-burden. If it is the case you need to consider both platforms in the version 1 of the app, you have to go. Cross-platform app development is the latest trend in app development. You can also consider it.
#6. Delay in execution
You no need to travel the entire world just to develop an app. Once having a deep research of targeted customers and market and the required budget in place, start developing your app with a right resource. If you neglect it, some others may hijack it. So, kick-start your app development without a delay.
Since today user experience is everything in the app world, you should develop your app with an eye-catching UI and magnetic UX. Neglecting it leads to uninstalling the apps by users within a day from the download.
Conclusion:
I hope the above info has well educated you to develop a better app. Before jumping into the app world, do a deep research of your competitors and even try to avoid mistakes they've done before. Collaborate with only expert and experienced app developers.
Need Help to Develop Your Dream App?
Let FuGenX do it for you. We at FuGenX are a Deloitte award-winning global technology services company. We offer cutting-edge Android and iOS app development services for startups and global enterprises.