Best App Monetization Strategies to Generate Revenues From Your Mobile App
"It is of no use if our investments are never appreciated with returns in the middle to long term."
How many of you agree with me on this?
I hope100% will agree. Enterprises or individuals across the world will invest in something to get something in return over time. In particular, in this digital era, with a focus on generating profits through mobile apps development, businesses are stepping forward and investing in mobile applications with more confidence.
However, increasing demand for online shopping, on-demand, or instant service delivery mobile apps is encouraging organizations and startups to develop mobile applications and engage their audience never like before.
Well. Let's imagine that a mobile app idea has come to your mind, you hired the best mobile app development company for getting it live, and hopefully, the app was developed with all your business requirements.
Here, a business must think over how to get returns on investments that it poured on that application. They should make something to get incredible profits through the application.
How can a business get profits through its mobile apps?
The best answer is "Mobile App Monetization." Yes, app monetization gives you an additional source of income for businesses. So, monetize your application in as many ways as possible and turn your newly launched or existing mobile app into a revenue-driven profitable application.
This article will guide app owners or developers about techniques of monetization and which method will ensure the best outcomes in the future.
Let's get started!
What Is App Monetization?
App monetization is called creating an additional source of revenues by implementing a group of techniques within an app. In simple words, by monetizing the app, a business can convert every user of the application into a revenue source.
In-app advisements, subscriptions to access a few premium features of the app, or in-app purchases are a few of the significant monetization strategies that helps app owners create attractive revenues with the application.
Why Is Mobile App Monetization Essential For Businesses?
The mobile app industry is very competitive and emerging rapidly with the launch of hundreds of mobile applications in the Google Play Store and Apple App Store. And, of course, app stores were loaded with thousands of similar mobile apps.
Forget about the number of mobile apps that are available in the app stores and how many of your competitors were created a similar application just like your app. As an app owner, your extreme focus should be on producing continuous income from your business application.
To remain competitive in the industry, #mobile app developers need to be more proactive and create revenue models to draw cash-inflows once the app is downloaded and installed on the end-users mobile devices.
Enterprises should remember that app monetization does not disturb the user experiences for retaining users and preventing their switch to other apps. So, create best-in-class monetization strategies that stretch bag full of revenues steadily.
The Best Mobile App Monetization Strategies in 2021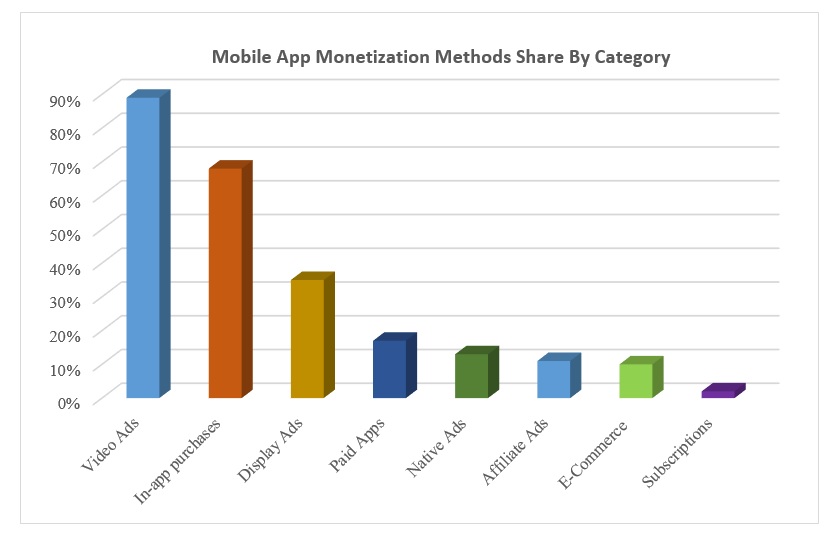 To guide you through app monetization, we have compiled a list of the app monetization strategies that any organization can implement in their apps and generate enormous cash flows.
Here we go!
In-app Video Advertising
If you are not integrating ads inside your app, you will miss the great opportunities for app monetization. In-app video advertising is a simple app monetization process that is dominating the other app monetization methods in 2021.
This type of digital advertising revenue model builds a communication channel between advertisers and end-users. It also improves conversion rate and ensures assured revenues to app owners.
Since advertisers realized the value of mobile apps, they are partnering with app owners for product or service promotion in the app.
Native ads, banner ads, affiliate ads, and app reward ads are a few popular in-app adverting types that engage users and generate revenues for app owners.  Whatever the ad type might be, organizations should remember monetization through the in-app advertising model should not affect user experience.
Monetization Via Subscription Revenue Model
It is another best app monetization approach to produce cash from active users of the application. We are all aware that Google Play Store or Apple App Store has a combination of both paid and free-to-downloadable mobile apps.
A few mobile app developers initially allow the audience to download their app for free and give access to a limited set of app functionalities. Later, if the user wishes to access the premium features, the app offers them subscription packages. On paying for subscription plans, the users can access the full benefits of the app functionalities.
So, offering apps at zero cost lets developers get higher downloads with ease. Later, they can interact with users through SMS regarding the benefits of upgrading or paying for premium features and generate money.
Hence, this subscription model is a great way that helps mobile app developers to build an active user base count initially and later helps to convert them into paid app subscribers.
Data-based Monetization Strategies
Data collection and analysis is one of the competitive eras of mobile app monetization. Mobile app owners can also draw profits from analyzing the customer data collected from the mobile application.
By leveraging the data, businesses can interpret how customers are interacting with the app and explore how the app is fulfilling users' needs. Moreover, accurate analysis of user data would also help businesses to know where to improve the app.
On the other hand, this data would also be helpful for companies in boosting the price of in-app advertising services. I mean to say, app owners can charge higher commissions if any increase is observed in the click-rate or conversion rate of digital ads published in the app.

Monetization Through In-app Purchases
In-app purchases help enterprises make as much money as possible and enable customers to interact directly with your or third-party products.
This type of app monetization is best suitable to implement in mobile gaming apps. Gaming app owners can generate revenues by vending virtual products within the application.
For instance, if users of Candy Crush Sega want to have more moves, the app offers them to buy moves. In this way, gaming apps development businesses produce money by selling in-app goods.
On the other side, app owners can also take commissions from e-commerce or other service channels on every customer conversion. If your brand has great demand, you can negotiate individual commission rates with the app stores as well.
Third-Party Payment Modes
It is the most ideal monetization strategy that works well in multi-vendor or marketplace e-commerce apps. E-commerce or marketplace business app owners can charge fees on every transaction or every purchase done on their platform.
One of the best things about this revenue model is that you can create more and more cash in-flows on the growing audience base. It is a brilliant way to monetize app users, promote the brand, and reach a wide targeted audience base.
Clutch Sponsorship Opportunities
If your application is featured on app stores and got popularly in its niche, you can raise sponsorship opportunities. So, monetization through partnerships with brands and getting their support in promotion or app awareness is the best decision to hit the market and generate revenues from the app.
Know the cost to develop the apps like

Final Words
We can say that the implementation of app monetization strategies will bring success in terms of more money. Because the story never ends at app development and submission in stores for download and use. Being the best mobile app development company, every developer should think creatively to generate revenues after download.
Among all other strategies, in-app advertising and data monetization methods are the most helpful ways that draw unbelievable income without affecting the user experiences. Developers should ensure the right balance between user experience and app monetization to mitigate the risk of user churn rate.
Footnote:
FuGenX Technologies is the top mobile app development services company in Bangalore, India. We suggest companies that understand your audience requirements and preferences and monetize the app with the perfect revenue model that offers healthy growth. We are one of the best mobile app developers in Bangalore, India. We provide Android apps development, iPhone/iOS application development, and web apps development services.
Are you looking to build a new mobile app? Then, hire FuGenX as your mobile app development partner.
Our expert mobile app development consultants understand your business needs and build the best app solution for your business. Let's talk and get a free app quote right away!
Tags:
Mobile app monetization, Android apps monetization solutions, iOS apps monetization methods, guide to app monetization, mobile app monetization models