How Much Does It Cost to Develop an App like Booking.com?
The travel and tourism industry has shown constant growth year-over-year and is now considered as one of the fastest-growing sectors in the world. A group of people mostly travel to relax and enjoy and some people to make business trips and visit international conferences. Before going on a trip, they need to manage everything and arrange flights, cabs, and hostel rooms.
Online booking is in high demand in the travel industry. As per Statista, 88% of adults in the USA prefer to book a hotel online, and in that, 80% of last-minute online reservations are only made through mobile devices.
Let's have a look at the below-shown picture to have an idea about online travel sales from the year 2014 to 2020.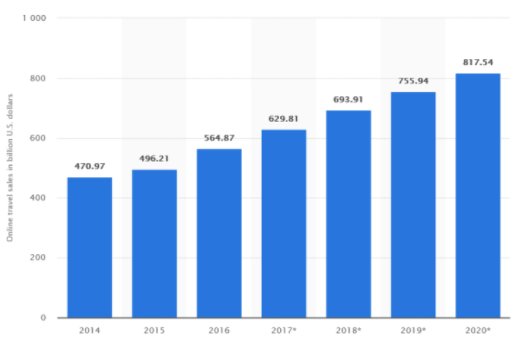 Booking.com is one of the most trusted online and popular travel agencies that offer booking capabilities and planning resources for travelers.
Entrepreneurs concern about how much it costs to build a hotel booking app similar to Booking.com and what is the use of a travelling booking app.
In this blog post, we will be discussing the advantages, some key features, and the development cost of hotel booking mobile application.
Benefits of Using an App like Booking.Com
Benefits to Travelers: Travelers will get several advantages such as convenience, discount, security, reliability, etc. Users get good value for money and more. You can plan the whole trip with a single mobile application.
Benefits to Hotel: Hotels get online booking through the Booking.com like an app, which can be sold at a lower or higher prize based on them and demand. Hotels will also get Customer Loyalty, Brand Promotion, Direct Reach Out, User-Data, etc.
Benefits to App owner: An app like booking.com owners wants unlimited advantages that fall within the scope of user engagement, multiple revenue streams, user type, and many more.
Booking & Cancellation: If a customer chooses a hotel, they will be easily redirected to the payment gateway to make other payment options such as Debit/Credit Cards, online banking,

PhonePe

, Google Pay,

Paytm

, PayPal, etc. There are several hotel booking services that offer users a free cancellation policy that they can use within 24 hours to cancel online bookings.
Accommodation View: Visitors can view close-ups of the hotel rooms where they will be staying, choosing after looking at pictures of the hotel so that they will get an overview of the hotel.
Features of Online Hotel Booking Mobile Application:
Hotel Information: Hotel Info: Customers can view all hotel related information in the app, such as the how many rooms, prices of each room, discounts, special offers, facilities of room, and other related items available.
Room Cost Feature: This feature in the Booking.com application helps the users to make minute bookings easily and quickly. In addition, the app is added with the hotel room cost calculator feature, which informs the user about the total cost of the room according to traveler preference.
Push Notifications: With this feature in the app the customer will be notified from the mobile app with all past booking or new updates on their mobile phones.
Support & Help: This feature helps users get 24*7*365 support from hotels if they have any queries or issues regarding their stay.
Online Receipt: If the customer pays online through the Booking.com app for accommodation, they will be given an online receipt of payment on their mobile phones or by mail provided by the customer.
Virtual Tour of the Entire Hotel: This feature in the application helps customers to actually see the hotel through 360 images uploaded in the application or through the VR view offered in the app. They also upload videos on social media networks and their app/website of the hotel so that it gives them a realistic view o the hotel.
Navigation: tourists can find the Google Maps feature offered on the map to the hotel or to other locations near your stay.
Advanced Features That You Can Consider
Tour Planner: This feature not only helps users for hotel booking but also assists them in planning the entire trip.
Nearby Places: Tourists has the option to search their nearest tourist attractions, restaurants, shopping malls, movie halls, etc.
Compare hotels: If customers compare other hotels with their hotel, they can also check the reviews, ratings, and pictures of other hotels compared to other hotels
Travel Assistant: This app is included with another feature, AI Chatbot Assistant that helps to provide the customer with a little information about each and every one of its hotel photos, weather, prices, food menu, etc.
Payment API: Other payment mode options included in the mobile app helps customers to make payments directly in a quick and simple method.
Rating & Review: This feature in the app helps the users to give ratings and reviews about the atmosphere and service of the hotel.
Factors that Determine the Cost of Booking.com Clone App
An online hotel booking app alternation to booking.com falls under the database category app, which needs unique design and strong back-end. Have a look at the below factors that determine the actual price of a booking.com like an app.
App development platform: The cost of travel booking app development varies from one platform to another platform. It costs less to develop a hotel app on the iOS platform as it requires only a few devices to be compatible with the iOS app, but it is not the same as

Android

. The hotel booking platform for Android costs a lot more than an iOS app.
App Complexity: Consider the scenario where you would like to integrate mobile wallet functionality in your online hotel reservation app. By implementing a Mobile Wallet, you should accept multiple online payment modes and also offer a great travel experience, thereby increasing the app complexity.
Hence, the cost of hotel booking applications with a good business model, and unique and complex features is higher compared to regular payment API features.
Developers Location and Team Size: Hour rates vary from one state/country to another state/country. For example, the

best Indian mobile app developers

like FuGenx Technologies charges less compared to Australian app developers.
On the other side, developers' team size also reflects the Booking.com app development cost. For example, if a team has 4-5 members if costs less compared to a team with 7-10 members. You should also consider the mobile application development company portfolio before confirming your project to them.
Hiring Right Online Hotel Booking App Development Partner Is the First Step of Business Success
FuGenx Technologies is the best and most popular Mobile App Development Company that creates the most unique online hotel booking apps. Being a home to skilled and talented resources, the firm offers one-stop solutions for your mobile application needs.
To find out about the previous work of our company, engagement models and prices of various projects and our working method, please contact us by requesting an instant free quote.