Kontrol for Tesla App: New Ways to Optimize Your Driving Experience, in Style
Tesla, one of the best motor company is redefining the driving experience of the user. It emphases on enhancing the user experience in terms of safety, comfort and habits, taking care of environment as well.
Tesla's Team stand by the motto of '' not to let the perfect be the enemy of the better'' with regard to its new ventures, but with regard to user experience it always strive hard to deliver the perfection, or even tries to simplify and in some cases both.
In practicality, most of the developers tries to balance between simplicity and functionality, which is often difficult to achieve. In most cases, developer need to focus on one, leaving the other for some or the other reason. Ultimately, developer focuses on overall user experience which needs to be made simple, making the intuition great.
In order to impart both functionality and simplicity, here comes Kontrol for Tesla App.
At FuGenX, various innovation lab programs work on identifying new ways for finding out best holistic technologies which can deliver comfort, fun and safety to the users. Each month, they strive to improve user experience and result various apps at free of cost. One such subject was Tesla.
Kontrol for Tesla: endless opportunities with this new app.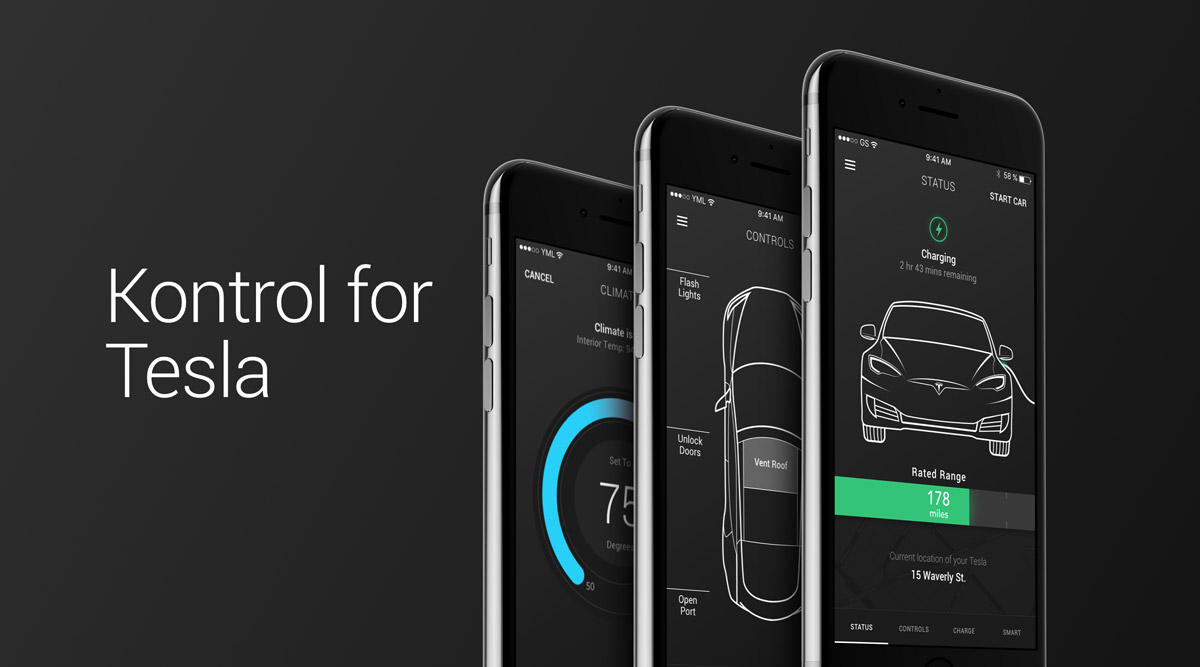 Kontrol for Tesla, is an innovative mobile app developed jointly by development team and creative team at Y media labs. This app is made available on iOS app stores and has all the features of Tesla app and few more additional features which helps in making the driving experience of the user better, easy, efficient and convenient. The best part of Tesla is that, this app is freely available on app store.
A perfect app for perfect vehicle.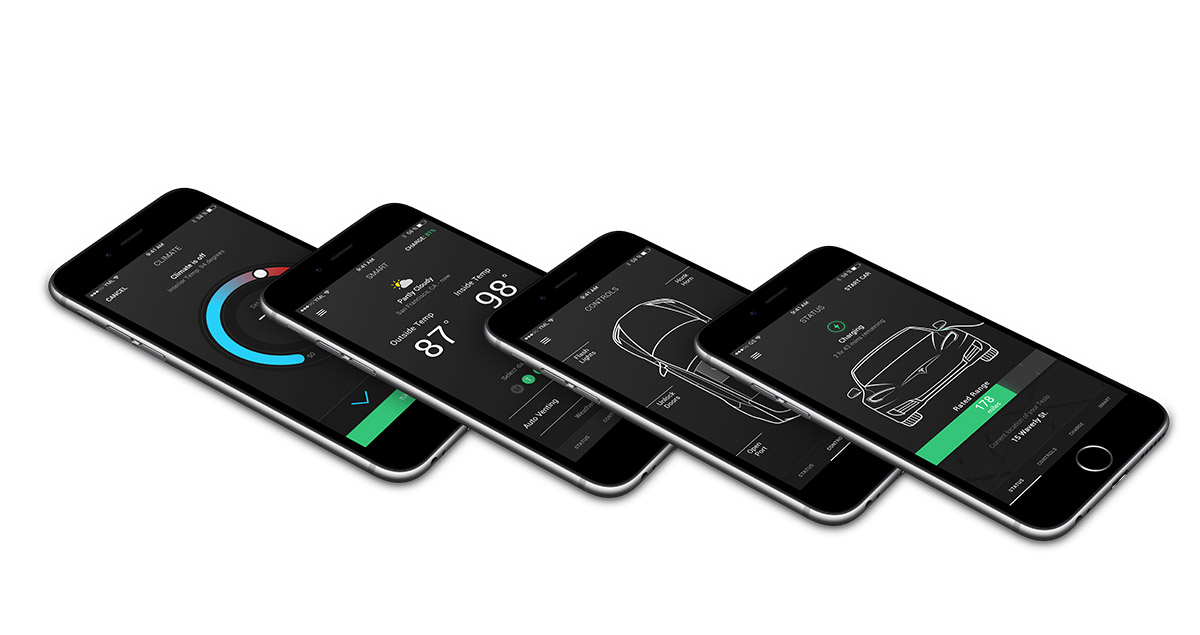 Tesla is well known for its cutting edge, technology enriched products, so the expectations on the app design for such a community would be definitely high. The Tesla app design is based on Model S and is supposed to reflect the control of the vehicle in terms of sleek, clean lines and intuitive.
The interface of this amazing app will look like a dark color palette is selected, when iterating on UI. If any important information like temperature control pop out or battery charge levels are indicated by the color change. This app is undoubtedly stands at peaks in terms of its functionality and maintains a perfect balance between modern aesthetics and functionalities.
Kontrol for Tesla stands unique in aspects like Touch ID car start, honk and battery status, simple interface, 3D touch car unlock, smart venting.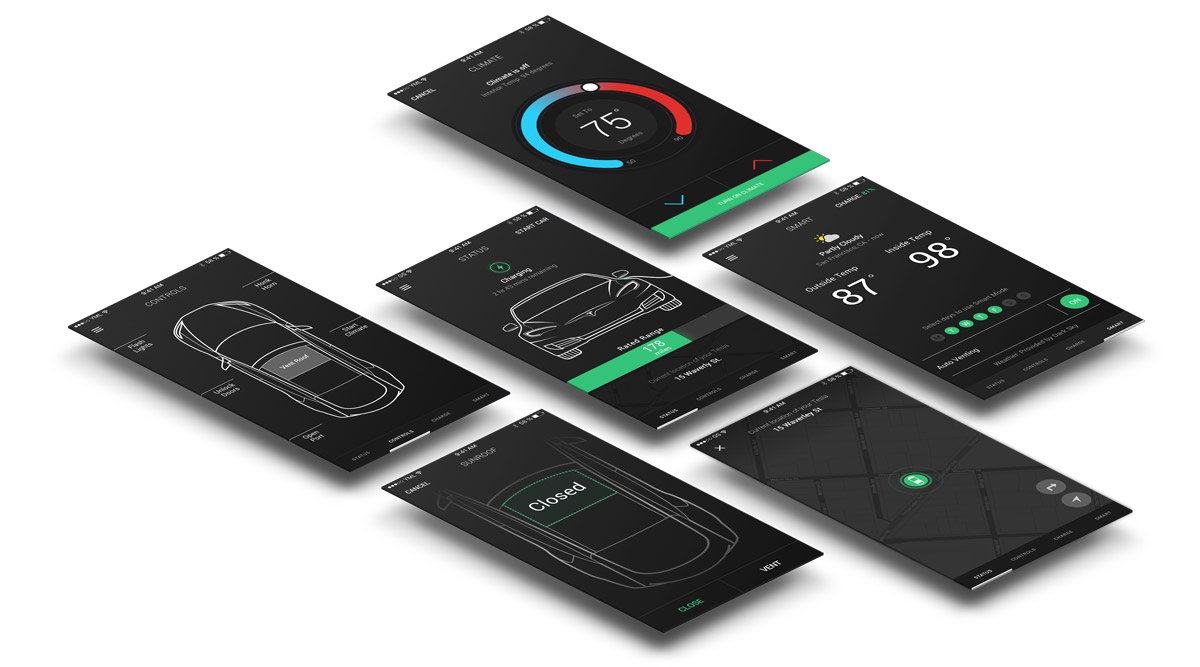 Kontrol for Tesla has few additional features apart from the current functionalities of Tesla app. User need not miss the unique features of Tesla app in the Kontrol for Tesla, which may include the following
Before driving, user can change the temperature
Charging progress can be checked in real time
For finding the care in a parking slot, flash lights/ honk can be used
Unlock or lock car
Close or vent the panoramic roof
Locating and tracking the car movements can be made easily
Along with the above features which are currently available on Tesla app, Kontrol for Tesla app has got the following additional features
Smart climate, serves for remotely raising the car temperature to desired level before you leave the house
Touch ID for car start avoiding typing passwords every time
Smart vent for detecting the temperature differences between external environment and internal cabin, thereby adjusting the sunroof
Using 3D technology or Widgets for Unlock, Honk and Battery Checking. For this, user need not always log-in into the app
Kontrol for Tesla is well known for best mobile app security protocols.
Using the following techniques, the security of the data of the user is assured. As the developers of the app have given utmost importance to the security and privacy, user rest free while using the app
User credentials like username and password are not stored in the app rather they are stored in Apple's iOS secure keychains, for which other app accessibility is restricted. Thus, user credentials are in safe hands.
User credentials are not used while using Kontrol for Tesla, unless direct Tesla's API server is used for communication. User credentials are not stored even when the app is running. High levels of security is imparted using 3D Touch ID authentication for accessing the user's credentials from the iOS's Secure Keychain.
HTTPS and Apple Transport Security ( ATS)
Using Apple Transport Security, client-server communication is made more secure via HTTPS protocols. These protocols are in active from iOS 9.0, and this Kontrol for Tesla is adhering to this.
Tesla's API Server is directly communicated to the app for which certification will be provided. Following steps are followed for checking evaluating the communication
The certificate which is provided by the Tesla server is checked for Certificate Authority, CA.
The certificate is also checked for Tesla API domain in the response
After validating the above two, this certificate which is provided by the server will be checked for similarity with the certificate provided by the app
In case, if the user's device is jailbroken, then the user is prevented from the app usage by clearing the credentials, local preferences and sessions.
Many more exciting features of Kontrol for Tesla
Tesla is so amazing that, we cannot restrict with the first iteration rather, other useful feature is thought to be included in the app
Tracking business miles versus personal while driving Tesla
Most of the drivers wants to note down the number of miles travelled for business purpose and personal purpose separately which is a bit hectic process. This process is made easy with the help of this additional feature in the app.
Conclusion:
In US and abroad, Tesla will be the future of driving for sure. In order to contribute such amazing development to tesla, bring happiness and is making us feel proud. For experience the exciting features of this app, download it at the very earliest.
If you are also planning to develop any such interesting apps, then reach FuGenX Technologies, a pioneer in mobile app development. We are here with the world class developers who can meet your expectations with our cutting edge technological support.