How Much Does It Cost To Develop Online Payment Apps and e-Wallet Apps?
The value of transactions through payment apps is surpassed 110% during 2020-2021. Whether it is due to CIVOD or step ahead cashless payments to cope with "Make India Digital Mission" the use of mobile payment apps or digital wallet apps is on the rise. This trend is turned stronger with people switching to online shopping patterns.
Faster and convenient online payment options through e-wallet apps or mobile Unified Payments Interfaces (UPI) apps are encouraging digital payments and contributing to the Digital India flagship program.
From small retail stores to multinational e-commerce brands are offering multiple digital payment options to their customers. Such market growth and people's shift to online payments are driving the demand for mobile digital wallet apps worldwide.
The COVID pandemic, on the other side, is giving wide opportunities for digital payment applications. Mobile e-wallet apps have played a vital role during the pandemic season and encouraged contactless payments to break the infection chain.
We can confidentially give a statement that the pandemic has doubled downloads and use of digital payment apps all over the world. Statista says that India like highly COVID impacted countries have witnessed 30% of growth in online payments during 2020. This number is reflecting the growth of payment apps in India.
So, today, we would like to give you the most useful information for the organizations that are looking for digital wallet apps development.
Herein, our expert business analysts have captured a list of the best mobile payment apps in India. We have considered a few important metrics such as app rating, customer feedback, number of downloads, etc., to gather the most-used e-wallet apps in India.
You can also get information related to benefits and payment app development costs in India.
Adoption Of Digital Payments In India
Since the launch of BHIM UPI or mobile payment app developed by the National Payments Corporation of India (NPCI), the thrive for introducing secure and flexible payment apps has never stopped in the country. The country has doubled the adoption rate of digital payment solutions and reported nearly four trillion UPI transactions during 2020.
Over a third of the country's population is using UPI apps for their digital payments in India. Even though PhonePe, Google Pay, and Paytm-like apps have completely rolled out in the industry, payments through credit cards and debit cards, specific bank apps are also on the rise. So, there is a strong and flourishing momentum across digital payment services that have been extending in India.
FinTech companies, banking and financial service providers, e-commerce players, and on-demand service providers are all modifying and remodeling their service offerings to ensure better customer experiences. They are approaching the best mobile app development companies India for integrating advanced and futuristic features in their payment apps. This drive is making India a destination for FinTech and Online payment services.
Are you looking to hire the best mobile app development company in India?
10 Best Mobile Apps Development Companies In India
Here are a few best payment apps in India. You can pick one and create a clone app for becoming a successful UPI payment player in India. 
List Of The Top 5 Mobile Payment Apps In India 
#1. Paytm- A Secure Mobile Payment App in India
 Paytm is India's largest digital payment app. This popular e-wallet app has acquired a share of 33% of the online payment market in India during 2020. Due to the app's reliability, craze, and usage patterns, approximately 99% of physical and online stores are accepting payments through the Paytm app.
Number of Downloads: over 100 million
Daily active users: 39 million
Google Play Store Rating: 4.5/5
Apple App Store Rating:4.7/5

#2. Google Pay- The Best UPI App In India.
It is the second-largest UPI payment app that stood in our list of 10 Best UPI Apps in India in 2022 with its faster and more secure payment services. It was used more often for in-store and online payments in India. It means that 7 out of 10 Indians are opting for Google Pay to make their payments safely.
The app has attracted nearly 500,000,000+of Indians with its cool and user-friendly features and functionalities. For instant money transfers, paying bills, paying at point-of-sales, and convenient utility payments, Google Pay or GPay is on top of its competitors.
Number of Downloads: Over 500 million
Daily active users: 19 million
Google Play Store Rating: 4.1/5
Apple App Store Rating: 4.7/5
#3. PhonePe- Popular Indian Digital Payment App In India
 During lockdowns due to the COVID crisis, the PhonePe online payment app has witnessed a massive number of active users. The app is available to download from Google Play and Apple App Stores for free. As of March 2022, the app has reported over 100 million installs.
Not only on the number of downloads front, the PhonePe payment app is been leading the online payment industry in terms of transactions volume and merchants coverage in India.
This app is featured with many user-friendly features such as money transfers, UPI payment, bank transfers, mobile or DTH recharges, bill payments, avail insurance, investments, and get returns on fixed deposits, point-of-sale payments at restaurants and local stores, etc.
Number of Downloads: Over 130 million
Daily active users: 17 million
Google Play Store Rating: 4.4/5
Apple App Store Rating:4.7/5
#4. Amazon Pay- Market Leader In Online Payment Services Industry In India
 Amazon Pay is giving stiff competition to Google Pay, PhonePe, and Paytm like popular payment apps. It is stood in the next leading positions in the UPI digital payments industry In India.
Amazon is a brand for technology innovations with more focus on e-commerce businesses. Amazon Pay is an additional service offered by Amazon India that allows users to shop a wide range of products and pay in convenient Amazon accounts or other payment modes.
It can be used for recharges, bill payments, paying for travel bookings, food orders, shopping, medicine orders, and many more.
Today, most online service providers are integrating Amazon Pay API in their mobile apps to offer easy payment options to users. Its easy-to-load mobile wallet balance and compatibility with all UPI apps make Amazon Pay a one-stop destination for all personal and business payments.   
#5. MobiKwik- The Best Mobile Payment Network in India For Cashbacks
 MobiKwik is India's one of the best mobile payment networks. It is a convenient payment app for UPI transactions, paying bills, recharges, offline QR Payments, and paying for all online purchases.
The app is popularizing in India as the best online payment app with its PayLater feature. Users can get credit up to INR 30,000 and Pay it back later. It will assist the users in better managing their bill payments and staying on top of their credit scores.
The app has generated INR 3,698 million in revenues in FY2020. But due to the intensified competition from PhonPe and Google Pay-like payment apps, the app has witnessed a significant decrease in total revenues during 2021 (INR 3,023 million).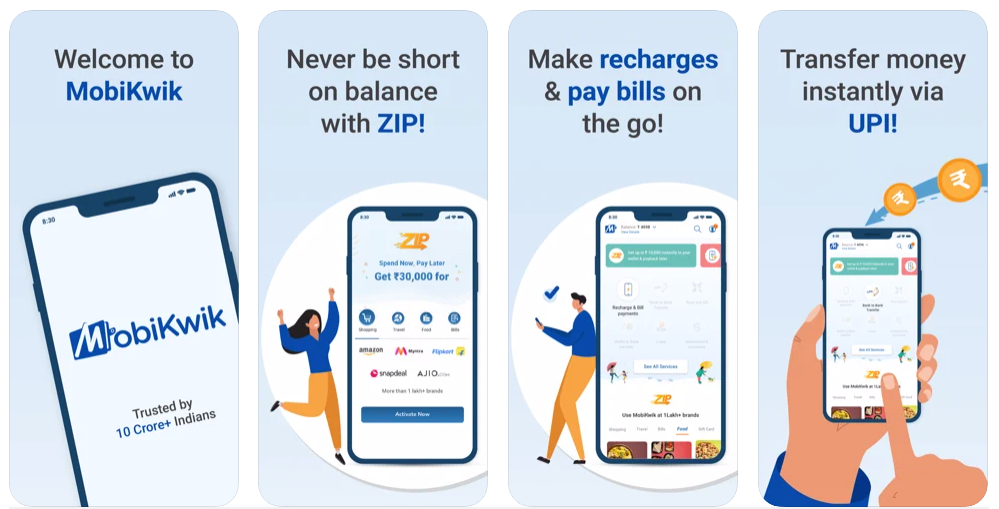 The app is supported nearly by 3 million merchants. Zomato, IRCTC, Swiggy, Uber, and many more leading brands across diversified service categories have partnered with MobiKwik and integrated modules in their online payment apps to offer the best payment experiences to the users.
Number of Downloads: over 50 million
Daily active users: 107 million users
Google Play Store Rating: 4.6/5
Apple App Store Rating: 4.1/5
These are the best successful examples of popular mobile wallet apps (Android and iOS) in India. Similarly, we have the BHIM UPI app, FreeCharge e-payment app, Yono by SBI, PayZApp, Rupee, Ola Money, Airtel Payments, and Yes Pay are the most popular payment apps or UPI payment gateways in India.
Now, will move into what features are making these payment apps more popular and standalone from the digital payment applications crowd.
Significant Features Of The Best Mobile Wallet Apps In India 
Simple user registration
Quick Sign/login for ensuring quick access
Interactive and Charming UI/UX Design
Cloud integrations for making transactions safe and faster
User profile
Integration of QR code scanner is must for making payments faster
Simple wallet recharge facility
Add contacts or bank accounts facility for instant money transfers
Transaction history for acknowledging user's online transaction
Balance check through high-level authentication procedures
Recharge DTH and mobile phones
In-App Camera for scanning QR codes
UPI payment options
In-app chat assistance
Push notifications
Offers, gift cards, deals, or discounts on payments for attracting more users and improving app retention rate
These are basic and must-have features of a mobile wallet app. If you are looking to develop an e-wallet app for Android, get in touch with FuGenX– the best #payment apps development company in India.
How Much Does It Cost To Build An eWallet App?
As we discussed in the above section, features, functionalities, app platform (Android/iOS/Windows), app design, and mobile app development team's size, experience & location will impact the Paytm wallet app development cost.
Based on all these factors, the cost to build an app like Paytm with basic features and simple UI design will fall around $15,000-$20,000.
The estimated cost of mobile wallet app development Like Paytm with medium-level complexity and external API integrations will range from $25,000-$30,000.
Further, the integration of advanced features such as location tracking, QR scanner, and auto bill reminder will increase the cost to develop an app like Paytm to $50,000+. Hence, the cost to create an e-wallet app like Paytm will purely depend on the application requirements.
The best custom mobile app development company like FuGenX will offer you the best development quote and deliver a feature-rich eWallet app for Android and iPhone within the promised timelines.