How Much Does it Cost to Develop Online Travel Apps like Hooper?
Looking out to build a travel app like Hopper there here you Go!
If you are in the travel business or hotel business, you probably encountered the latest trends in how travelers make a flight or hotel reservation. Unless your customer prefers the old-fashioned way, they now mostly make online hotel or airline reservations.
Besides, most people prefer hotel booking apps or hotel booking sites. There are tons of different websites or apps out there to help you book your next trip.
However, most of the apps or sites have regular features such as price, images of the hotel property, reviews, rating recommendations, and many more will you in this blog; in order to develop the best hotel app, requires much more.
As we are talking about the lowest airfare prediction apps, then the first things that come to most of the people's minds are Hopper.
As you are going to develop the hopper app, you should be aware of the best travel booking apps in the market and what their positives are.
Before we know some interesting facts about this Hopper travel app, let us quickly go through the market size, the app, and the market size of the travel and tourism sector.
This blog highlights information related to the Hopper app, how to make the Hopper app, its features, how does Hopper app work, and how much the hopper app development cost.
About Hopper
The first and foremost question that comes to everyone's mind is, what is the Hopper app?
Hopper is an app, which utilizes data/information to predict and evaluate airfare.
This travel-booking app was founded in 2007 by Frederic Lalonde, Sebastien Rainville, and Joost Ouwerkerk in Montreal, Canada.
The travel app Hopper uses Artificial Intelligence technology and now has crossed 30 million downloads & 75 million trips planned.
Hopper is the only travel application listed in the best of 2015 list from the Apple App Store. Moreover, it is in the top 7 overall, according to the report of the official Apple App Store of Hopper.
It is an award-winning travel application, and it made its spot in the rundown of top-10 travel apps in the United States, as reported by App Annie.
Moreover, Hooper apps are highlighted in various sites and magazines such as WSJ, Paste magazine, Time, BuzzFeed, and many more for giving unmatched/exceptional travel app solutions.
The best feature called a color-coded calendar helps to pick cheaper travel dates, and a price tracker can inform about the right time to buy or go for a trip.
The travel application uses AI to anticipate airfare costs and its extending support to include hotels. Same as airfare, hotel pricing is likewise compelling; changing the explorer's demand.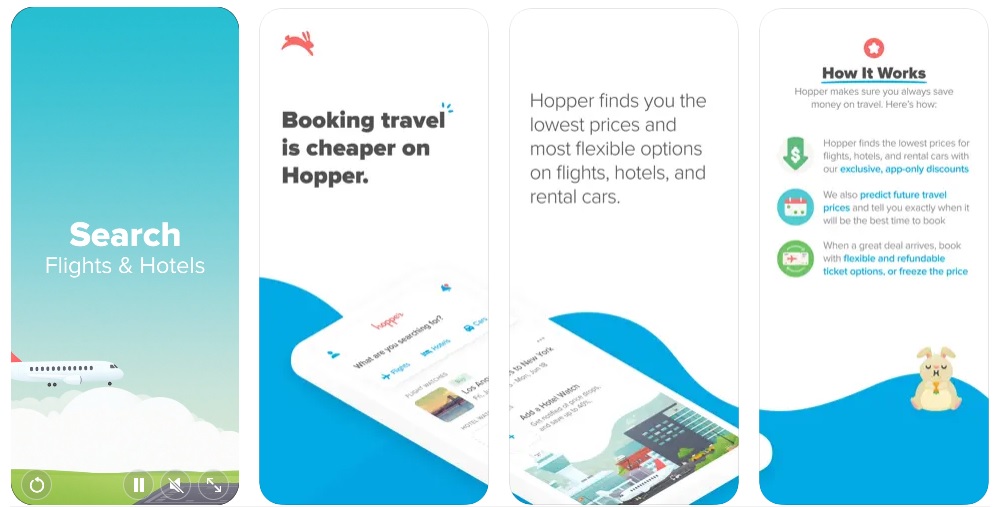 Recommend: Cost to develop an app like MakeMy Trip/ Yatra.
What does the Hopper app do?
The Hopper app was mainly developed to help arrange your travel for taking away it tells you when to book hotels or flights as well as saves money in the course.
Desire your travel epochs
The first thing that the app asks after opening an app is to select your destination. You can choose the Hopper app one-way trip or round trip.
Nevertheless, unfortunately, this option is available for IOS devices only as of now.
After that, it will provide you with flight costs for the next several months, and it indicates the price based depending on the colors.
i) Green = Price for that day
ii) Yellow = Standard
iii) Orange = Little high
iv) Red = High demand & price
Based on the inbuilt color-coded calendars, users can pick a date for departure and return date. Besides, based on the provided information, the Hopper app will give you an estimated cost of the flights.
It provides how much you are saving and the absolute latest you will want to purchase your tickets within that time slot, or the prices could rise after a specific date.
Now you move on to the next screen where it will give you instructions on how to save even more and more money.
For instance, Hopper will indorse different airports where you will save money, or it will suggest different routes & dates to increase your savings further. Probably it is an essential feature because it enables users to plan and make the best or right decision for the trip.
Finally, it will provide you with a list of the flights available, along with the dates and costs.
Once you are done selecting the route, you will create an account with the apps Hopper and choose your payment method.
The fair includes Ticket prices, Hopper fees, and taxes/fees.
All users should be aware of the restrictions before using the app.
In any case, the flight cancellation is not supported by the app; then, you should contact the Hopper support team directly to make changes to booking.
For making changes for booking, the Hopper app for Android/IOS will not charge anything, but most of the other airlines do so you will most likely end up paying for the change.
Get your free mobile app quote now!
Advantages of developing an app like Hopper
It is good to know the advantages of the app you are going to clone or build.
Improves user experience
Know your visitors & their preferences
Get instant feedback from users
Increase in profit.
Great way to attract users/customers
Provides access to Maps, Time Tables, and more information
How do Hopper apps work?
The foremost thing you need to use the Hopper app is to download the mobile app, as it is now available for desktop computers.
You can download the Hopper IOS app or Hopper Android app.
Hopper is comfortable in its approach. You do not have to sign up with Facebook. It is just access to your location and starts an exploration by telling it where you want to go/fly.
Once you add your destination and travel dates into the app search console, Hopper will fetch you a map view of the city you are wandering to. You will be able to see all the available hotels, which are color-coded like Hopper's flight booking calendar.
You can select one of the hotels listed; you will be able to see some price information, like how it compares with other hotels nearby, and tell whether it's nighttime to book or not.
Hoppers select each hotel separately; after that, it sends a team of professional's photographers to capture videos and photos of the hotel, rooms, and nearby area.
You can get information regarding hotels like in the way of Facebook stories. Hopper says this will help to give a better sense of how big your rooms are, amenities, and whether the hotel is well kept or not.
After that, you can book a hotel room through the Hopper app with one click to pay, as the app saves your credit and debit data.
After completing the booking process, you can view all your upcoming travel dates and confirmation codes in one place within the app.
Recommend: Cost to develop Airbnb.
Features you need to look after before developing apps like Hopper
Provide users with the right price prediction
Hopper claimed to have 96% accuracy in its price forecast. Now, its AI prophecy spreads to hotel booking as well. Users need to select the dates of their travel, and Hopper will project the estimated cost for the hotels and flights.
Apart from that, it also shows which days are expensive, cheap, and standard for booking. Therefore, if you made your mind to make a travel app like Hopper, then with this feature, your hotel booking app development idea cannot go wrong.
Another important thing we need to make sure is that your data is useful and correct.
Enable users to Book Flights, Hotels, and Cars a single place
Hopper is a multipurpose app to book flights and hotels with few taps. When you are developing an app like Hopper and want to compete in the market, you need to include a feature that used to book rental cars as well.
When you develop a multipurpose app, you will stand out in the crowded market for Android and IOS.
As a hotel booking-startup, you might want to focus on building deals app for a single platform initially. As time moves on, you could move to various suits and enable your app users to book flights, hotels, and rental cars in one place.
Helps in planning a Trip easier
Just remember, price is not criteria while booking a hotel. When you are developing an app like Hopper, one needs to catch up on features that help to plan a trip more elegantly.
The Hopper app will provide information related to the hotel we are looking out for and neighborhood hotels.
A calendar that shows the price for hotels and flights on many days is necessary and should. It will help to build a loyal customer base for your organization and keep bringing back the travel customer to you.
If you have an app and not included this feature, add in your app. If you are not yet developed the app, then this feature must consist of in your app.
Hotel apps are developed to ease errands for business people or travelers who regularly travel for business meetings or bargains.
This feature resembles the tops of an already good thing. There must be a single quest box for composing a city name, terminal code, or milestone.
In the initial stage, there is no requirement for even determinations like airlines or dates. The hotel-booking app, like Hopper shows Hotel & flight results all the while at one look.
It will make things simple and more comfortable for your customers.
Therefore, it is not good to overlook this feature while designing and developing an app like Hopper.
Recommend: How much does an app like Trip Advisor cost?
Cost to develop an app like Hopper?
I think this is the most curious section where most of you are looking out to know.
The cost to develop an app like Hopper depends on various factors like:
Number of App platforms
App Design (Simple, Medium, Complex)
App size
Number of app developers
The geographical location of the developer
India – $10 to $80/hour
Australia – $50 to $150/hour
Eastern Europe – $20 to $150/hour
USA/Canada-based dev teams – $50 to $250/hour
Eastern Europe – $20 to $150/hour.
Above mentioned all factors are taken into consideration while developing an app like Hopper.
The cost of an app differs based on your requirements. Therefore, it is not very tough to provide an exact price for Hopper app development.
If you want to determine how much exactly your travel app costs?
Our business analysts are at your reach. We analyze your needs & functionalities and calculate the cost-free.
"Get in Touch to identify more about our mobile app development solutions."
I hope all your myths are cleared about the hopper app cost, How to create a Hopper, how to use Hopper app, is hopper app free.
A significant thing to notice is that the mobile app has become a dominant platform for the broader platform. Additionally, mobile travel also growing at the speed of 20% a year.
With the above stats, you can clearly say that smartphones majorly dominate the travel sector.
Therefore, if you are ready with your travel app idea, which you want to verify and develop, then you can discuss it with us, as we are the leading mobile development company in the USA, India, and UAE.
If you are still struggling with doubts, you can reach us using our contact us form.
FuGenX Technologies developers are always there to help you out.
Do not worry about the consultation fee; it is free of cost.