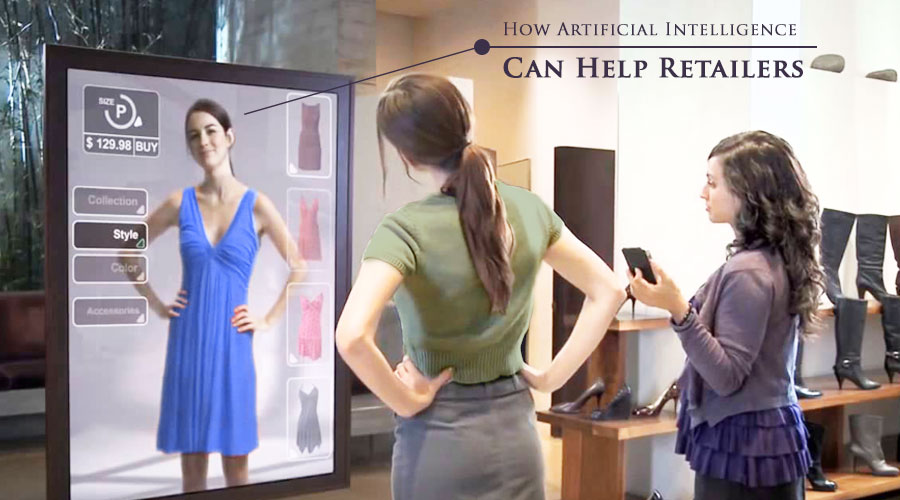 Artificial Intelligence has been making game-changing impacts in the business world. Today businesses, especially retailers, regardless of size and vertical, are increasingly ardent to build AI solutions. In fact, they need it requisitely as competition is skyrocketing and consumers are more attracted to online offers.
A few weeks ago, when FuGenX decided to add more services to its AI service portfolio, it has conducted a series of deep researches across industry verticals to find which industries have more pain points that can be solved by our cutting-edge AI solutions. As per the research reports, the retail was expectedly at the top of the list. Since they are a consumer-centric business, today, retailers need to build longer customer experiences that are mainly possible through personalized offerings.
How can all these things be achieved?
Yes, artificial intelligence today has solutions for all the pain points of retailers, including solutions to improve in-store operations and workforce productivity.
Here are few ways:
#1 Personal Shopping Assistant
Big data, along with natural language interfaces and machine learning, have been creating enormous opportunities for retailers to understand what exactly humans is looking for, what works and what doesn't. Personal shopping assistants powered by these computer technologies are used to create a near-people interaction. They can be much quicker and accurate when it comes to assisting shoppers.
The fashion retailer North Face uses a platform and bot that helps customers on mobile find their preferred products when they are in the store. Other known bots in the retail industry today that are bringing huge benefits to their owners are Sephoras Chabot and the personal shopping assistant developed by spring, an e-commerce company that connects retailers and shoppers.
When needed to build such kind of apps, large firms always prefer the best mobile app development company or chatbot development company or AI development company who has a sound understanding of trending technologies.
#2 Staff Optimization
Physical retailing is heavily staff-driven. Poor staff can be a reason to reduced sales and damaged brand image. AI-powered predictive modeling helps retailers eliminate this hassle.
This gives them ability to access historical information like footfalls, customer interactions, and approach shown towards the customers, so they can use this measure to optimize staff. The optimized staff can help gain greater sales, deliver improved customer experience and achieve higher customer retention rate.
#3 Store Foot Print Optimization
Most retailers fall into ambiguity when they need to open a new store in a particular location, being unable to understand opportunities and challenges hidden in the location. But in recent years, AI-powered algorithms have been heavily used in this area to have a better understanding of the location.
Algorithms give retailers an idea on which is the best location for their products or brand, or should that be opened or not in the intended area. This intelligence is gained from analyzing the historical data like demographics, the local market, distance from competitors, nearby events and current information like weather patterns. So retailers can easily measure the viability of their expansion planning in the desired location.
#4 Optimization of Supply Chain
Supply chain management is one of the most important areas of retail that has a direct impact on the performance of any retail business. It is a well-known fact that excess inventory causes cost burden, and stock-outs can stimulate customers to look towards competitors. This is where AI-powered software demand models help retailers eliminate this pain point.
In order to predict accurate demand and supply forecasting, prescriptive demand models regard past sales of different products, events, marketing campaigns, and seasonality etc. So retailers can easily optimize logistics and enable effective use of operational funds.
#5 Intelligent Product Searches
Using Artificial Intelligence, consumers can take photos of the products they see in any advertise, or in the real world, and then check whether the similar item is available in a retailer shop. It is useful for beginners to have a fantastic shopping experience.
Generally, consumers often see what they like, but do not know the brand, product, or where they originate from. Taking photos is not just for shopping, but there are other areas where AI can play a role in the shopping experience. In addition, deep learning enables Artificial Intelligence to look at stacks of multiple websites to find an available item.
When you leave the shop with any products, the amount from your Amazon will automatically deduct for your purchase. Amazon is planning to make more shops driven by Artificial Intelligence like Amazon Go, where less than 6 staff members is required to complete the regular tasks.
#6 Virtual Fitting Rooms
Virtual fitting rooms can become a reality with the Artificial Intelligence technology. Undoubtedly, doing trail with different outfits can be very boring and time consuming. Also, they won't allow you to try more than 4 outfits at a time. With the advances like AI and Machine Learning, all your worries will be solved.
The virtual trail rooms are fitted with digital mirrors, which enable shoppers to try on different dresses. Customers can also experiment with their clothing using a touch-based interface. With this technology, cosmetic brands also benefit greatly because they can see how consumers view them without actually applying the product.
#7 Better Data Accumulation
Artificial Intelligence helps retail stores have a collection of massive consumer data and the company. Using accumulated data, AI-based software can create a more personalized experience for shoppers and make the right decisions.
You will get to know what customers like if you have their whole data. It helps customers create a more engaging experience based on their likes and interests. Also, retailers can learn from the past how well a product works in the market.
#8 MAP Monitoring
MAP i.e. Minimum Advertised Price is the least amount a retailer company can advertise for sale. Products that sell for less than their MAP price can severely impact retailers. It has also melted down a brand in the eyes of consumers. Hence, it is necessary to keep track of competitors MAP price.
For instance, Intelligence Node, the retail analytics company adopted AI technology to help brands sell online to avoid their MAP pricing violations. If they observed any MAP violation while tracking, companies' directly get a report about the reseller to take action against them.
#9 Shoppers Behavior Prediction
AI technology allows retailers to use behavioral economics and create a personalized approach for each and every shopper. For example, retailer Personali has an AI platform, which analyzes the emotions and psychology of each consumer to improve sales.
The AI-algorithm collects the shopper's emotional reactions during past purchasing experiences and strives to come up with the right price deals for a specific visitor.
#10 Smart Shelves and Digital Racks
Artificial Intelligence is completing transforming the way humans shop and check for the suitable products in the store. Now, using smart and digital racks, it's easy to search for the right products, style recommendations, and product details depending on their preferences.
These smart shelves with digital gesture screens not only improves the customer experience but also enables users to pick from a variety of choices that may not have in store because of space constraints. These days, racks in departmental stores are no longer surfaces to place and display products.
Final Words
AI has begun to change the face of the retail irrevocably throughout the retail value chain. Hence, forward thinking retailers are finding enormous opportunities to achieve a competitive edge, by transforming customer experience and in-store operations.
Need Help to Build AI Solutions for Your Retail Venture?
Collaborate with the world's leading AI Company FuGenX. We possess experienced and skilled data scientists, AI and Machine Learning experts to build cutting-edge retail AI solutions.
Please contact us at info@fugenx.com.