How Much Does It Cost to Develop a Fleet Management Software Application?
Fleet Management App Development Cost and Features:
Do you aware of a fleet management app?
If you are a manufacturing organization or a retail distributor, or even an automobile company, you could benefit a lot from fleet management apps.
Many organizations have agreed that an advanced and features-rich fleet management solution would help them to improve the Fleet's safety and efficiency. Further, fleet management applications are also playing a vital role in ensuring fleet compliance needs and reducing risks by continuously monitoring and recording driving behaviors.
Verizon Connect, Geotab, Fleetio, and GPS Insight are a few easy-to-use fleet management mobile apps that are ensuring unbelievable auto-control on fleet operations directly from smartphones in real time.
Top fleet tracking apps like Verizon connect are assisting organizations and fleet managers in getting real-time updates and notifications on the vehicle condition, fuel status, driving reports, maintenance alerts, etc.
Overall, GPS fleet trackers can help companies in reducing extra costs while reveali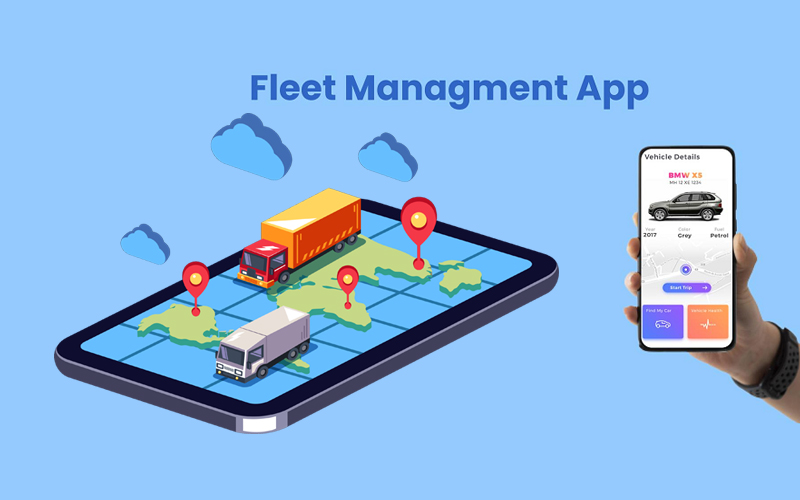 ng the full potential of productivity and visibility of their fleet in real-time.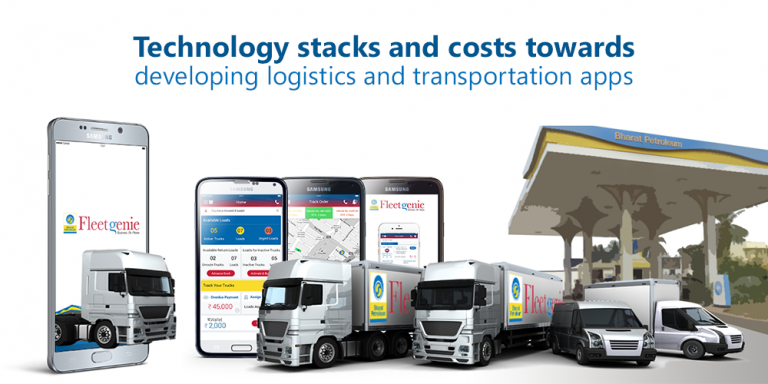 Let's dive more deeply into the benefits of fleet management apps.
Get a free mobile app development quote!
 Top Benefits Of AI and IoT-powered Fleet Management Apps   
Fleet management is a challenging task for fleet managers. Tracking fleet in real-time using Artificial Intelligence mobile apps is the best solution for organizations. Here are a few top benefits of fleet management software:
Increases Fleet Visibility
AI-based Fleet trackers increase fleet visibility in real time within permitted GPS boundaries. Hence, fleet managers can view every move of their fleet in real-time remotely.
Fleet-tracking mobile applications also play a great role in monitoring and tracking driving behaviors. The app records the speed and behavior of driving. Hence, Fleet trackers improve vehicle safety and reduce the risk of accidents.
Reduce Maintenance Costs and Improves Fleet Efficiency
Using the capabilities of the IoT (Internet-Of-Things) sensors, the best fleet management software applications tracks and monitor vehicle performance and record maintenance problems.
Hence, drivers and fleet managers will get alerts on fuel levels, air leaks in tires, and so on. Such preventative maintenance alerts will reduce vehicle maintenance costs and improves overall lifespan.
Fleet management Apps Are Best For Route Optimization
It is one of the top advantages of Fleet Management mobile software solutions. By predicting the traffic and other issues, Fleet trackers alert drivers and allow fleet managers to navigate their fleet through the shortest and traffic-free routes. Hence, organizations can enhance fleet productivity and reach destinations faster.
Better Communication Is Offered
The best benefit of fleet management apps is cloud communication. AI and GPS-based fleet management applications ensure instant and immediate communication between drivers and fleet managers.
A broad range of information can be collected from sensors and stored in the cloud. Fleet managers can access the information and know the fleet location and its performance details from anywhere at any time.  
Streamlines Entire Fleet Operations
GPS tracking solutions streamline your entire flow of fleet operations. Starting from source to destination, fleet trackers give companies a strong grip on controlling the fleet remotely from anywhere. It improves fleet safety and increases productivity. 
Optimize Service Quality and Customer Satisfaction
Streamlining the process using AI and GPS apps will also be useful for organizations to analyze the risks, track the fleet locations on maps, and reroute the fleets to reach customers' destinations faster and as scheduled. Hence, GPS-enabled fleet trackers will increase your service quality and customer satisfaction.
These are the top benefits of fleet management apps (Android/iOS). It is the right time for Transport and logistic firms, fleet delivery service companies, and manufacturing companies to adopt and gain from advanced fleet tracking apps.
Are you looking to invest in fleet-tracking apps?
Here are a set of features that you must add to make your app more useful and give a big hit in this competitive digital world. 
Must-Have Features In Fleet Tracking Mobile Apps
As analysts predict that the fleet management software market value to reach over USD 52 billion by the next five years. As discussed, lower maintenance costs and downtime, increased productivity, reduced accident rates, faster & more reliable deliveries, and remote monitoring are all driving the growth of the advanced fleet management software development market.
If you are looking ahead for mobile app development for continuously and automatically tracking your fleet operations, let's take a look at the top features to integrate into your new fleet management application.
Hassle-free login process
In-app map integrations for tracking the location
Integrating speed monitoring sensors to virtually monitor a vehicle's speed
Route navigation features
Fleet tracking facility in real-time
GPS enablement
Fleet Maintenance tracking tools
Driving behavior tracking and recording analytical reports
Alerts and push notifications on vehicle condition
Dashboard view for viewing analytical reports and delivery status
Geofences to send alerts on crossing the boundaries
In-app chat facility for drivers to connect with the fleet managers on any abnormal events
Real-time update on fleet operations
A user-friendly mobile app for monitoring the fleet must be designed with an in-app video calling facility
These are must-to-add features in the fleet management software application.   
How Much Does It Cost For Vehicle Tracking or Fleet Management App?
The cost of fleet management app development will range from $25,000 to $55,000. But, when we are discussing the cost estimation of mobile app development, we should consider a few factors that impact the overall cost of your new fleet management application.
Let's take a look at the below figure where you can simply understand what features will affect the overall cost of fleet management mobile app development.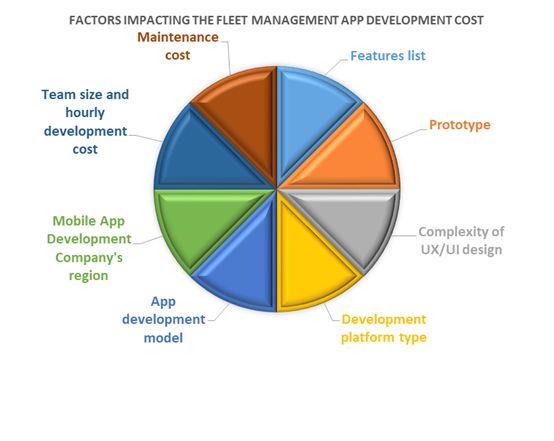 Yes, app features, wireframe/prototype development, UI/UX design complexity level, mobile app development platform (Android/iOS/WebOS), application development approach, team size, location, and hourly rate of mobile app developers, support and maintenance services are all influences the cost of vehicle tracking app development. These factors will determine the final cost of a fleet management software application. 
Conclusion
Vehicle tracking or fleet management Mobile apps are making processes more streamlined and connective. They are playing a significant role in automating end-to-end 24/7 monitoring and tracking vehicle movements and locations. Hence, fleet management apps give a great opportunity for organizations to run fleet operations seamlessly.
Being one of the top mobile app development companies, we believe that a fleet management mobile app with plenty of user-friendly features and functionalities and an easy-to-use design will hit the app store and get featured with ease.
Are you looking to hire the best mobile app development company for features-rich fleet management app development?
Let's connect with FuGenX and turn your app ideas into features-rich apps!