How Are AI Mobile Apps Making Retail Sector So Interactive & Enriching the In-store Customer Experience?
The global e-Commerce industry is overwhelming and flourishing with increasing online shopping trends of the customers. It is expected that nearly 80% of the enterprise-to-customer or customer-to-enterprise interactions will be handover to the best mobile applications by 2025.
Investments in the mobile apps development for Android and iOS from the e-Commerce and retail sector are increasing year over year. Moreover, Artificial Intelligence (AI) based mobile apps development is taking its movement. The AI mobile applications are enhancing the online shopping experience and ensuing positive sales to online retailers.
On the other hand, the physical retail stores are also embracing leading AI technologies to enhance the in-store experience and intensified growth opportunities from this digital world.
In a survey conducted among 1,600 marketing executives and 700 retailers, the role of AI and Machine Learning (ML) technologies in the retail sector are promising. Nearly 72% of e-commerce and retail giants believe that their KPIs are increasing with AI mobile apps.
To provide a connected and engaging in-store experience, the retailers are focusing on investing in advanced technologies like Artificial Intelligence (AI) and Machine Learning, AI playing a vital role in every step of the retail sector. From implementing computer vision and analytics to machine learning for understating user's choices and managing inventory, online retail businesses are harnessing the power of AI to stay in connection with their customers.
Most of the marketers in the retail sector are investing in AI and its cutting-edge technologies like ML, Natural Language Processing, Computer vision, and many more to offer more personalized services to their customers and increase retention rates.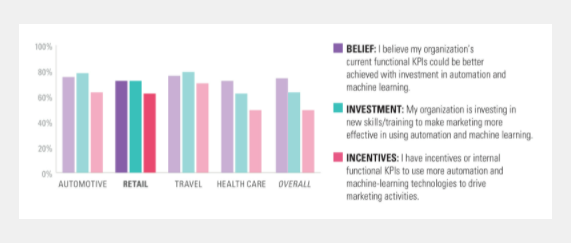 In this article, we would like to give you a few opportunities of offering AI mobile apps for both businesses and online shoppers. Here is the list of best examples of AI uses in e-commerce & retail. 
Buying Recommendations
AI-powered mobile apps deliver highly relevant purchasing recommendations to customers based on their previous search and buying history. AI software enables devices and applications to bring real-time intelligence and extract patterns from customer's search behavior. Retailers who offer AI apps are seeing dramatic business outcomes.
Voice-enabled shopping assistance
It is one of the best applications of AI technologies for the retail or e-commerce sector. AI apps development is reinventing the traditional retail landscape.  In this competitive digital world, retailers must respond to buyers instantly and should operate more efficiently.
AI-powered voice-enabled applications are the best step for accelerating digital transformation in the retail sector. Adoption of AI in retail sector assist enterprises offer virtual shopping experience to in-store or online customers. AI voice-enabled shopping assistants with giving immediate responses to in-store customers are enhancing their shopping experience and booting profit line to retailers. 
The Flexibility of Virtual Try-on
Using the power of AI, virtual reality, and augmented reality technologies, retailers are changing the way of brand-to-customer interaction. Along with AI adoption, most retailers are incorporating AR/VR tools to open up new ways and interact with the targeted audience.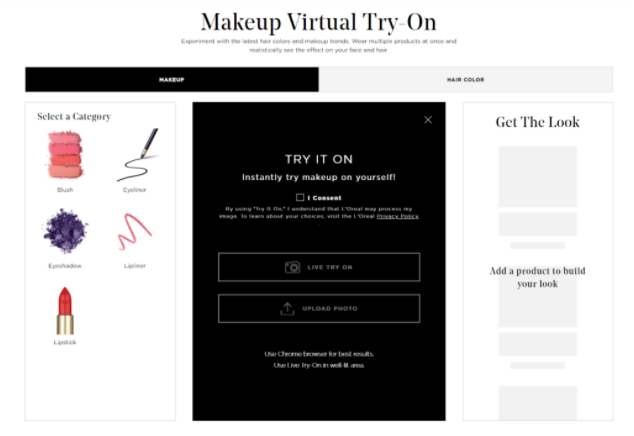 For instance, intelligent mobile apps in e-commerce/retail offer virtual try-on and help customers to have a virtual view of different makeup gazes and choose the best one that matches their skin tone.
Creative Facial Recognition Payment Modes 
Here is the best example of AI use cases for the retail industry. Facial recognition payments in retail offer hassle-free payments to in-store customers and also improve retailer operations. Self-checkout and facial recognition payments are preventing bill payment waiting times and making payments faster and accurate.
AI development for retail can quickly detect shopper's faces from large databases, scan their faces, authenticate their profiles, and explores connected banking information for quick payment.
The facial recognition systems using ML capabilities can also detect customer expressions and their moods. It helps retailers improve in-store customer services by providing personalized assistance to store visitors.
Are you looking to hire the best AI app development company in India & the USA?
AI Robots for warehouse and inventory management 
As of Statista, about 45% of the global retailers reduced 30% of operational costs by investing in warehouse automation. Besides, 50% of the world's retailers and inventory management procedures embraced automation technologies for real-time tracking of products, manual error reduction, and inventory optimization.
The adoption of intelligent inventory monitoring applications is also gaining momentum in the retail sector. Efficient management of stock help retailers balance supply-demand and maintain adequate quantities to meet the demand. AI-powered inventory management apps for Android and iOS helps in monitoring in-store products availability.
On the other hand, AI robots are lifting warehouse automation to the next level. The retailers are also investing heavily in AI-powered warehouse inventory software. AI robots and automated storage systems help retailers save 20% of warehouse space. By programming location management and directions, AI robots better manage warehouse space and perform more accurately than a human workforce. 
Identify Potential Customers
Identifying potential customers will boost in-store sales in the future business. AI-powered customer profiling applications help businesses automate the process of customer profiling.
AI-based intelligent mobile solutions for retail assist businesses track in-store customer's behavior to collect vast amounts of data from them, such as their gender, interest towards purchases, purchase patterns, their dressing style, and many more.
Automated customer profiling applications help retailers maintain personalized communication with in-store customers, enhance customer experience, acquire customer loyalty, and ensure better customer engagements for a profitable business path.
3D Models Of In-store Layouts
In a survey, we found that about 70% of retail stores go virtual in the near-term future. This is primarily driven by an increased shift to online shopping of customers. 3D virtual stores are more intelligent applications that offer an exciting experience to online customers.
Interactive 3D models create a virtual environment in physical retail stores. It creates a thrilling new way to customers to purchase. Besides, 3D visual representation of offline stores also increased brand awareness and let customers know more about your offerings in digital view. 
Know the cost to develop the apps like
Wrapping Up
The retail sector is a crucial industry that everyone needs to get their essentials. The physical retail stores are always open to adopt cutting-edge tools and technologies to give tough competition to the online retail business.
Be it virtual try-on mirrors, digital shelves, and facial recognition-based payments, AI technology will take its part. At FuGenX, the best mobile apps development company in India, we offer AI apps development services and creates best-in-class AI apps on android, iOS, and Windows platforms.
We have a proven track record of successful AI projects for retailers. We have developed an enterprise-centric online grocery shopping app for India's largest grocery retailer, Bigbasket. This real-time experience in developing marketplace or e-commerce apps boosting us to build creative and most interactive AI applications for retail.
Besides the retail sector, we deliver reliable and mobile app development services to healthcare, banking and finance, manufacturing, education, and many other industries.
Get in Touch with FuGenX to know more about our AI app development services and solutions.