How Is Artificial Intelligence Offering Record-level High-Speed Business Growth?
The Global Banking and Finance industry has become smart and advanced. Unlike earlier banks and finance companies are increasing transaction volumes by triple than before. Artificial Intelligence technology is playing a vital part in this record. Yes, Artificial Intelligence (AI) based applications enable banks to deliver the most secure instant money transaction services.
The introduction of AI in banking functions is helping companies deliver high-quality online services to a broader customer base. AI-enabled Digital payments are the top reason behind such a trek in transactions.
On the other hand, AI-based software solutions enable high-speed and secure management of customers' data. Such online data management and data access will assist banks in predicting customer preferences and delivering more personalized services. It will increase user personalization and offers companies valuable market opportunities.
According to market research reports, over 35% of banks and finance companies using AI technologies. Machine Learning (ML), Predictive Analytics, and Natural Language Processing (NLP) based mobile banking apps are on trend.
Let's look at a few benefits of using AI in banking and finance applications.
Top 5 Applications Of AI In Banking and Finance Industry
Improved Customer Service
AI-based mobile banking apps are weapons for banks to serve a broader customer base in no time. AI bots are the best example that we must discuss here. Mobile banking apps with in-built AI chat applications or AI virtual assistants will help companies provide an instant digital response to customers' issues. Hence, ChatBots with powerful voice/text recognition capabilities will help banks to provide customized collaborative experiences to their customers.
Apart from customer support chatbots in banking, a few other types like balance inquiry bots, statement processing bots, sales chatbots, Finance chatbots, etc., are also delivering incredible benefits to banks in automating various operations and improving productivity.
Erica is one of the best examples of an AI chatbot in banking apps. It provides great assistance in credit card payment processing functions.
Predict and Prevent Cyber Attacks
Another significant role of AI in mobile banking app development is to improve the level of security across the information infrastructure. AI banking apps that are developed with the potential of predictive analytics and deep learning can easily find and trigger the malfunctions of attackers. It would help banks to protect their information systems and infrastructure from being hacked.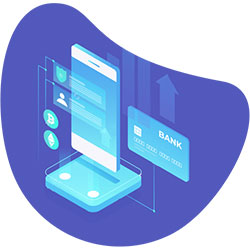 Further, AI apps can also be used for preventing internal data breaches by continuously tracking and monitoring the employee's systems.
AI Reveals Hidden Sales Opportunities
Exploring sales opportunities is another biggest benefit of using AI in banking app development. AI applications will intelligently analyze the market and customer data and derive valuable patterns that offer a broad range of sales opportunities.
Hence, using AI apps in banking and finance companies can make revenue-driven sales strategies and bring a great impact on their overall financial indicators.
Faster Credit Decisions
It is one of the best applications of Artificial intelligence in financial services use cases. Risk management is a key function for banking and finance companies, especially while processing a loan application. AI and predictive analytics-based finance apps will track the customers' transactions, and credits, and assist banks in determining the risk level of loan disbursement.
Hence, AI-driven risk assessment software solutions automate the loan processes, including document verification and credit eligibility checking functions, etc.   

AI Apps Provide Investment Recommendations 
Based on the customer's credit portfolio, AI mobile banking apps help companies to provide the best investment opportunities for their customers. AI-powered financial robo-advisors will help banking customers build a strong credit portfolio for the long term.
These are a few use cases of AI In Banking & Financial sector. FuGenX is a top mobile app development company in Bangalore, India. We have a team of expert mobile app developers who can build flawless banking apps on an affordable budget. Our expert AI app development team with proven hands-on AI software development will offer you the best-in-class AI-based banking application.
Final Words
As we discussed in this article, the benefits of AI in banking are enormous. But, many more AI use cases in banking are strengthening the efficiencies of banks' operations. AI banking apps will improve productivity, enhance customer experiences, predicts future market trends, and automates loan lending processes.
Further, the use of RPA in the banking and finance industry will completely take automation to new heights. Implementation of RPA bots will completely automate time-consuming and routine banking operations like account opening or closures, document verifications, feedback reviews and responses, etc.
Get a free app quote for AI banking app development!