How Much Does It Cost To Develop An E-Learning Platform Like Udemy?
The COVID-19 pandemic triggered a surge in educational apps downloads over the past two years. Due to the spread of the second wave of coronavirus, the demand for e-learning applications is rapidly increased across the world and crossed the sky limit.
According to Statista, during the first quarter of 2020 (Q1-2020), approximately 470 million educational apps were downloaded from the Apple app store with an increase of 45% compared to the Q1-2019 app downloads. On the other side, downloads of e-leering apps from the Google Play Store in Q1-2020 reported nearly 466 million, increased by 17% increase over Q1-2019.
Both platforms (Android and iOS) are witnessing a steady growth in online learning apps downloads year over year. The below figure depicts the mobile education apps downloads growth worldwide from the first quarter of 2017 to the first quarter of 2020.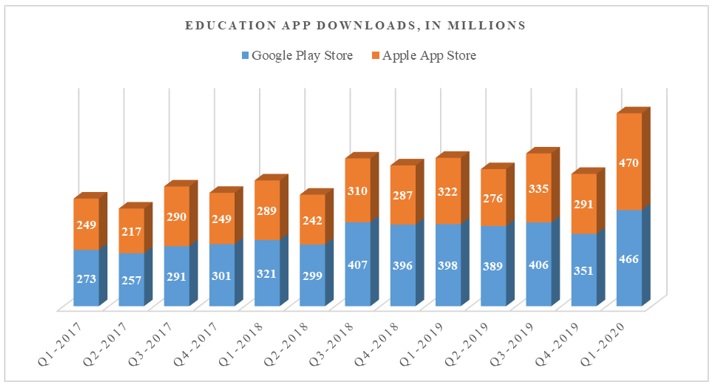 This figure is portraying how rapidly education apps are gaining momentum in the world. From primary and secondary academies and higher-level students to working professionals are downloading education apps for learning desired skills online.
Are you interested in online learning apps development? So, have a look at the type of educational app development that will suit your niche.
Significant Types Of Online Learning or e-learning Apps
If you would like to invest on educational apps are want to create a space for digitizing your education services, you must pick the right app type for your niche.  Here, we have compiled a list of the best education app development ideas to help you make the right choice.
Subject-Specific Educational Applications
This type of mobile e-learning application is specially designed for primary and middle to high school students. These apps ensure an interactive learning experience and help students learn and improve their knowledge on single or multiple academic subjects like mathematics, physical science, biology, or English.
Instructors can also create assignments and allocate them to students. These features will facilitate students to evaluate what they have learned.
Google Classroom, Khan Academy, and Remind are a few of the trending and famous e-learning apps that drive knowledge into students' brains through video tutorials.
Mobile Apps For Learning Special Courses
These apps allow learners to learn, practice, and become masters in programming languages (like JavaScript, HTML, CSS, Python, Java, Swift, and C++) and gain knowledge over a range of different professional skills. The app also certifies and gives a digital certificate to the learners upon completion of courses.
Coursera, Khan Academy, Codecademy, and Udemy are a few of the world's best-known and most popular online learning platforms that comprise hundreds and thousands of courses from technology and coding to business-related paths that span across a range of different fields.
Educational Apps for Preparing Competitive Exams
It is one of the best mobile learning app development ideas for businesses across the education sector. These types of education apps help learners prepare for competitive exams like IELTS, MCAT, SAT, etc., and get seats in the universities across the United States, Australia, Canada-like countries.
Further, we have also a few competitive exam learning apps in the app stores to prepare for IBPS, UPSC, and railways exams. Moreover, these apps also provide preparation materials for board exams and Scholarship exams.
Khan Academy, Oliveboard, and Toppr are a few popular and most downloaded online learning apps that offer a flexible platform for learners to learn topics, clarify doubts, take pre-examination tests, and be ready to face competitive entrance or board examinations.
Language Learning Mobile Apps
Learning new languages is very challenging, but online learning apps remove the complexity in learning languages and turn learners into a native speakers.
Duolingo is one of the best language learning app that helps users learn 30+ languages, including English, French, Spanish, Mandarin, Latin, and many other languages excitingly and interactively. The app also helps users improve grammar and vocabulary by participating in engaging in-app games.
Forum discussion, storytelling, and leaderboards competitions are a few of the best features of this best language learning app. Moreover, the app also tracks performance and delivers insights to help the users analyze their improvements.
These are the most used and most downloaded types of education apps. If you plan to develop an online learning app, investments in these kinds of e-learning apps development would be profitable.
How Are Educational Apps Useful For Students & Helpful For learners?
Here are the versatile benefits of education apps:
Educational apps offer remote learning. It means that the students can login and learn the concepts from instructors from anywhere conveniently.
Mobile learning apps ensure quality interaction between students and instructors and well engage students to focus on studies for long hours.
Educational apps provide students with learning content that is mapped with the curriculum
The best explanation of creative digital content by academic experts help students to learn, remember and advance their knowledge in subjects quickly
Availability of educational content in many native languages helps students get valuable online teaching services from professionals
A few other mobile learning apps engage learners with content related to professional courses and certifications and help in cracking technical rounds in high-level jobs
A few popular mobile learning platforms like Coursera assist aspirants in advancing professional skills by providing hundreds of guided projects. Coursera mobile learning app is loaded with approximately 450+ projects.
These are a few significant advantages of e-learning applications that are attracting more learners day by day.
Now, we would like to walk you through the features, functionalities, development costs of on-demand online learning platforms like Udemy.
What Is Udemy App?
Udemy is an online learning mobile app that is available for both Android and iOS. It is the best free educational app that is engaged in delivering more personalized learning experiences for all learners.
With comprising 130,000 video tutorials on various technology, business, and personality development sessions like drawing, writing, yoga, etc., the app is recognized as one of the top online learning applications in 2021.
Users can learn and improve their skills in Coding, Development, Python, Java, Business, Marketing, SEO, SEM, Drawing, Photography, and much more.
On top of all, it is the only education app that is offering a 100% refund of the paid tuition fees in case students wish to quit the course for a valuable reason. This feature made Udemy one of the popular e-learning mobile apps in India.   
Features Of Most-downloaded e-learning App Like-Udemy
If you are looking out for how to make a trending mobile app like Udemy, then you have to integrate your education app with the below features. Let's look at the features of famous e-learning applications like Udemy.
Student/Instructor Registration, Login & Profile Management
Easy registration ensures quick app access and optimizes user experiences. These features assist students and teachers to create profiles and manage them according to their preferences.
This feature helps students search for the desired course from a list of thousands of topics in just seconds.
Learn Offline Flexibility
Users can download video tutorials of courses to watch them offline mode from anywhere at any time.
Udemy-like trending e-learning platform with its Chromecast feature allows users to access the learning content across iOS, Android, laptop, and Apple TV.
A Bundle Of Courses Availability
Udemy education app is a library of thousands of trending topics on software design, development, and other personal and creative activities.
Interactive Video Sessions
Interactive video lessons of courses allow students to clear any doubts or get answers to any query they may have on a specific topic.
Customized Filters and Deep Subcategories
This feature provides the best in-app navigation to the users. It assists users in searching for the most relevant course content in the application. Udemy has nearly 15 subcategories that facilitate users to a select specific course on their interest without hassle.
Users can set learning reminders with the customized push notifications feature of Udemy. Besides, it also helps the users to know about newly added trending courses and other learning content information. The app also sends notifications via SMS/Email to the tutors whenever new candidates opt for their services.
Udemy's comprehensive dashboard features assist instructors or learners in verifying their activity within the app.
This feature adds essence to the education apps. It contains complete information to students related to the course in which they are interested.  The details include course description, duration, and instructor fees if any. So, based on these details, students can select the course and interact with the teachers.
In-app quizzes and mock tests help learners practice the syllabus and get more knowledge and take the learning process to the next level.
Upon completion of courses like mobile app development, data science, digital marketing, or for a few specific course topics, Udemy giving certifications.
Top E-learning apps like Udemy help app owners create cash inflows through paid courses or certifications. Though Udemy is a free-to-downloadable education app and offers free learning modules, students are requested to pay to watch video tutorials of a few selected topics and get certifications.
FuGenX-like #best mobile app developers in Bangalore, India are experts in integrating multiple payment gateways such as UPI, credit/debit cards, and banking or net banking modes to ensure hassle-free in-app payment services to students or learners.
Reviews and ratings given by subscribed students help new learners with the learning experience, quality of the digital content, instructor's ways of teaching, and so on. This information would help newcomers to have an idea of online teaching services delivered through Udemy.
How Much Does An e-learning Mobile App Like Udemy Cost?
If you are looking to develop on-demand online learning and teaching application like Udemy, consider the below factors.
App Platform: It is a wise decision to develop your e-learning app for a single platform either Android or iOS in the first commercial rollout to reduce budget load. Later move it to the other platforms or cross-platform app.
App Design: Focus on investing in simple and easy-to-understand app User Interface (UI) designs to offer enhanced user experiences and get featured on app stores. Simple and interactive UIs will make your app engaging and popular and also let you develop within budget.
Technology Stack: Technologies and tools used for e-learning app development will also impact the app development cost.
Added Features: E-learning applications needs to be integrated with a few standard features such as register/login, course data, video tutorials along with related graphics, charts, reviews and ratings, payments, etc.
But, the integration of advanced features like chatbot assistance, location tracking, and mock tests features will surely uplift the overall estimated app of the online learning apps like Udemy development.
FuGenX's expert mobile app development consultants by taking all factors into account have estimated that the cost to create an education app like Udemy range from $30,000 to $150,000. This development cost might exceed based on the location of the mobile app developers you hire.
For instance, if you hire mobile app development companies or mobile app developers from the USA, their android/iOS development charges will be around $50 to $150 per hour. But, if you hire the best mobile app development services providers in Bangalore, India, your app idea will be quoted at $15 to $100 per hour.
Are you looking to hire a mobile app development company?
So, you are in the right zone. FuGenX Technologies is one of India's largest e- mobile apps development companies. With a team of mobile app developers, UI/UX designers who have real-time experience in developing e-learning projects, we promise the best-in-industry education app for your business.