How Much Does It Cost To Develop An E-learning App In India?
Nowadays, rapid advancements in modern digital technologies are empowering mobile applications. The education industry has brought a drastic revolution in these years. E-learning apps make digital education at the fingertips of the users. The online learning apps allow users to learn and get knowledge at their premises conveniently and comfortably.
An education app will act as a medium or connecting platform between an instructor and learner. Whether you are an aspirant to learn new languages or subjects or preparing for competitive exams like NEET, e-learning apps for Android and iOS will help you out and offer the ultimate knowledge.
In particular, in this COVID environment, the need for education apps (Android/iPhone) is at a peak level. Since the educational academies and professional courses training institutes are switching to the digital medium to reduce the infection spread, E-learning apps have a bright scope in the market.
According to Statista, the COVID-19 pandemic has caused a flood of downloads of mobile educational apps. During the first quarter of 2020, approximately 470 million educational apps were downloaded from the Apple app store, and 466 million educational apps were downloaded from Google Play Store.
Both Android and iPhone mobile downloads have witnessed a sharp growth in educational app downloads compared to 2019 and reported nearly USD 101 million in revenues and are expected to reach USD 370 billion by 2026.
Here is a pictorial representation of mobile education apps downloads growth from 2017 to 2020.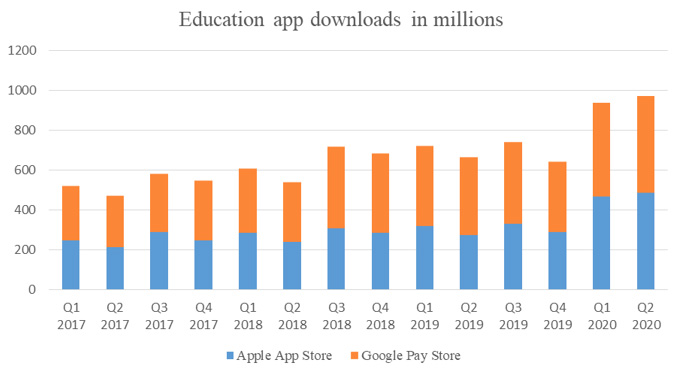 Hence, with higher access rates of educational apps since 2019, educational apps development will ensure profitable results for app developers.
Best Time For E-learning Mobile App Development Has Arrived
Since from COVID outbreak to till yet, the virus fear in public has triggered a surge in online educational platforms' installations and usage. As we discussed in the introduction part, both Android and iPhone app stores have reported the best results in terms of increased app downloads and profits.
According to a survey, it is found that e-learning apps have stood in the third position across the most popular app download category on Google Play Store and Apple App Store during 2019 and 2020. The primary reason behind such a rapid spike in app downloads is the COVID pandemic.
The organizations are realizing the growing bump in mobile educational apps development and started investing to catch up with the growth opportunities with online learning platforms. It is the best time to invest in online learning platforms and create zero-contact virtual environments for students to collaborate and interact with instructors and gain knowledge online without any disruptions.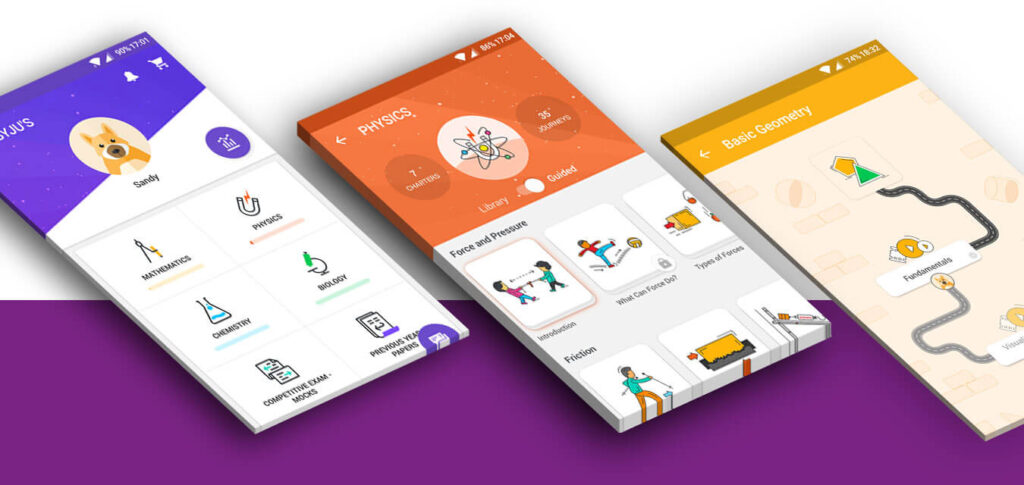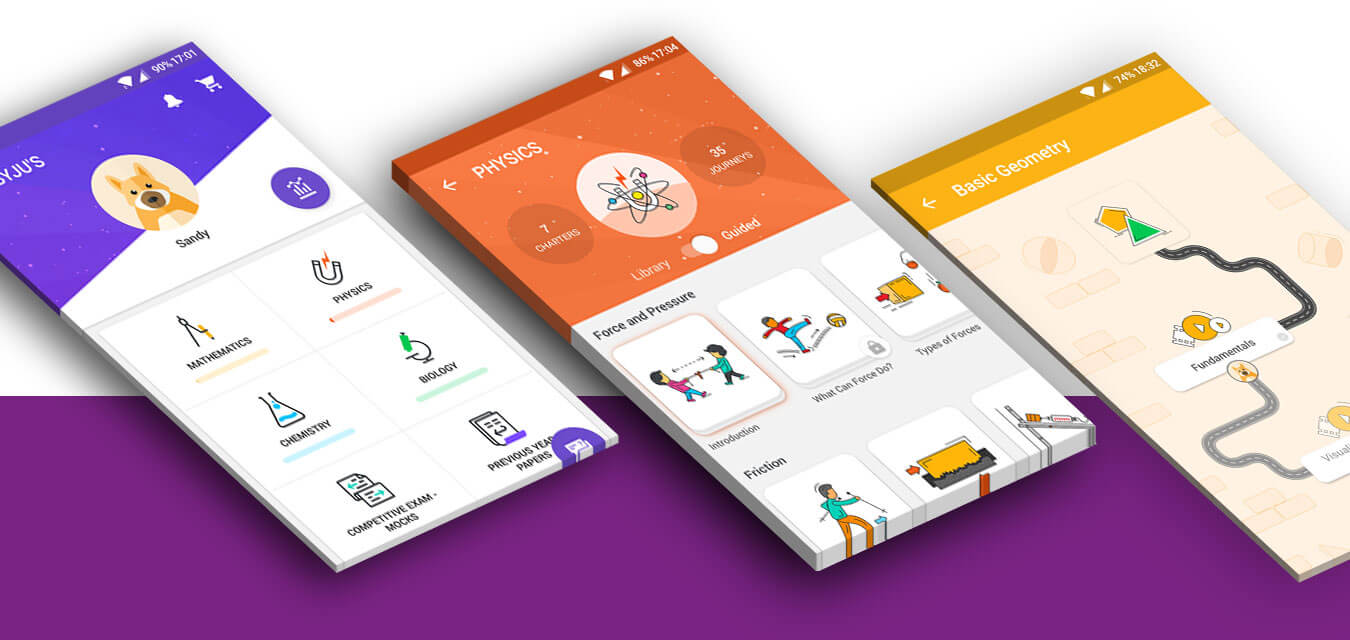 Are you searching for an e-learning or mobile education apps Development Company in India?
 Let's discuss your app retirements and Get a free app quote!
Top Educational Apps In India by Category
Here is the list of the best e-learning platforms in India that make education available all the time and let students learn conveniently and comfortably. 
DrMentors Medical PG app, CAclubindia, Indigolearn, Unacademy, GradeUp are a few of the most popular and best online learning apps for preparing the Government competitive exams.
Coursera, Simplilearn, Udemy, Sololearn, Coding Ninjas, Jigsaw Academy are a few popular education apps on Android and iOS for learning to code and becoming experts in the areas of Artificial Intelligence, Analytics, Data Science, Machine Learning, Cyber Security, and Cloud Computing, etc.
Duolingo, Clozemaster, Babbel, MasterClass, and Memrise are the best language learning apps that have been built with the guidance of hundreds of language experts and educators.
BYJU's, myCBSEGuide, Brainly, Khan Academy, Vedantu, Toppr, Doubtnut are the most downloaded educational apps in India by school students. A few of these popular education apps have been designed for 12+ students to prepare for competitive entrance exams like IIT-JEE, CA, NEET, etc.
Recommend To Read: How Much Does it Cost to Develop an e-learning App like Byju's Cost?
 Be it language learning apps, IT course learning apps, or BYJU's like video-enabled concept learning apps, FuGenX is your best app development partner. Let's Talk! 
E-learning or Mobile Educational App Development Cost
As we discussed in our many app development articles, the development cost of apps will directly depend on so many factors.
So, before commencing e-learning app development, mobile app development companies consider a few things, such as app features, requirements, complexity level, operating system, estimated app development time, functionalities, and many more. Based on these factors, a mobile app development company (Android/iOS) will decide the cost of developing your application.
Besides, the educational app development cost will also depend on its type and unique requirements of the course and e-learning trends. Further, the development costs of native mobile apps will also greatly vary depending on the experience of the Android app developer or iOS app development company you hire for getting your project developed.
FuGenX, the best Custom Software and Mobile App Development Company in Bangalore, India, has a team of expert native/hybrid mobile app developers. Driven by our massive experience in mobile application development for various industries, we roughly estimate that the cost of an e-learning app for Android or iPhone with must-have features will range from $20,000 to $55,000.
The best educational app development with modern and latest features such as in-app chat, Artificial Intelligence (AI) based 24*7 Chabot assistance, animation and 3D objects, and location-specific services will cost around $75,000 or more than estimated.
And, if you pick a cross-platform application development, it is the best decision, and you can target both Android and iPhone users. The hybrid app development cost will be a little bit higher than native apps development. Similarly, app maintenance and app marketing will include the hidden costs of app development. However, without promoting your app features and functionalities across digital platforms, your app does not create a buzz in this competitive digital world.
FuGenX, a top Android/iOS mobile app development company in India, will offer you an affordable app quote. Get in Touch!
Conclusion
Learning online through mobile apps is the current trend in the world. BYJU's-like popular online learning platforms are offering virtual learning methods and boosting the experiences of both students and instructors.
Undoubtedly, education apps development for Android and iPhone will offer huge opportunities to organizations in this pandemic. The demand for EdTech products that improve instructor teaching experience and student learning experience is high. So, it is the right time to develop an educational app with learner-friendly features. 
Let's talk and discuss your education app development idea today!