How Much Does It Cost to Develop an Online Hotel Booking App like Agoda?
No matter what kind of services you offer to your customers, the more personalized services ensure exceptional user experience and quick brand awareness in the market. Mobile apps come under this category. They offer instant services to customers and make lives cozy and comfy.
Nowadays, 90% of businesses are investing in mobile app development to excel in their brand value. A plethora of the best Android and iOS mobile apps are flooding in the app stores. They might be Whatsapp-like chatting apps, mobile banking apps, or Netflix-like entertainment apps. The ultimate aim of enterprises is to capture user attention and boost their business progress.
Herein, we would like to give you a detailed guide on one such mobile application that removes the burden of visiting hotels to book rooms. Yes, it's all about the best hotel booking app like Agoda.
Let's get started!
What is an Online Hotel Booking App? 
In this digital world, you don't need to wait in a queue for booking hotel rooms. Rapidly advancing mobile technology has brought everything to your fingertips.
Agoda is the best online hotel booking app for Android and iPhone users. Be it a single room, twin rooms, or deluxe, users can book comfortable hotel rooms from anywhere using online hotel booking apps like Agoda.
In the first days of its launch in the Google app store, the Agoda app has achieved increased installation rates. It is attracted many companies to think over the development of an app like Agoda with modern features.
If you run a hotel, you can promote your brand quickly through hotel booking apps. On the other hand, if you already have a hotel booking app like Agoda, verify that whether your app has the below significant features are not.
Key Features of Agoda Mobile Hotel Booking App
It's a mandatory feature for any online booking apps. It helps users to access and use the app with ease. One should remember, the registration form of hotel bookings apps like Agoda should be short and sweet.
Long registration forms that ask with unnecessary user credentials will tend to increased uninstallation rates. So, for Android-based hotel booking apps like Agoda, Email-ID, contact number, and person name (optional) are enough.
FuGenX's mobile app developers add spiciness to every page of your mobile apps. Your customers will love to use apps without hassle. We develop the best Android/iOS/iPhone applications leveraging the power of advanced technologies.
We have a group of brilliant app experts who develops apps using AI, ML, big data, deep learning, and many other trending technologies. Talk to our artificial intelligence experts about the development of an advanced hotel booking mobile application.
Easy Login & Logout Feature
This feature helps users to seamlessly access their accounts from anywhere at any time. User ID and password are mandatory parameters for this section.
Mobile applications must and should have this feature to help users update or edit the account information that was initially filled. Besides, this feature also helps them get information related to the app usage and all.
Quick Booking with Filters
Search filters are very much helpful for users to find the best hotel at attractive fares. Hence, filters related to the location, price, and star ratings are useful for users to book a hotel room from a pool of hotels.
FuGenX designs feature-rich hotel booking apps that thrill your customers on use. We integrate chatbot features in apps on our client demand. The Chatbot development ensures 24/7 customer support and makes your app hit in the Google or Apple app store.
Let us know your app requirement. We build the best hotel booking app for your business.
It is useful for users to check the upcoming and old history of booking details. It also helps users in updating their future bookings. This feature ensures more personalized services to customers.
The ratings and reviews feature makes people notice your hotel quickly.
This feature helps users give their feedback about the respective hotel and their services. Such ratings and past customer reviews help in increasing conversion rates.
Every one of us will attract to tempting discounts. Am I right?
An online hotel booking app like Agoda must have this feature to attract more customers.
It will allow hotel owners to offer enticing offers and discounts to make people notice their hotel quickly. Customers can also save their money with such price drops or discounts on booking rooms.
Safe and secure in-app payment modes benefit both hotel owners and customers. On the owners' side, in-app payment features help them to receive payments without any interruption. On the customers' side, this feature helps them do secure payments.
The best mobile app development company in the United States and India builds futuristic Agoda-like hotel booking apps with multiple payment modes.
FuGenX helps you develop apps with as many payment modes as possible. We integrate debit/credit card payments, net banking payments, wallet payments, UPI payments, and many more secure payment modes.
These are a few of the mandatory fields that an app development company needs to focus on. An android-based or iOS-powered Agoda-like hotel booking app without the above features is nothing.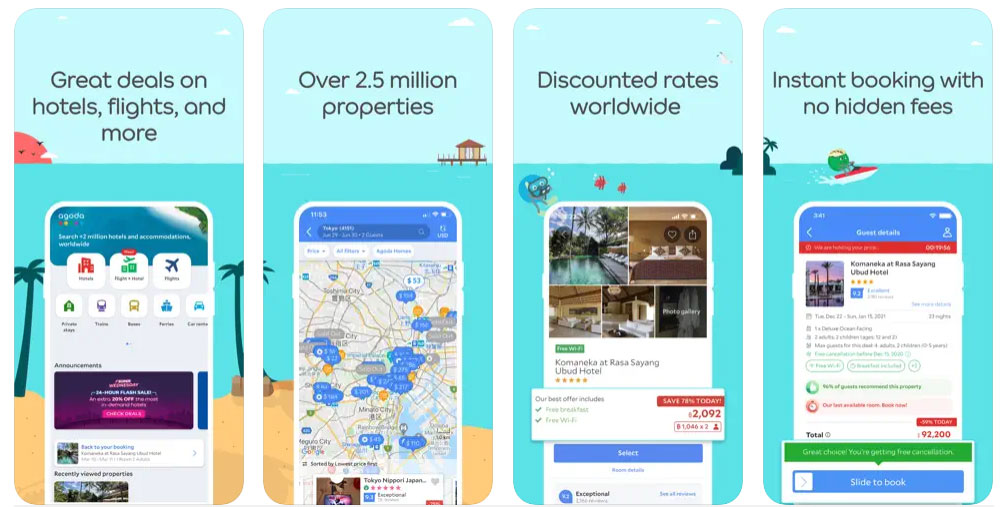 FuGenX-like leading mobile app Development Company creates a customizable mobile application with all advanced features. We create an app in such a way that it will hit all other online booking apps in a very short span.
Get a free quote for your dream mobile app project!
How Much Does It Cost for the Development of Agoda-like Hotel Booking Apps?
Approximately the cost to build an app like Agoda will be around $7,000-$15,000.
But, being one of the best mobile app development companies, FuGenX has listed a few factors that confirm the development cost of a hotel booking app like Agoda.
So, let us move on to the factors that impact the overall estimated cost the mobile app development.
The set of features that you want to integrate into your new clone app to Agoda decides development cost. The time is taken to develop each feature such as also makes a drastic change in the development cost of Android apps like Agoda.
Being the best mobile app developer, FuGenX can estimate the maximum time to accomplish each feature. Like-
Developing registration form and email verification needs over 120 Hrs
Creation of a user profile page with name, age, and other convenient payment information needs approximately 130 Hrs
Development of hotel booking page with enhanced filters and Checkout options needs nearly 115 Hrs to accomplish
Development of review and rating page will take 130-150Hrs
Creating a booking history page with integrating all completed, ongoing, and future bookings need 100Hrs of developer time.
Likewise, the development time and cost will depend on the feature type. If you would like to add any additional features, it will take more time and money as well.
You can measure the app size with the set of features and functionalities that you integrated into your application. An android or iOS app with more intelligent and advanced features will increase the app size and development cost as well.
So, in the first phase, launch an app with a few essential features. Later, you can update the hotel booking application with advanced features.
The online hotel booking apps like Agoda app development cost depends on the development platform. Mostly, the best mobile app developers choose either the iOS platform or popular Android platform for building mobile apps.
The development cost of Agoda-like hotel booking applications on Android costs higher than iOS as it needs to support many devices.
"Get our expert guidance on development cost to create profitable hotel booking apps like Agoda"
It is also one of the significant factors that impact overall development cost. Adequate resources put less burden on App Development Company. Otherwise, they need to hire more resources. It will in turn increase the development costs.
So, choosing the best mobile app development company that has the best mobile app developers is a good choice to cut the development costs to at least to some extent.
These are the four significant factors that impact the development cost of mobile apps like Agoda.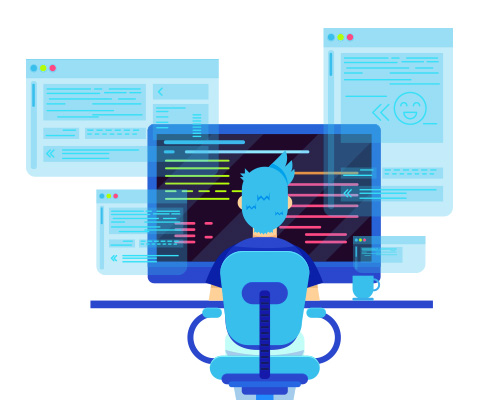 How Agoda helps businesses get the best return on investment? 
Hectic and busy life schedule of individuals giving wide growth opportunities for the apps like Agoda.
Making inquiries over the call or directly approaching hotels for booking rooms is a tedious task. To put an end to this time-consuming process and to provide maximum information online, the hotel industry is adopting mobile app technology.
With the help of online booking mobile apps, users can get full details of hundreds of hotels and stay spots. They can book luxurious hotel rooms at a decent price.
It is a primary reason 90% of us will install free-to-download booking apps to make our vacation trip fabulous.
To grab this market trend, many companies are showing interest to develop online hotel room booking apps like Agoda. In particular, booking agencies to increase their profits are rushing to develop booking apps.
Moreover, businesses can also extend their brand across the operating locations with such online hotel booking applications.
FuGenX, a top mobile app development company in Bangalore, India, has over a decade of experience in mobile app development. It is one of the best Android app development and iOS app Development Companies in India. With a dedicated team of innovative mobile app developers, FuGenX builds excellent mobile apps that meet your specific business needs.
Let's talk and get a free quote for your app!
Final Words
We hope that this article is useful for those businesses who are looking to enjoy continuous profits and outstanding brand image in the digital market.
FugenX is the best mobile app development partner for businesses across diversified industries. From app planning and design to deployment and maintenance, we provide end-to-end app development services.
By comprising app development time to approximately 53% than our competitors, we stood as a unique and one of the best mobile app developers in the app development industry.
We help you increase your revenues by 80% and ensures a path for rapid ROI through our mobile app development services.
We are all set and ready to build your dream app.