Mobile App Development: Will It Keep Your Business In The Forefront Of The Digital Competition?
Due to the consequences of the COVID-19 in 2020, the conventional process of global businesses has stagnated. This trend has surged the demand for mobile apps for various personal and professional purposes. The downloads of Zoom, Microsoft's Teams, and GoToMeeting professional communication apps have increased during the pandemic. The e-commerce marketplace apps like Amazon, Flipkart, and Paytm are also in the frontline to meet the user's needs instantly.
On the other hand, e-learning apps like Byju's and Coursera are also helping students or learners learn subject and professional courses online, all at the convenience of home. Likewise, we have home service apps, e-health apps, IoT apps for smart home automation, entertainment apps, chatting apps, and many more.
Hence, out of 100 people, 80 are using smartphones, and among them, 60 people are spending their time in mobile apps to meet their desired needs.
If this is the case, mobile app development gives outstanding growth opportunities and is the best income source for businesses in this connected digital world.
Now, I can guess what you might be thinking.
And, yes, if you want to remain competitive in the future, your business needs intelligent Android and iOS apps to unlock business potentiality.
In this article, we would like to give you a brief on mobile app development opportunities for enterprises and how they are helpful to accelerate the digital transformation in your business.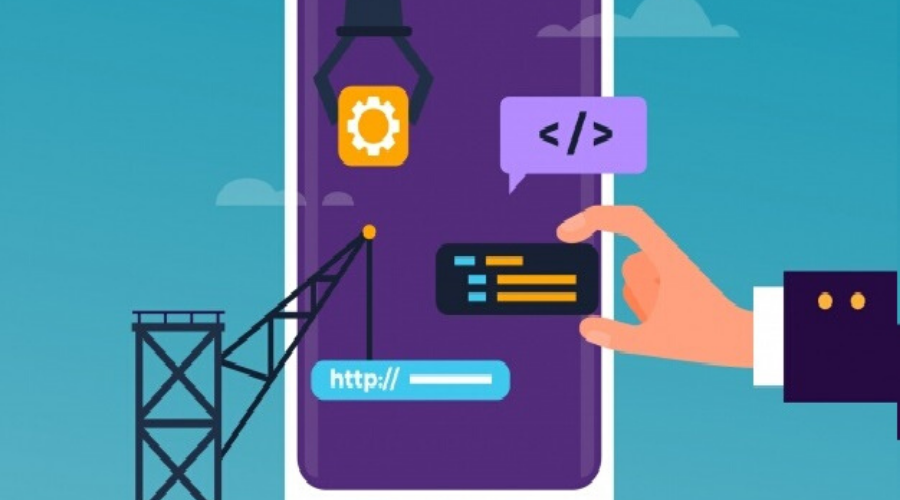 Here we go. 
7 Ways That Your Business Can Benefit From Having A Mobile Application
Deliver Customer-centric Services
The best mobile applications help businesses deliver customized services to their valuable customers. With the help of artificial intelligence and machine learning technologies, businesses can analyze purchasing behavior of the buyer. Such analysis helps companies enhance their customer buying experience and increase sales flows.
Greater Visibility
It is one of the most significant advantages of having a mobile app for your business niche. Irrespective of time and customer location, mobile applications are the best platforms that assist businesses to provide their products and services 24*7.  Hence, user-friendly Android apps and iOS apps meet the diversified needs of the users immediately and make your brand available when customers need you.
Reach Out Infinite Customers
Shifting businesses from conventional ways to digital will offer multiple opportunities. The best mobile app development companies create best-in-class mobile apps that enable communication between customers and businesses. Hence, mobile apps ensure better communication with the existing customers and help to reach out to a more targeted audience in a short span.       
Quick Brand Awareness
Businesses need to make customers aware of their products and service offerings. This can be achieved only by promoting the brand through innovative mobile apps. Yes, mobile applications are the best tools for building brand awareness across the operating locations of a business. They can bring brand recognition within a short period of their launch in the app stores.
Increased Digital Revenues
Product-based companies can enjoy digital revenues and extend the brand through mobile applications. Decent customer reviews given to the products by previous customers will build customer trust in those products, and thereby companies can improve sales performance and boost profits.
Instant Virtual Response
Mobile applications provide instant response to customers with an in-built AI chatbot feature. It will improve customer satisfaction, attract more customers, and create value for your business as a genuine product and service provider.
Mobile applications also send push notifications about offers and discounts to users based on their previous search patterns. This feature also builds brand loyalty and user retention rate.
Keeps ahead of the competition
User-engaging mobile apps help businesses stay ahead in the digital competition. By addressing the needs of online customers, mobile apps development companies to provide a delightful experience to users. This approach is always helpful for companies to remain on top in the digital race.
If your business continues to operate in offline mode, you might be missing wider opportunities that were offered by next-level mobile apps. So, mobile app development is a competitive edge over your rivals, and the best way to taste skyrocket sales and profits.
Well.
I would like to discuss a few mobile app use cases that transform the way businesses operate.
The best uses cases of mobile apps for Digital Transformation
By leveraging the power of cutting-edge technologies like artificial intelligence, Internet-of-Things (IoT), machine learning, natural language processing, mobile applications help enterprises adopt digital ways to work. Here are a few significant use cases of mobile apps in renovating traditional processes.
Mobile apps are in coupled with advanced technologies playing a crucial role in digitizing manufacturing processes. They help manufacturers to track and monitor workforce productivity.
Further, the IoT-enabled mobile apps also help manufacturers in monitoring and tracking machinery performance by accessing machine data in real-time. It will reduce unexpected machine breakdowns and helps in achieving higher productivity.
In this digital world, users can fulfill their needs online through intelligent mobile apps. Mobile applications in banking allow users can send or receive money and track transactions from the convenience of home. Banking mobile apps provide high-level security and privacy to users' banking data.
FuGenX is one of the best mobile apps development companies in India. We create highly encrypted banking and financial apps that ensure high security to customer's confidential data.

Most of the retailers are investing in mobile apps development to streamline the order pickup and delivery processes. Mobile applications along with smart sensor devices automate the end-to-end delivery process. Such automation is assisting retailers in tracking goods online and providing faster and better services to customers.
The applications of mobile apps in logistics are playing a crucial role in managing processes from procurement to delivery. From packing and transporting materials and material handling to inventory management to balance supply-demand will be a challenging process for logistic companies. But, a mobile app in the process, the flow of information can be shared or viewed virtually and eases the entire supply-chain process.
The COVID-19 pandemic has to widen the scope for mobile apps in the healthcare industry.  Telemedicine apps or telehealth apps, or mHealth apps are a few buzzwords now. The healthcare apps help users get instant medical consultation services from specialists in minutes.
Mobile apps also help users in ordering medicines online and get them all right away at doorsteps. Healthcare apps help users find nearby lab centers. Patients with panic disorders can also get motivated by certified physicians. Through mobile apps, patients can also share lab reports and medical data with doctors and get prescribed immediately.

E-learning apps are the best platforms between instructors and learners to share knowledge. In the current COVID situation, the best e-learning mobile apps for Android/iOS are becoming popular and making online learning easier and safe. Quick learning, remote learning, personalized learning, and accessing online education materials 24*7 are a few of the advantages of e-learning apps.
These are only a few use cases of mobile apps. Mobile applications are also helping various other industries, including media & entertainment, telecom, real estate, etc.
Now, we will look at how digital solutions or mobile apps accelerate digital transformation across your processes.

The Role of Mobile apps in Digital Transformation
As we all know that digital transformation is a buzzword in the market. Thanks to advancements in mobile technology. Mobile applications are taking businesses across diversified industries to the next level of digitization.
Mobile applications play a significant role in digital transformation and helping enterprises achieve increased productivity, higher sales, and outstanding Returns-on-Investments (RoI).
A few product-based or service-based industry leaders believe that mobile apps are the only way to modernize their work processes and speed up digital transformation.
Why mobile apps for digital transformation?
Mobile app helps organizations beat the digital competition and engage better with more customers simultaneously.
Mobile applications can provide personalized services and improve customer retention rates.
Mobile applications facilitate virtual communication.
Intelligent mobile apps enlarge the company's brand and visibility over the internet.
Process management mobile applications increase operational efficiency and clutch more leads and thereby increases sales.
Investments in enterprise mobility connect the workforce and management at any time from anywhere. Hence enterprises can improve workforce productivity and profits.
Organizations can share their business strategies virtually via video conferencing applications.
Companies can provide services digitally.
Mobile apps are the best digital platform for controlling smart home automation devices.
They are the ultimate tools for finding car parking slots over the internet without hassle.
Know the cost to develop the apps like

Conclusion
Mobile app development is a smart way for building strong communication with customers. The money you invest in mobile apps development today will return as profits tomorrow. Being the best Android apps developer and iOS apps developer, FuGenX develops user-engaging, user-friendly, and world-class mobile applications that illuminate new ways for extending your brand digitally.
Let us know your app idea and get a free quote right away!