How Much It Costs to Develop Medicine Delivery Apps like 1mg, Netmeds & PharmEasy?
As technology evolves every day, it makes people's lives more comfortable and easier. People can now simply sit at their homes and order products online, avoiding long queues. Orders will be delivered to the customers at their doorsteps within a specified time frame. Similarly, on-demand medicine delivery applications have also made people's lives easier by delivering essential medicines to their homes.
Technology has made it possible not only for consumers, but also for pharmacies to track patient health reports online, prescribe and automate electronic medicines handling in supply chains, and offer tools to monitor the safety and efficacy of used drugs. Online medicine delivery apps also offer great discounts for connecting large customer bases and providing a better user experience.
As per the reports of medical data analytics firm 'Tracxn', over 60 online pharmacies are operating in India and are committed to delivering medicines through mobile and web applications. It is clear that the pharmaceutical industry with an online business will continue to grow further in the coming years.
Nowadays, we have so many online pharmacy applications that have significantly affected the way the drugs market is run. The firms that run these apps have found a great way to meet customer needs with statistics and big data. They are making huge revenue and more and more people are participating in e-commerce sites and apps. Some of the popular pharmacy apps are 1 mg, Netmeds, PharmEasy, etc.
Market Size and Statistics of Pharma Apps:
As per the research reports of Zion Market, the online pharmacy market is expected to grow from 42.32 billion dollars in 2018 and to 107.53 billion dollars by 2025.
According to other reports by Xian, eCommerce Health applications are expected to generate 111.1 billion dollars by 2025.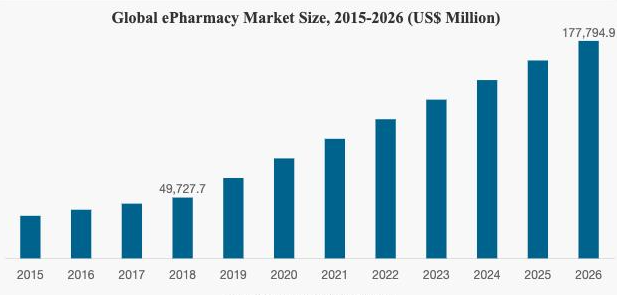 In this blog post, we would like to let you know the basic and advanced features that should be integrated by pharma app development company on the medicines app, how to make pharma app and the Cost to develop pharmacy app.
Before discussing the development cost of online pharmacy app, let's have a look at the revenue model of online apps medicine delivery.
Revenue Models of Online Medicine Delivery App:
#1 Commission-based model
It is the most common method that uses by any on-demand mobile apps to generate revenue. On-demand order online pharmacy app provides a platform for health care providers and pharmacy companies to sell their medicines/ drugs.
Through these online medicine apps, you can charge a commission to the best pharmacy apps companies. In general, the commission depends on the number of daily sales or units sold. The commission percentage is determined in advance.
#2 Featured Listing
This is a special section that appears in the online apps that deliver medicine. The featured list can be found in the search bar or on the homepage of the best pharmacy apps. These lists are actually the results of stores sponsored by pharmaceutical companies or any other drug stores.
#3 Advertising
No business runs without ads right. Yes, Advertising is one of the most effective methods to earn revenue from your online medicine supplying app like PharmEasy app. You can sell advertising space to:
Pharmaceutical companies
Pharmacy companies
Hospital chains & brands
Insurance companies
Diagnostic centers
E-Wallet Companies
Basic Features of Online medicine delivery app
#USER PANEL
The online medicine delivery application must have a personalized user panel. The panel provides easy access to each and every section of the mobile application and allows him to perform tasks. The user panel includes:
ii) Registration/ Log in: User can log in or register with the help of social media accounts or registered password.
iii) Medicines/Drugs Search: Users can easily search for the medicine they want to buy. When he reached the search panel, he was just a few clicks away from ordering medicines online.
iv) Upload Prescription: Alternatively, an upload prescription section also integrated to enable users to upload a prescription image and order drugs in a convenient manner.
v) Add to Cart: This feature always has the product name so you can add the medicine of your choice to your cart and buy when needed.
vi) Expert Advice: It is a unique feature available in the best pharmacy apps like PharmEasy and 1 mg that helps the user to select the right drug combination. Customers can discuss health issues with a physician/ doctor and get a proper prescription.
vii) Order Tracking: With the help of this feature customers can know the status of their current orders. You can check whether it is on the processing, shipping or estimated delivery date.
viii) Return Policy: The return policy feature helps a lot to build trust among customers. If customers got side effects or not satisfied with the products orders, they can return or exchange with other items.
ix) Push Notifications: Push notifications that pop-ups on customers' phone screen help keep your app are unforgettable. This feature enables you to let customers know the latest offers, discounts and deals of products.
x) Loyalty Points: When a consumer uses your medicine delivery online app and starts liking and trusting it, she/he is going to suggest and refer it to their friends/family or groups. For reference, you can provide loyalty points to customers. Loyalty points are a kind of advantage for loyal customers.
xi) Payment Gateway: Payment Gateway is an important step in completing a purchase. If you include more payment option while developing a pharmacy app, it helps customers to buy products simple and conveniently. SO, include Visa/Master Cards, online banking, and other e-wallets like PayTM, PhonePe, PayPal, GPay, etc.
#ADMIN PANEL
i) Registration: Likewise for customers, Pharma company owners also need to register on the app platform. They can register through mobile number, social media account or an email id.
ii) Manage Information: The app owner can edit/ manage all the necessary details available on the mobile app or website. This includes medicines, customer contact details, partner pharmacy or drug stores, etc.
iii) Manage Products: Store owners can remove/ add medicines at their convenience. They can handle product information such as chemical composition, nutritional composition, benefits, and more.
iv) Check Reviews & Ratings: This feature allows the store owner to check the feedback of consumers through reviews and ratings.
v) Manage Delivery & Shipment: This feature can be scheduled according to store demand with the help of orders delivery and shipment.
vi) Manage offers & discounts: This feature enables store owners to provide offers, discounts, deals, coupon codes or any other attractive offers.
Advanced Features of a Medicine Delivery App
Refined search
Affiliate marketing
Trending fitness meal
Associate medical store
Chain management for supply
Factors That Affect the Cost of App Development like NetMeds, 1 Mg, & PharmEasy
The development cost of on-demand online delivery app similar to PharmEasy app depends on the following key factors.
App Platform:
When it comes to pharma app development, the app platform plays a key role in making a mobile application. If you are planning to create a medicine supplying app, it's better to create an application for both android and iOS platforms. But, if you want to compete with a limited budget, you can go with a simple platform. In general, the android app cost high compared to iOS as it has many testing devices.
App Features:
The medicine delivery app development cost is based on the number of simple and advanced features that are integrated into the mobile application. If you want to create a medicine delivery on a low budget, you can include simple features with effective design.
App Type: 
The mobile application type is also an essential factor that affects the development cost of medicine online delivery app. We have 3 kinds of mobile apps, including native app, hybrid app and web app. If you want customers to use your app on both iOS and Android platforms, you can prefer a hybrid app.
App Development Team:
App development cost may vary according to the pharma app developers' team size and pharma android app development company geographical location. Indian app developers cost less compared to foreign app development companies.
So, How Much FuGenX Charges to Build Online Pharmacy app?
Developing a drug delivery mobile application is not an easy task for the best mobile app developers. It takes a lot of time, money and the app development process depends only on the client's needs, cost estimate, and the list of specializations.
If you want to know the exact or estimated cost to develop an app like PharmEasy, please
FuGenX Technologies is one of the leading mobile app development companies in Bangalore, India, USA and UAE. We have proven experience in building online pharmacy apps like 1 mg, Netmeds, PharmEasy, etc. We have highly skilled and experienced designers, developers and project managers that make your app beautiful, user-friendly and engaging.
Contact us today. We would love to serve you!