How To Outsource App Development [Cost +Benefits+ Approximate Budget]
The vast existence of new mobile applications is becoming very common these days, every day a new idea emerges and transforms into mobile apps. Therefore, the cost of mobile application development is significantly reduced during this time while motivating the bunch of top mobile app development companies to greatly invest and take advantage of the availability of enormous opportunities.
In addition, many mobile application development companies aim to make huge business profits, simply by hiring distorted level app developers, which has led to a large number of projects being outsourced. This has influenced business owners to spend only on low cost, but receive the highest quality work.
Today, there are around 8.93 million mobile apps available in the global market. It seems to be mobile application development market is enormously growing.  In fact, as per the statistics, around 59% of companies are already moving towards outsource mobile app development process due to this cost-effective feature. This outsource android app development process can reduce costs by up to 75%. And, this reason alone is sufficient to consider outsource your mobile app development in 2021.
Have a look at the standalone trends for mobile applications available on the android and iOS app stores between the years 2008 and 2020.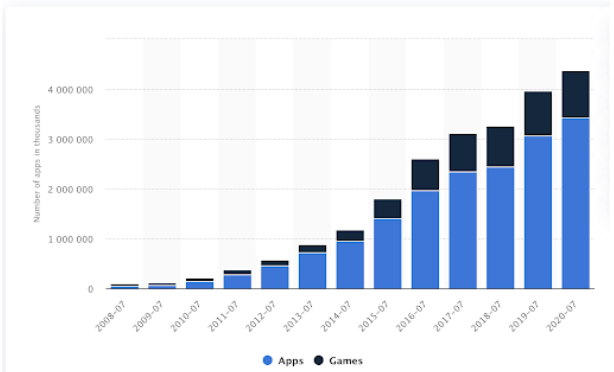 Now, let's find out why should you outsource app development and what are the reasons for outsourcing mobile app development for your dream app.
Benefits of Outsourcing Mobile App Development
Having a reliable and user-friendly mobile app is very important to the business success. Outsourcing mobile app development to others can be advantageous for an organization in the long run. Have a look at the following content to know how outsource mobile app development service is beneficial for business.
i) Saves time and Money
The internal team is financially responsible for your business. If you want to develop a mobile app, you can go for outsourcing as it saves time and cost. India is the best country to outsource app development. Outsourcing to the best and well experienced outsource mobile app development companies in India helps in reducing outsource app development cost related to app design, development, supervision, employee, and many more.
ii) Data Security
In addition to creating a mobile application, it is also very important to secure your app. These android or iOS apps are always vulnerable to hacking and loss of sensitive data. No matter what kind of app you are building, data is the most valuable assets of any business. Securing your mobile app data is also a main step towards business success.
iii) Flexibility
Our source mobile app development service companies have been in this field for many years so they are very flexible and know how to reduce the budget. Outsourcing application development for India is very advanced and therefore offers the users with the high quality and engaging app that must capture the global market.
iv) Extensive Expertise
Mobile app development needs a thorough knowledge of the latest software tools and technologies of mobile platforms. The Android and iOS outsource android app development company has everything to create a smooth and engaging mobile application that can meet clients needs.
They have a dedicated and committed team of app developers for each mobile platform. Hiring a third party outsource product app development partner ensures that your app is developed by certified and well experienced developers.
v) Strong Project Management
Outsourcing Company also provides a robust project management environment. The professional and skilled project manager is whole responsible for managing and guiding the team towards completing the project successfully.
vi) 24/7 support and maintenance
Clients in many web app development outsource countries like India always look for an SOC that agrees on 24/7 support and app maintenance. This 24/7 support organization helps you get all the data about their mobile and web application development and how far it has been built.
How to Outsource App Development?
The following 3 essential factors will guide you through everything you need to know about outsource app development:
i) Create a rigid wireframe:
It's really awesome to give life to your own design on your mobile app. The best and experienced mobile application development company will be able to make a design for the web and mobile app, but you should also have a plan or idea of ​​what you need.
Draw a basic design for your app home page and a few landing pages in the application. It makes the app development is easier and simpler for you.  Creating an app wireframe, the map for app is very clear and gives a framework to your expectations.
When your drawing outline for the app is fully implemented, you will be very satisfied with the final product and have a better understanding of the user experience and app design.
ii) Budget for the project
This is the second most important step because the complexity and simplicity of outsource my app development design is an important factor in outsource app development cost. App wireframes help to get an approximate cost of the project. Once your decided the app budget, it is only a matter of selecting the best method of outsource web app development firm to create an app on your budget.
iii) Scout the market for app development team
Today, we have numerous mobile app development companies in India, USA and UAE that accept both large and small projects. Choosing the best place to outsource app development is all about going through their experience, developer team and budget friendly solution.
FuGenX Technologies is one of the best outsource mobile app development companies in India, who creates simple, reliable and feature-rich mobile apps at an affordable price and on timeline.
How Much Does It Cost To Outsource App Development in 2021?
The development cost of outsource app is depends on the number of simple and advanced features that included on the mobile or web app. If you include more advanced features along with payment gateways, it cost high for outsource app development.
The Outsource App Development cost in 2021 may vary on the app design and complexity. If you want to design app with more unique and complex design, the cost will be obviously high than simple design.
The cost of outsource app development also depends on the app developers team size, their experience and their geographical location. If you hire Outsource Mobile App Development Company in India, the cost will be less.
Today apps are ruling the world and almost everything has an app. Therefore, a more number of mobile app development companies are establishing in the world, but we need to choose the right one. The important thing is to determine the mobile app development team by examining their work portfolio, expertise, developers' team and their skills to make the perfect decision.
Looking for Outsource App Development at an Affordable Price?

Contact us.
At FuGenx, we develop reliable and high quality apps for any business. We aim for the growth and success of your business and take the time to explain the benefits of choosing our outsourcing for your business. Assured, we will be inclined to answer all your questions regarding the mobile app development outsourcing process and provide the best possible solution to suit your business needs.