Top 7+ Healthcare Chatbot Use Cases You Need to Know
Healthcare is one of the major industries that is continuously adopting newly emerging technologies to deliver personalized and more optimized care services to their patients. In particular, the integration of Artificial Intelligence (AI), Machine Learning (ML), Speech Recognition, and Natural Language Processing (NLP) technologies into healthcare applications, systems, and devices is automating the process of service delivery and improving patient outcomes.
Next-generation digital technologies makes healthcare processes easier, faster, and more convenient. AI-powered Chabot application is one such invention that is transforming the healthcare industry in many ways. Today, we would like to talk about how the healthcare sector is benefiting by adopting the AI Chatbot feature.
Firstly, we will look at what is a chatbot? 
The Definition of Chatbot 
A Chatbot is a software application that is developed using the power of AI and NLP technologies. Leveraging the capabilities of voice-enabled technology, a Chatbot application will act as a virtual sales executive or digital personal assistant that interprets user commands and sends accurate responses instantly.
The uses of Chatbots are going beyond general conversations and customer support services. These days, AI Chatbots are also increasingly integrating into applications for automatic lead qualifications and improving sales conversions.
On the other side, using the evolutionary voice-interpreting and search pattern algorithms, a few AI Chatbots are also more capable to analyze user preferences and offer them more personalized recommendations online. These kinds of Chatbots are primarily used in the e-commerce sector.
Like these, global organizations are adopting Chatbots for many purposes. In this article, we have discussed a few significant use cases of AI chatbots in the healthcare industry.
Use Cases Of AI Chatbot In The Healthcare Sector 
Here are the benefits of using AI healthcare chatbots. 
Use Case 1: For Quick Physician Appointments
AI-based conversational chatbots are assisting people in booking online doctor consultations smoothly. Based on the user needs and appropriate doctor availability, AI digital assistants books slots for patients. It will eradicate the process of standing in a queue or calling too many times for hospital receptionists for taking appointments. Hence, AI chatbots in healthcare will reduce the waiting times of patients and let them interact with doctors at the right time.
Get the quote for Android healthcare apps development with AI chatbot!
Use Case 2: AI Healtchare Chatbots For Accessing Medical Records
Artificial Intelligence technology can automate and streamline the entire healthcare process. The Electronic Healthcare Records Management System is one of the best examples of AI's innovation in the Healthcare field.
Integrated with AI chatbot functionalities and features, these EHR systems will actively be involved in accessing the patients' medical information as it was instructed by their respective Physicians. This process will let doctors be better aware of their patient's condition and deliver the right diagnosis at the right time.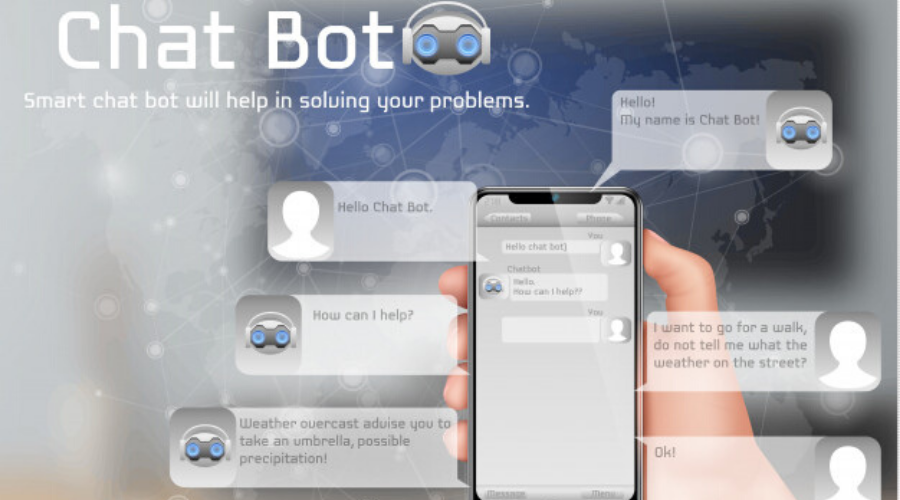 Use Case 3: AI In Healthcare For Tracking Symptoms 
Tracking symptoms is one of the prior steps to identifying the disease type and getting the best medications and treatments on time. AI apps are best useful in these scenarios.
In particular, in this COVID situation, AI-powered symptom tracking mobile apps with in-app Chatbot functionality are helping people to identify the infection type and get medical advice online. Leveraging the power of Machine Learning (ML) Big data, and predictive analytics, AI chatbots are better at analyzing the symptoms and identifying the disease type.
AI Chatbot integrated healthcare apps for this application have gained popularity during the COVID season. Symptom tracking Chatbots have assisted people in tracking the infection level with the information that they have entered. This virtual symptom checking Healthcare chatbot advises health rips and has contributed to improving the patients' health conditi
Use Case 4: AI Healthcare Chatbot For Reminding Drug Intakes and Managing Refills
It is one of the best applications of AI Healthcare apps that are dedicatedly designed and developed for better managing medications and prescription refills. As scheduled by the app users, these types of healthcare mobile applications notify the users about their medication intake.
Further, besides functioning as medication reminders, the best healthcare apps for Android and iPhone with chatbot facilities will help users to better manage their prescription refills.
Pharmacy Delivery Apps are the best examples for this scenario. Users can schedule and easily order prescriptions from nearby pharmacies right from their mobile. Such automation and intelligence in managing refills will prevent clinic visits and save time.
Use Case 5: AI Healthcare Chatbot For Insurance Claiming
The healthcare service providers and connected insurance companies are increasingly deploying AI-based insurance claiming apps with Chatbot facility.
The use of chatbots in healthcare is best useful for streaming the end-to-end process of insurance claiming. They will act as an interactive and collaborative medium between insurers, healthcare companies, and customers. AI-based insurance apps will build an encrypted channel to communicate online with the respective insurer.
Hence, AI healthcare chatbots will smoothen the insurance claiming process, verify the coverage online, disburse the amount on time, and reduce the burden of high medical costs.
Use Case 6: AI Chatbots For Online Invoicing and Billing
Here is another significant and notable use case of AI healthcare Chatbot. AI chatbots help hospital admins to digitize the invoicing and billing processes.
Using the power of ML algorithms and deep analytics, the healthcare apps will analyze the medical data stored in EHRs, analyze the care services types that the hospital provide, and create automatic invoicing to initiate a hassle-free and smooth billing process.

Use Case 7: For Delivering 24*7 Customer Support Services
The ultimate goal of any business is to achieve the satisfaction level of their customers or audience. AI chatbot applications will help brands stay in touch with their customers 24*7. AI-powered virtual assistance apps provide instant care services and responses to patient queries at any time. It will improve service quality and increase the brand value in the market.
Use Case 8: AI Chatbots In Healthcare For Optimizing The Utilization Of Productive Hours 
Artificial Intelligence-based virtual assistants are also increasingly used for managing admin tasks more efficiently. By deploying AI chatbots in place, Healthcare organizations can offline and online registrations for consultations efficiently.
Practo is one such application that allows users to find the best doctors with the desired specialist and confirm online appointments for either or video consultations. This popular healthcare app also allows users to view feedback and reviews given by other patients and book an appointment in simple clicks. This online process will reduce the burden on admins and let them better utilize their productive hours in managing the offline Ops.
Use case 9: AI Chatbot For Operational Efficiency
Nowadays, Healthcare CRM applications to integrating with Chatbot features. Right from uploading patients' health data and interacting with various departments and collaborative channels to viewing reports and analytics of revenues, AI-powered CRM tools and apps for healthcare plays a key role in optimizing service quality and improving operations management.
Custom healthcare CRM software with in-built AI Chatbot functionality will help organizations in many ways. They include:
Task automation
A centralized communication platform
Accelerating Telemedicine Services on demand
Improved workflows
Better patient management
Sending automated notifications for regular checkups and lab tests
Optimizes sales and marketing operations
These are a few use cases of chatbots in healthcare. The benefits of chatbots in healthcare are unbelievable. Informative, Prescriptive, and Conversational like various types of AI chatbots are delivering seamless digital experiences to people and also the service providers.
Wrapping Up
According to the market research reports, the size of intelligent healthcare AI chatbots is anticipated to reach approximately $70 billion in the next five years. Intends to reduce operational costs and deliver top-notch digital patient experiences, health operators are investing and offering AI chatbot integrated digital services.
FuGenX is the best custom healthcare app development company in Bangalore, India. Being one of the best mobile app developers in India, we create best-in-class AI-based healthcare applications that reduce patient wait times, save cost overheads, improve service delivery efficiency, streamline processes and ensure returns on investments.
Get A free app quote for an AI healthcare application for Android or iOS with Interactive Chatbot Feature!