How Much Does It Cost To Develop An e-Health App For Android/iPhone OS?
Today, digital health or mobile health is already a keystone for many of the healthcare service providers to deliver advanced healthcare operations online. Technology development has completely transformed the way we get healthcare services. Telemedicine, Telehealth, mHealth, eHealth terms represent online healthcare services.
The Scope Of Mobile Healthcare Apps In 2022 and Beyond
Since the COVID pandemic has given a big pause to offline services, just like other sectors, the organizations across the healthcare industry were forced to move online. This trend has increased the demand for healthcare apps for Android and iOS.
As of the first quarter of 2021, there are nearly 53,979 iOS healthcare apps available for download and usage purposes in the apple app store. Meanwhile, the Google Play store has 53,054 Android healthcare apps as of 2021.
Here is a detailed representation of how the number of mHealth apps is increasing at a rapid pace across app stores.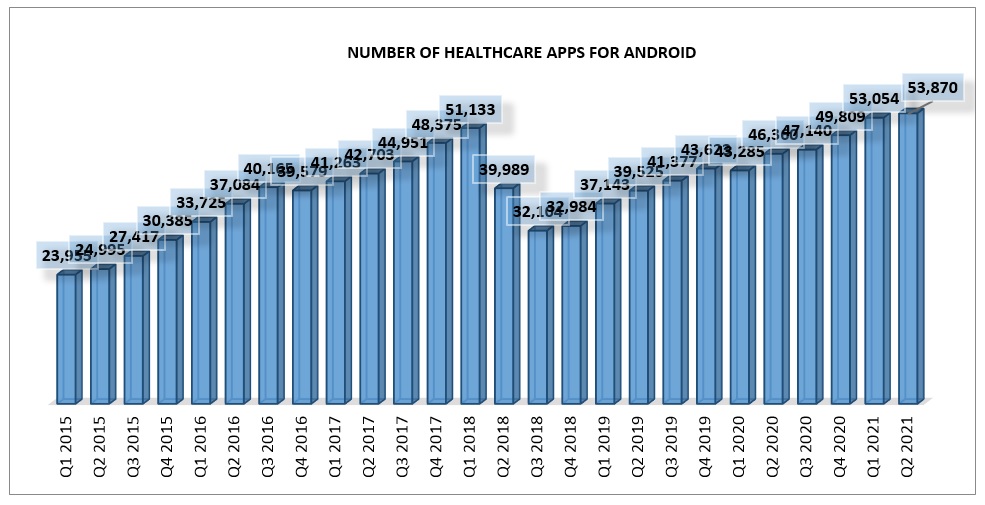 These numbers are reflecting the growth of the eHealth applications and were boosted mainly by the COVID pandemic. Yes, it's a fact. The market size of telemedicine and online doctor consultation (Audio and video) services has been increased approximately over USD 52 billion in the first quarter of 2020 and is projected to reach USD 280 billion in the next coming three years.
Healthcare app development is walking around the world with a green flag in its hand. Now, it is widely measured as an essential driver for operational excellence in this digital space. Yes, mobile healthcare or digital healthcare solutions are ensuring incredible growth opportunities for healthcare services providers in this COVID crisis.
Moreover, with continuous disruptions in the global healthcare environment due to the new variants of coronavirus, Android or iPhone app development for digitizing regular healthcare services has good scope in the coming year.
India is one of the top five countries which are witnessing growth in medical apps downloads since the outbreaks of deadly coronavirus. To maintain social distancing and prevent infection spread people are mostly preferring online medical services in India. During the peak pandemic season (2019-2020), the country has witnessed 90% of growth in healthcare app downloads.
Have a look at the below figure that depicts the growth of app downloads in each country during the pandemic.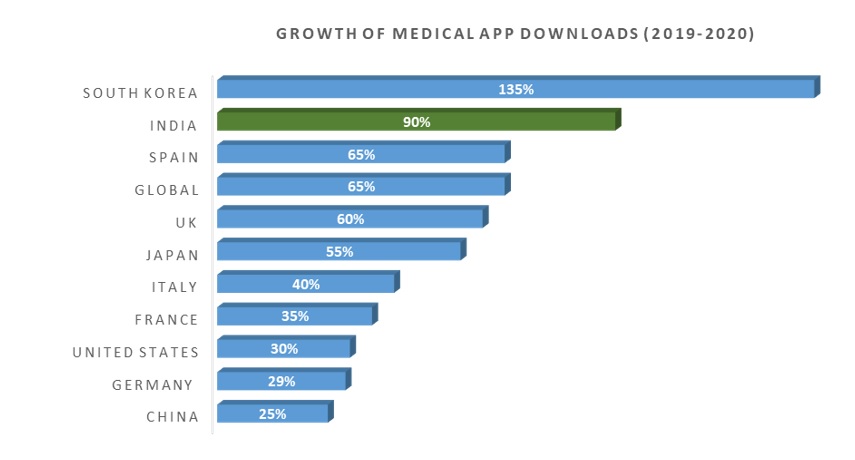 So, today, we would like to discuss how a healthcare service provider in India would benefit from healthcare mobile app development in India.
In this article, we have covered-
Types of healthcare apps
Key features and functionalities of mHealth apps
The eHealth mobile app development process
Cost of mHealth app development in 2022 
Definition Of mHealth Apps
Mobile healthcare apps or mHealth apps or digital healthcare applications are software designed to bring healthcare services online. There are multiple types of healthcare apps are available in the app store to meet the desired needs of the users.
Medical or fitness apps for tracking health conditions, eHealth apps for delivering remote services, Android/iOS mobile apps for medication management, healthcare applications for electronic health record management functions, and digital apps for outpatient management are a few best use cases of digital healthcare solutions.
Let's drive deep into the session: Types of mobile healthcare applications.
Types Of Digital Health Apps
Let's have a look at a few significant types of popular healthcare apps in India.
Healthcare Apps For Refill Management
Medication management or refill management apps are best suitable for elders since these type of health apps notifies the users about medication timings, scheduled injections, and required exercises.
Mobile Apps For Managing Patient Health Records
Manual management of patient health records might be challenging for service providers and are records are highly prone to errors. Patient health record management apps that organize and store the health information of patients. This information can be uploaded to the cloud and can be forwarded to the respective physicians for further diagnosis.
So, mobile app development for managing health records would benefit services delivering more precise and personalized services on time.
Online Video Consultation Apps
Technology advancements have made everything possible. Like video calling apps, the downloads and usage of healthcare apps for online appointment bookings and video consultations are high. Practo-like, the best medical apps in India will also notify the users about their scheduled appointments.
Mobile App Development For Tracking Symptoms
The pandemic has created fear in all. If people have the seasonal flu or cold or cough, they are given RT-PCR tests to check for COVID-19 infection. But, with mobile applications in hand, they can cross-check their symptoms and get a diagnosis if anything they found serious.
In this COVID-19 pandemic, mHealth apps development for checking symptoms has high demand and is profitable. Artificial Intelligence (AI)-powered symptoms tracking apps also assist users in finding nearby labs to confirm their health condition.
Recommend to Read: How Much Does It Cost To Develop India's Most Downloaded Healthcare Mobile App Like Aarogya Setu?
Telehealth: A Great Move Towards Digital
The popularity of healthcare apps is derived from the telehealth sector. Telehealth applications act like communication platforms between hospital management, respective physician, and patients. The physician does not need to visit a clinic but can promise the best treatment online for patients who cannot visit hospitals.
I have discussed here a few best mobile app categories for healthcare. The Google Play Store and Apple App Store have also loaded with a few other mHealth apps such as:
Pregnancy apps where they can track their entire pregnancy journey from day one to delivery
mHealth apps diabetics to monitor glucose levels in the blood
Apps for proper diet and weight loss to maintain fitness 
Mutual Advantages Of Healthcare App Development
Healthcare apps create virtual environments and help physicians and patients collaborate online.
Physicians do not need to visit clinics
Healthcare apps ensure high access to patients' health information anytime from anywhere.
Mobile healthcare apps for Android or iPhone allow physicians to offer personalized treatment suggestions based on their symptoms.
Allows patients to track and monitor their health, get notifications on pill intakes
Quick diagnosis and improves patient outcome
Significant Features and Functionalities Of Healthcare/mHealth Apps
Whether you plan to invest in medication management, refill intake schedulers, and disease symptom trackers, here are the basic features that enlist your mHealth app on the first page of app stores.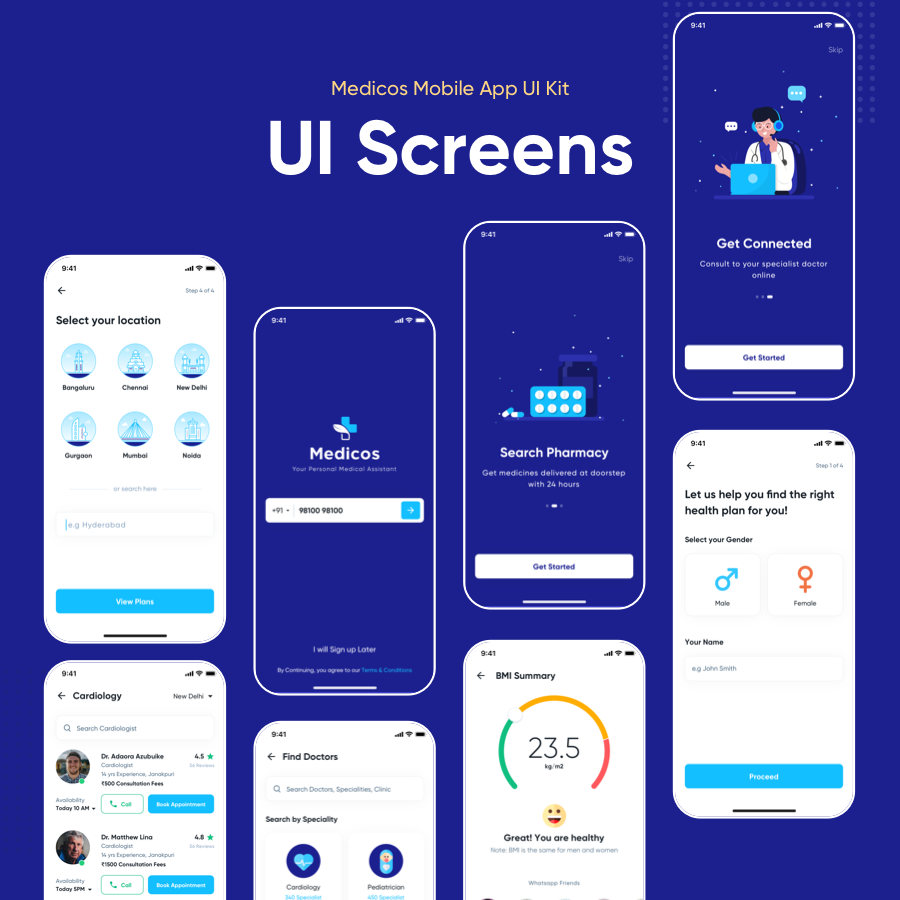 Here we go!
What features make your app unique in the industry?
Simple Registration or login page: Your users can log-in with simple credentials and access the app content
User profile: This feature allow your users to manage their personal app profiles
Audio/Video facility: Give your users the flexibility to connect and collaborate with users as per their convenience and requirements. But, this feature is a must, if you plan to practo-like the best online doctor appointment booking and consultation apps
Push notifications: Let's your brand well interact and communicate with app users
In-app chat or messaging system: Users can text physicians during their online video conversation or doctors can prescribe medications online
In-app Payment: For convenient and encrypted payments
Admin panel: Help admin to manage app content
In-app Video Calling Feature: Telemedicine mobile apps must-be feature with video calling feature. This will allow physicians and patients to have a F2F video conversation in real-time and improve experiences.
AI and Machine Learning (ML) integration: Integration of next-generation AI and ML technologies would increase app performance and offer intelligent app functionalities such as location tracking, symptoms tracking, etc.
FuGenX, the best mobile app development company in India, can create your mHealth app with all basic and advanced features and functionalities. Our native Android/iOS mobile app developers with vast industry experience promise you're a bugs-free application.
Let us discuss your healthcare app requirements and get a free app quote!
A Proven Process Of Healthcare Apps Development
Designing a clear cut-app development strategy would benefit mobile app development companies Bengalore India, to deal with all phases with more focus. It saves time, money, and reduces the burden on your clients in terms of app development costs.    
Here is a step-by-step process that popular mobile app developers follow:
Requirement gathering and analyzing app requirements
Analyzing the pros and cons of similar apps to derive growth opportunities for your new application
Selecting the best app development platform to target more audience and increase brand value
Choosing the best from native Android app development or native iOS app development or hybrid app development
Prototyping and creating a simple and user engaging User Interface for your app
Development of app elements or modules
Test for errors to prevent app crashes in the future
Mobile app submission on Google Play Store and Apple App Store for download and user purposes
Support and maintenance: Track app performance and update with new features, if needed
How Much Does It Cost For mHealth app Development for Android/iOS?
The cost of mobile healthcare app for Android or iOS depends on the app category you choose. I mean to say that not all mHealth apps will cost the same and have the same features. The features and functionalities it offers might vary, and the costs will differ.
Roughly, a mobile healthcare app development for a single platform with the basic feature will cost $45,000-$70,000. Accordingly, a complex mHealth app development for Android and iOS platforms will cost $75,000-$100,000. A full-fledged error-free healthcare app with AI features will go beyond $200,000.
Conclusion
A customized mobile healthcare app development is profitable for service providers in this pandemic situation. Being a top healthcare mobile app development company, FuGenX offers best-in-class mHealth solutions for healthcare service providers.