The main purpose of the mobile app development is to make money or increase business performance. But, every person or business who wants to develop mobile app ask themselves that how I can make money with free app.
If you are developing a mobile app as a business owner to enhance your customer experience, then you no need to worry more about monetizing your app. You can generate revenue from product or service purchasing through your app. If you are new to the business world, you don't have any product or service to offer, but you have only an app idea, then you definitely need an app monetization strategy.
In fact, the amount of paid application downloads dropped significantly in 2016 compared to previous years, as per the statistics. According to the Gartner Research Group, the users spend 24% more on in-app purchases than on paid apps.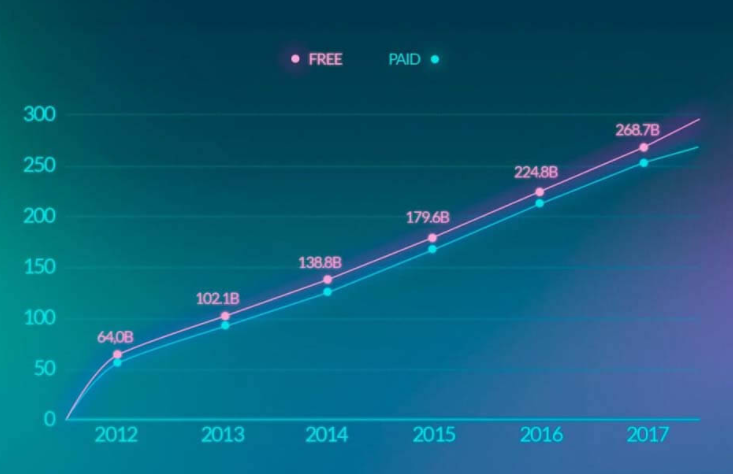 In this blog, we will be discussing about the different app monetization strategies that you can consider to make the most of your mobile app:
Top 10 App Monetization Strategies for Making Money in 2020
#1. Advertising:  This is very lucrative compared to other methods, in which you will allow advertisers to place their audio or video ads in your app, the advertising may be about their app or products or services. In this, advertiser uses AdMob (in case of Android) and iAd (in case of iOS) system to place their ad in your hybrid app or native app.
Below are listed different types of app advertising:
Interstitial/ Full Screen: This ad is shown at the end or immediately after exiting the app or game.
Capture Form: Capture form ad is in the form of a contact form, which asks users to submit it by filling the required details like email, name and contact number etc.
Advanced Overlay: This ad generally consists of a form for users to sign up to a service, purchase products or download an app.
Banner Ads: Banner ad is generally less width ad, but it stretches from the left end to the right end of the screen in the extreme down point of just above the extreme down point of the screen.
Notification: Notification ad is shown as a push notification on the device's status bar.
#2. Freemium Version: In this, you offer the app free to download from app stores for a few weeks or months. After that, if the user wants to continue using the mobile application, user needs to go for the premium version, for that you can set a fixed amount on a monthly or yearly basis.
#3. In-App Purchases: In this method, you offer the app for free of cost, but to get more features and functionalities, you encourage targeted audience to go for in-app purchases. For instance, your chat app contains text messaging and voice calling facilities.
But if your customers need video calling facility that you have, then you can offer them that as a premium feature. This is like a premium feature in many games, in which if a gamer wants to go for the next level, he purchase those features.
#4. Subscription Model
Subscriptions are most advantageous monetization strategy to earn money. Mobile Application publishers can select to provide free content‌ within their mobile apps for a limited time. After time limits end, they will charge fees for the subscription which enables users to access the complete information‌ with no restrictions.
This type of app strategy is majorly used in video and audio streaming services like Spotify and Google Music, cloud services, and other online news services.
For example, 'The New York Times' and 'The Wall Street Journal' are the most influential newspaper applications which have gained over 1 million users with this subscription model strategy.
Recommended: Top 10 Mobile App Development Companies in India
#5. Sponsorship: Getting sponsorship to make money from free apps is a lucrative model. This is the one time deal and most profitable. In this, you will approach a brand to sponsor your app venture. You can reach out to the sponsor before developing the app or after the app is developed.
If you want to reach out before, you should impress them with your app idea. If you're going to reach out after, you should show them the number of downloads or type of users you've achieved.
Once you've got sponsor, you will show their brand logo, content or image at a fixed place of the app screen or how they want for the agreed time period for a set amount.
Here are the two primary sponsorship deals:
Set a monthly sponsorship fee
Divide revenue from the app equally
#6. Referral Marketing
Referral marketing is the promotion of a third-party service or product as a way to optimize numerous revenue opportunities. Application publishers may sell or promote their affiliate services or products based on the number of clicks or no of installs.
Following are the different types of referral or affiliate marketing models that can be used by publishers.
Cost Per Action (CPA) or Cost Per Acquisition: In this model, you can promote other apps, promote apps through the App Store, or promote products with pop-ups and earn money.
Cost Per Click (CPC): This revenue model ultimately depends on the no. of native ads displayed and no. of clicks. Users can involve in popular networks such as Google AdMob or Adfonic for this revenue model as they offer both display and text ads to make money
Cost Per Install (CPI): As the name describes, one should pay for each install of the mobile app advertised in your free application. The best example of this model is Playhaven and Chartboost are the best examples of this model.
Cost Per View (CPV): This model includes charging, depending on the number of video views and ad interactions. One of the mobile game development company called 'Brighthouse' has successfully raised its app revenue by 130% via CPW networks.
#7. Physical Purchases
Several e-commerce companies and startups have already started using free apps to sell their physical items or products that include toys, mobile cases, household items, t-shirts etc. through apps developed in the App Store. Let's take 'Angry Birds' an example of a free app that makes money.
#8. Collecting and Selling Data
Free apps gather a lot of user data in terms of user interface behavior. Many researchers in different fields desire all these user behavioral data.
The app for free publishers can sell their user's data to these researchers and make a lot more money. Data usually includes customers' personal preferences, social media accounts, and email addresses.
#9. Transaction Fees
It is the best method to earn money from your apps in the Google play store or iOS app store. It is possible with applications that provide the mobile platform, where digital transactions take place on a daily basis.
If third parties have the option to sell their products to your mobile app and make those purchases online, you may be charged a transaction fee. You can charge less and earn a lot of money for every transaction that takes place in your app.
#10. Freemium Upsell
Freemium apps are free to download but have paid or premium features. This premium and paid features can be accessed through in-app purchases.
In this kind of apps, users can download the app at no charge, and if they like its content, they can get full access to the functionality by purchasing it. By using this strategy, acquiring new customers is very easy as the premium features are optional.
Wrapping Up
There are many effective ways to make money with free apps, but it takes the right marketing strategies and excellent planning. Advertising still occupies a prominent position as an app monetization method, accounting for 65% of all mobile applications on the market. However, the developer team is using a mix of in-app monetization: advertising and in-app purchases.
Mobile app developers must plan more targeted advertising campaigns to promote the applications and its releases, offer constant updates on features, and use more unique revenue models to deliver value to customers. It will AI development services lead to higher profits and a good user experience.
For more info on app monetization and mobile app development services, please reach FuGenX at info@fugenx.com or fugenx.com.